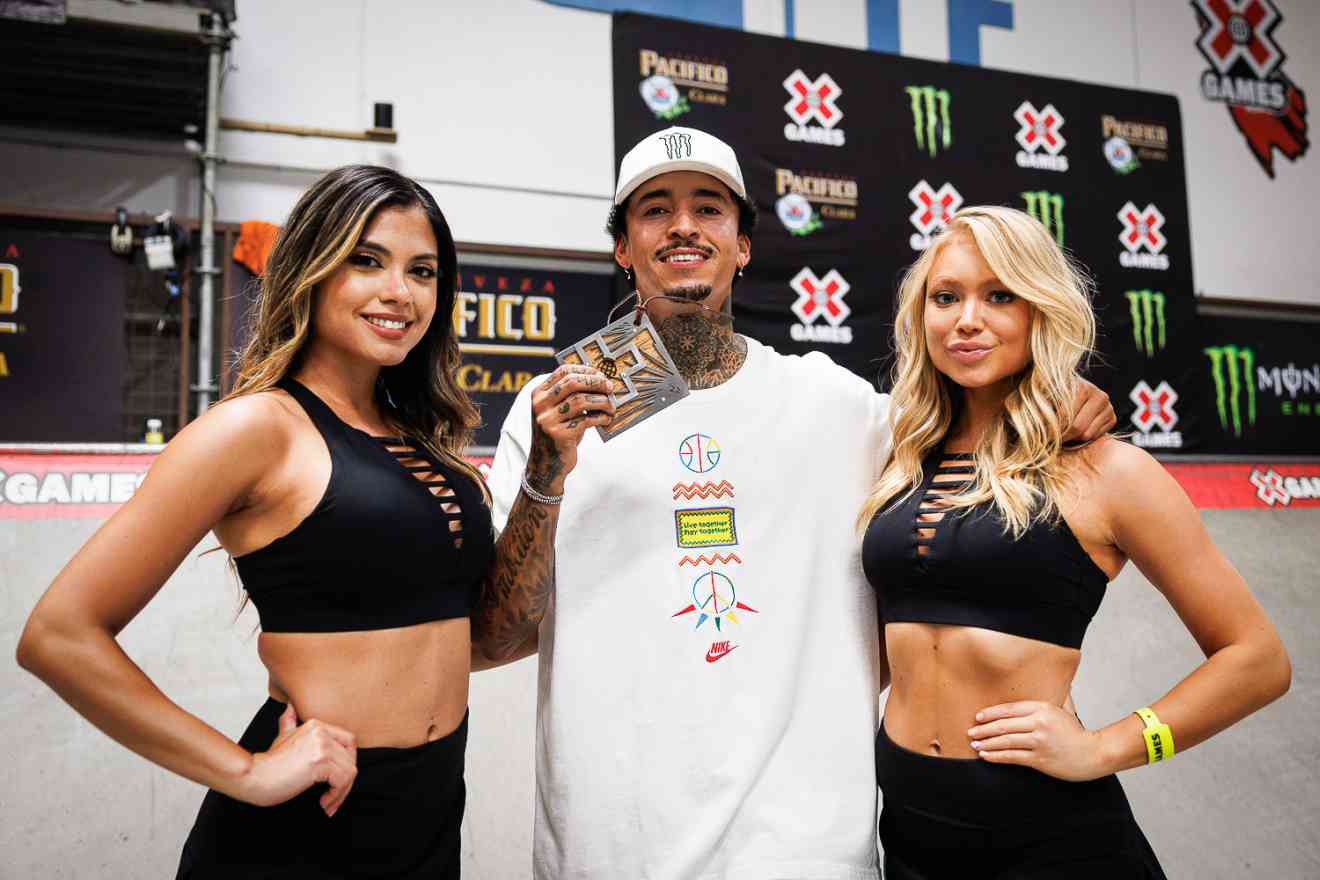 Monster Energy Is Bringing the Heat to Japan with Its Team of the World's Best Competing Athletes
Monster Energy, The Official Energy Drink Partner of X Games Chiba 2023, Is Bringing the Heat to Japan with Its Team of the World's Best Competing Athletes
Three-Day Action Sports Spectacle Features more than 110 of the World's Best Athletes in BMX, Motocross, and Skateboarding at ZOZO Marine Stadium on Tokyo Bay from May 12–14, 2023
CHIBA, Japan – May 11, 2023 – X Games is back in Japan! The world's premier showcase in action sports competition will return to Japan for the second consecutive year. Monster Energy, the official energy drink partner of X Games, is proud to bring some of the world's biggest names in competitive BMX, motocross, and skateboarding to X Games Chiba 2023 from May 12–14.
Following the success of last year's event in Japan, X Games Chiba 2023 marks the 67th edition of X Games since the event's inception in 1995. For three action-packed days, the action sports world will focus on ZOZO Marine Stadium on Tokyo Bay with a total capacity for 30,000 spectators.
The Japan edition of X Games is bigger than ever: More than 110 athletes from 20 countries will compete for a total of 33 medals in 11 events across three sports. This year, Moto X Best Trick will be contested as a medal event for the first time in Chiba.
All competitions will stream live globally across XGames.com, YouTube, and Twitch, supplemented by behind-the-scenes, athlete-curated, and complementary content on @XGames social media accounts.
Fans can look forward to an elite display of the best in action sports: X Games Chiba is an invite-only event reserved for multiple-time X Games medalists and highly competitive newcomers to keep the level of riding at premium levels. As the official drink sponsor of X Games Chiba 2023, Monster Energy is ready to raise the bar with a stacked team of riders, including action sports icons, defending gold medalists, and upcoming rookies.
Heading into X Games Chiba 2023, look out for the following key Monster Energy athletes and competitions:
The big spectacle in the Land of the Rising Sun kicks off on Friday, May 12, with eliminations in key BMX and skateboarding events at ZOZO Marine Stadium.
Athletes will then compete for the first set of X Games medals on Saturday in the BMX Street final. Be on the lookout for 24-year-old German team rider Felix Prangenberg ready to level up his silver medal in the discipline from X Games 2022 and expand his current count of four X Games medals. Also gunning for podium spots, Scotland's own Alex Donnachie already owns gold from X Games Sydney 2018 and bronze from X Games 2021. And with three-time gold medal winner Kevin Peraza in the session, the first medal event of X Games Chiba 2023 is bound to be a battle for the history books. Let's go!
For the Women's Skateboard Park final, our squad consists of bona fide legends and rising stars: Stoking the hometown crowd, 21-year-old Mami Tezuka from Hikone, Japan, is a podium favorite with X Games silver and bronze under her belt. She will face off against her teammate and mentor, 30-year-old Lizzie Armanto, known as a legend in women's skateboarding since winning Skateboard Park gold at X Games Barcelona in 2013. Also don't count out Brazilian Olympic skateboarder Isadora Pacheco with some big tricks up her sleeve. Monster Army rider Grace Marhoefer from Cocoa Beach, Florida, on a mission for her first X Games podium after recently winning the women's street contest at Phoenix Am. Last but not least, the upcoming American rider Ruby Lilley is ready for the world stage. Don't miss it!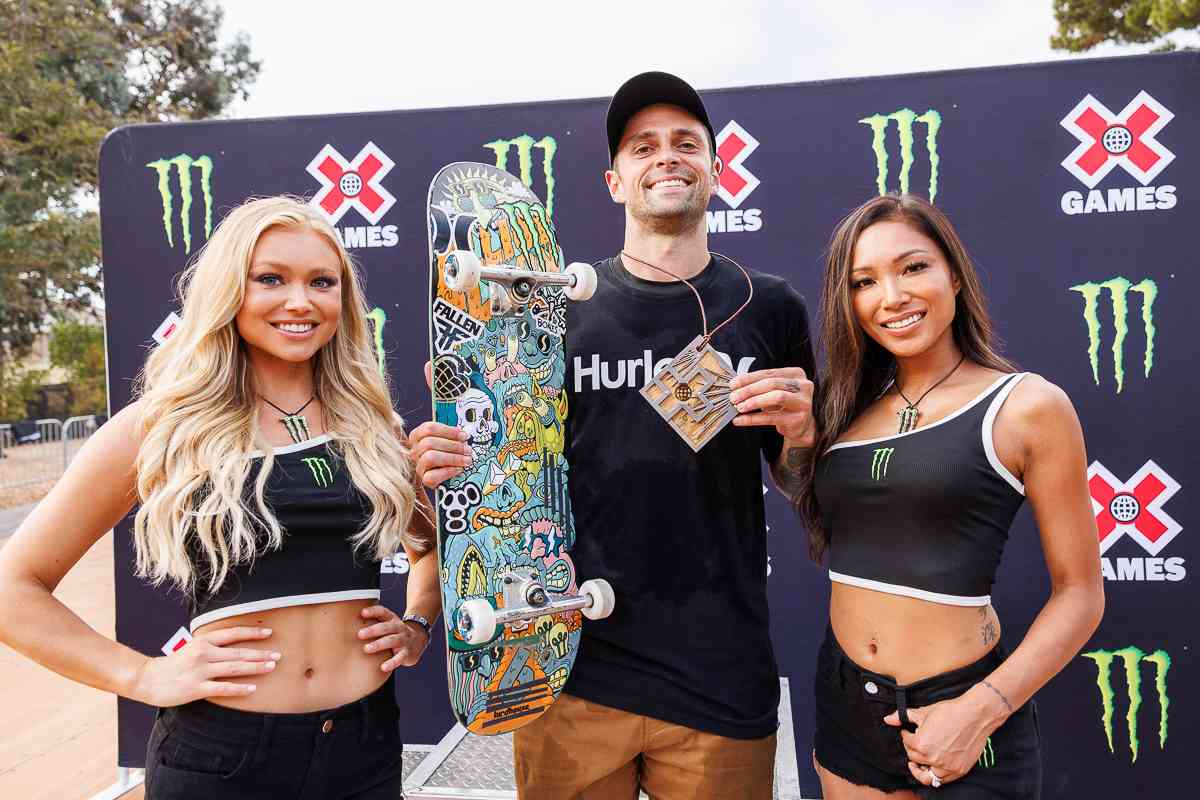 Skateboarding remains the focus in the Women's Skateboard Street final, where last year's X Games Chiba gold medalist Rayssa Leal will be the rider to beat. The 15-year-old from Imperatriz, Brazil, is the reigning SLS Super Crown World Champion and has won the last five consecutive SLS competitions. Plus, she has a score to settle after finishing closely off the podium at X Games 2022 last summer. Leal is facing off with a hometown favorite, three-time X Games gold medalist Aori Nishimura. Also, watch out for young Monster Army rippers Grace Marhoefer and Haylie Powell looking for their first podium at X Games. Let's get it!
Next, Monster Energy rolls into the BMX Park with a squad of heavy hitters: Last year, young rider Justin Dowell made his X Games debut in Chiba by claiming silver, then followed up with another silver medal at the summer games. Will the 23-year-old clinch his first X Games gold this year? Or will 2022's bronze medal winner Kevin Peraza go all the way up for his third gold in the discipline? Expect the unexpected because the competition is intense: 26-year-old Canadian Mike Varga has bronze in the discipline, plus three gold in Best Trick (more about that later), while Corona, California local Daniel Sandoval owns one gold and three bronze.
Another California rider, Pat Casey from Riverside, earned three of his five X Games medals in Park and clinched silver in Mega Park at X Games 2022 – making him a 'mega' contender this year! Never rule out Jeremy Malott from Lake Havasu City, Arizona, on a quest to expand on two bronze medals from Park Best Trick. Last but not least, the squad includes 22-year-old Bryce Tryon, already boasting an X Games silver medal, plus a recent win at the Monster Energy BMX Triple Challenge in Glendale. Also, keep an eye on reigning European champ Anthony Jeanjean and Argentinian young gun Jose Torres. Tune in for this epic battle!
All eyes will remain on the concrete bowl course for the BMX Park Best Trick final, where Monster Energy team riders will unleash their most technical trick creations. The biggest story: At X Games 2022, Canadian rider Mike Varga made history as the first athlete to win three consecutive gold medals in the discipline. Will he raise the bar to four gold? Don't miss it!
Closing out an epic first day at X Games Chiba 2023, the Skateboard Vert event will bring the heat with technical halfpipe riding at its finest. Last year's silver medalist, style sensation Moto Shibata from Osaka, has already shown the style and technique to claim gold – will he repeat the win from X Games 2017 this year? Heavy competition will come from New York City's Elliot Sloan, owner of 15(!) X Games medals, including six gold, and last summer's silver medalist in Skateboard MegaPark. Also heading to Chiba as a favorite, eight-time X Games medalist Tom Schaar just returned from injury by claiming a second-place finish in the Tampa Pro concrete jam. An explosive mix!
Sunday at X Games Chiba 2023 kicks off on a high note in the Men's Skateboard Park final. All eyes will be on the golden boy, 19-year-old Australian ripper Kieran Woolley, after clutching gold at summer X Games 2022 and silver at X Games Chiba last year. The first-ever Australian park champ faces competition from 2021 X Games gold medalist Liam Pace from Tucson, Arizona. What's more, previous X Games gold medalists in the Big Air event, Tom Schaar and Trey Wood, are looking for the top spot in Park. And making his X Games debut in Chiba, Australian Monster Army rider Keefer Wilson is bringing big tricks to the battle. All bets are off for this one!
At X Games Chiba 2022, the time-honored BMX Flatland contest returned after a 19-year hiatus. The fan favorite is back by popular demand this year, the roster including 38-year-old style legend and current Flatland World Champion Moto Sasaki from Chiba. Having claimed bronze in the previous year's event, the hometown hero faces a field of upstarts and rookies. Will Sasaki once again prove that timeless style can still win podium spots?
As the action continues, technical halfpipe skateboarding takes center stage in Skateboard Vert Best Trick. Ready to push the limits, Elliot Sloan took gold in the discipline at X Games 2022 and joins the progression session along with teammates Shibata and Schaar. Get ready to see the full evolution of the sport on full display!
Speaking of evolution, the upcoming rider to watch in the Men's Skateboard Street Final is a young prodigy: 16-year-old Daiki Ikeda earned a surprise silver medal in his X Games debut at X Games Chiba 2022 and has also won the 2022 edition of Tampa Am. But not so fast! The winningest street skater of all time, Nyjah Huston, just returned to competition earning a podium spot at SLS Chicago and commands the biggest stack of X Games medals of them all: Huston owns 20 X Games Medals (13 gold, five silver, and two bronze). Nyjah will go against 30-year-old Kelvin Hoefler from São Paulo, Brazil, a two-time X Games gold medalist who just put the field on notice by winning SLS Chicago 2023. The Olympic silver medalist will be joined by three-time X Games medalist Ishod Wair from New Jersey as well as Canada's Matt Berger looking to level up from his bronze medal from X Games Real Street 2022.
But wait! A slew of young guns is ready to shake up the Skateboard Street event, including 26-year-old Jhancarlos Gonzalez from Columbia, who is ready to claim his first X Games medal after winning the 2022 Vans Showdown. Also, witness the X Games debut of 21-year-old Braden Hoban from Encinitas, California, who disrupted the status quo by finishing second in the 2022 SLS Super Crown finals. Not to be missed!
As the worthy finale of X Games Chiba 2023, Moto X Best Trick was featured as a demonstration event the previous year. Now contested as a medal event in Japan for the first time, the showcase for freestyle motocross is headlined by the most dominant rider in the discipline: Australia's Jackson Strong holds eight medals in Best Trick (six gold, two silver) and brings some new moves to the battle. He's facing fellow Aussie and 14-time X Games medalist Josh Sheehan, who most recently took Best Trick silver at X Games 2022.
The final battle of Chiba 2023 gets even hotter with the return to Japan of Julien Vanstippen from Belgium. Last year, the 25-year-old claimed bronze in Moto X Best Whip as his first medal. He's now flexing his freestyle skills alongside decorated ripper Harry Bink from Australia, owner of bronze in Best Trick, and 38-year-old FMX icon Taka Higashino showcasing his mastery of the sport on home turf. A true classic in the making!
Visit www.monsterenergy.com for exclusive updates from X Games Chiba 2023, including photos, videos, and contest results as they happen. Follow Monster Energy on YouTube, Facebook, Instagram, Twitter and TikTok.
* * * * * * * * * * * * * * * *