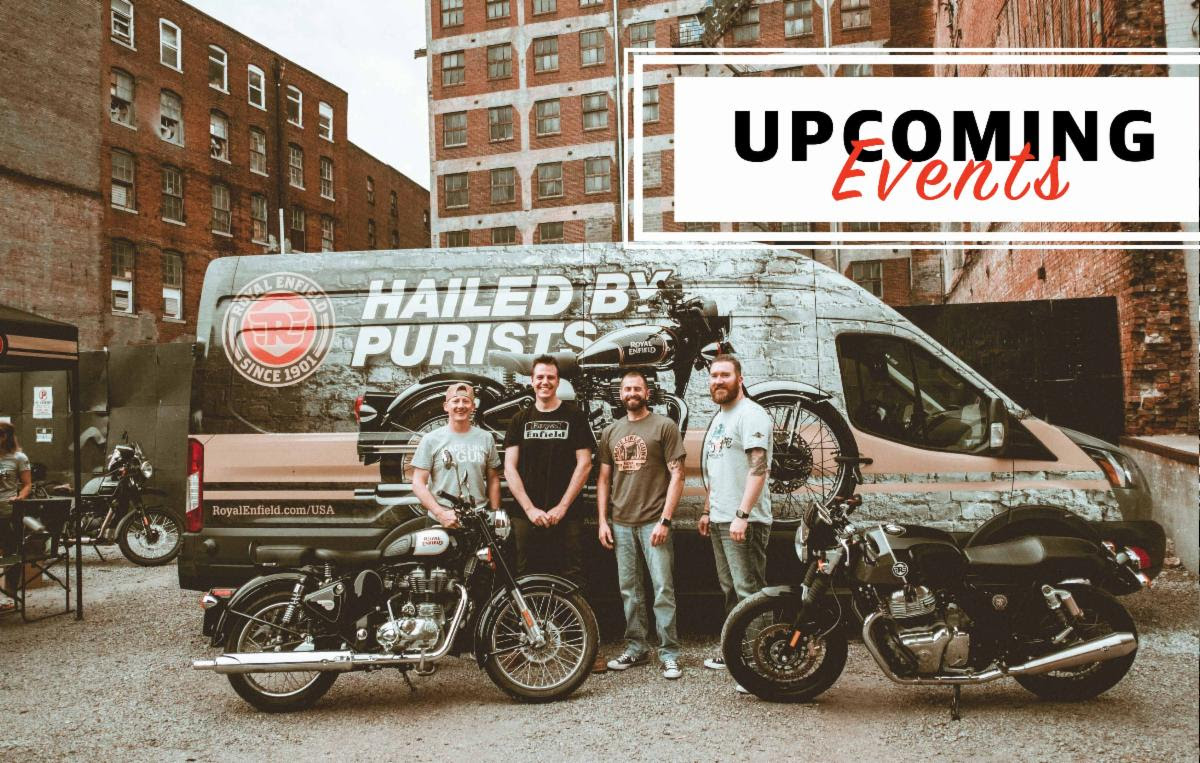 WOMEN'S FLAT TRACK
PROGRAM
The Build, Train, Race program is aimed at highlighting women and the motorcycle culture in North America through 3 stages.

Building a custom Flat Track with the INT 650 Twin as the base platform, training on the motorcycle with expert Flat Track riders from within the Flat Track Community, and racing the 4 builds at the Flat Out Friday event in Milwaukee, Wisconsin during the Mama Tried weekend. Click the button below to learn more about the program, and the riders within it.

INTERNATIONAL MOTORCYCLE SHOWS

One down, seven to go! After a successful weekend at Long Beach IMS, we are excited to pack our bags and head out to another IMS event in New York. Don't miss your chance to see our full product lineup and the newest genuine motorcycle accessories options. Pick the location closest to you and come by our booth. Prize Pack giveaways, apparel for purchase and more!

Where will we see you?

Enter ROY20 for $3 off at checkout!

Limited Edition Bullet Trials

Works Replica

Introducing the Royal Enfield Bullet Trials 500. A replica of the original, groundbreaking 350cc trials Bullet. Launched in 1948, the motorcycle was the first production motorcycle to feature swinging arm suspension. Two years after its debut in 1948, a precociously talented 18-year-old joined Royal Enfield's factory rider team.

John Victor Brittain, universally known as Johnny Brittain, was to become the Trials Bullet star rider. Combining history with new technology, this limited edition Bullet Trials Replica pays homage to our original brand ambassador and his success, the sports of Trials, and the early pioneering of Royal Enfield's influence on motorcycle performance. Contact your local dealer for information on purchase, or click the button below for more details about this model.

New Apparel Catalogue

For Royal Enfield North America

Nothing says Happy Holidays like new, fun Royal Enfield Apparel! Have a look through the NEW Apparel Catalogue with over two dozen new items and allow yourself to be tempted. T-shirts, Jackets, Mugs, fun Coasters for your holiday beverages, and much more! Don't miss out on the perfect Royal Enfield holiday gifts. It's easy – Click below and send a request to your dealer.

Build Moto & Royal Enfield Partnership

Royal Enfield and BUILD Moto Mentor Program are joining forces in a unique partnership designed to use motorcycles to build positive futures for Wisconsin high school students. The BUILD program is a non-profit educational organization that pairs teams of high school students with bike-building mentors for the opportunity to learn trade and technical skills.

Through a new multi-year partnership, Royal Enfield will donate 16 Classic 500 motorcycles to the program along with parts, support and technical training mentors. The organization hopes the partnership will allow BUILD to grow the number of high schools in Wisconsin able to participate in the program.

Now in its tenth year, BUILD provides students with opportunities to learn trade skills including design, welding, fabrication, mechanical repair and machining as they relate to the motorcycle industry. In addition to acquiring technical skills, teams also participate in marketing and fundraising efforts promoting the program and host local events showcasing their work, growing their exposure to professional and life skills.

GENUINE MOTORCYCLE ACCESSORIES

With the Holidays around the corner, now is the perfect time to add Royal Enfield Genuine Motorcycle Accessories to your wish list. We've added new products for every model to the newly revised catalogue. From S&S slips ons for the Twins to Panniers for the the Himalayan and everything in-between.

So don't just winterize…

Accessorize!!!