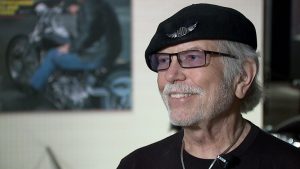 William G. Davidson has been involved in shaping Harley-Davidson's identity for over 50 years. The brand has arguably been a huge influence on the motorcycle world and been a big part of how people live the motorcycle experience. Wille G. has had a central role in the H-D adventure, so Harley-Davidson's Chief Styling Officer Emeritus and Brand Ambassador is set to be honored with the Lifetime Achievement Award at the Sturgis Motorcycle Museum Hall Of Fame Induction ceremony, August 9, 2017.
"Willie G. is not just a brand ambassador for Harley-Davidson, he is an ambassador for biker culture worldwide," said Myrick Robbins, executive director of the Sturgis Motorcycle Museum & Hall Of Fame. "The Museum's goal is to 'Honor the Rider' and Willie G. is the embodiment of motorcycle riding." Already a pre-2001 member of the Sturgis Motorcycle Museum Hall of Fame, Willie G. was joined by his lovely wife Nancy in the Class of 2010.
"Just like Sturgis Rally founders Pearl and Pappy Hoel, Willie G. and Nancy have made a long-term, positive impact on the motorcycle community," added Robbins. "You could say Willie G. was born with gasoline in his veins."
The son of former Harley-Davidson president, William H. Davidson, and the grandson of one of the original founders, William A. Davidson, he has helped shape the iconic look, sound and feel that have defined Harley-Davidson motorcycles for more than 50 years. Starting in the 1970s, he developed iconic designs which kept Harley-Davidson motorcycles selling while the company completed technological and manufacturing improvements. Throughout his career he developed the bikes that came to define Harley-Davidson, from the XLCR™ Cafe Racer up through the V-Rod™ and the Street Glide™.
A Wisconsin native, Willie G. went to The University of Wisconsin for three years before transferring to the Art Center College of Design in Los Angeles. He joined Harley-Davidson in 1963, when he was invited to set-up the company's motorcycle design department. In 1981, Davidson was one of 13 executives who raised more than $75 million to purchase Harley-Davidson from AMF Incorporated.
In addition to Lifetime Achievement honoree Willie G., The Sturgis Motorcycle Museum Hall Of Fame Class of 2017 features a group of over-achievers and true leaders who have influenced an entire era of motorcycling:
The Sturgis Motorcycle Museum Hall Of Fame Induction ceremony presented by Strider is being held August 9th at the Lodge at Deadwood in Deadwood, South Dakota. Breakfast tickets are available for a $45 donation, tables of eight for $350. Tickets are available by calling the Museum at 605.347.2001 or they can be purchased online here.