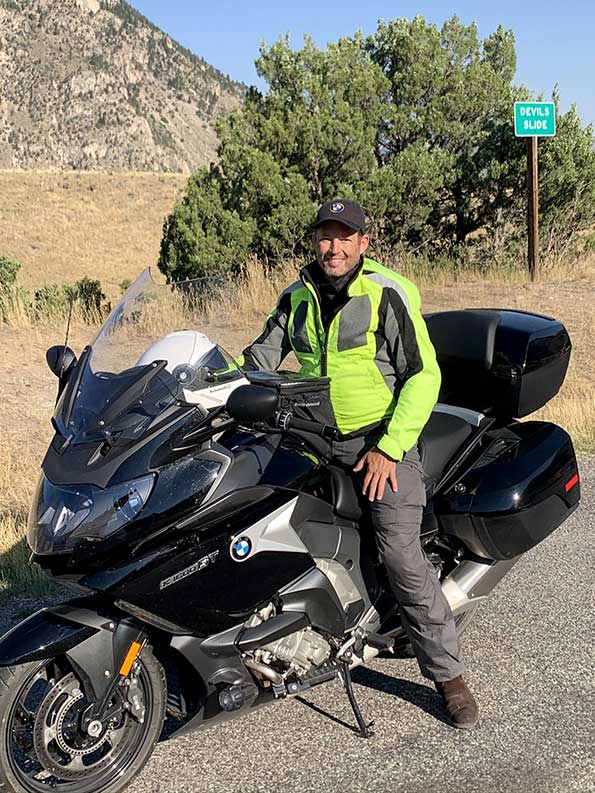 by Christina Leo from https://www.inregister.com
Baton Rouge financial planner Daryl Ellis began riding motorcycles between six and seven years ago, but when his daughter landed a seat in graduate school in the cedar climes of British Columbia, he knew that the time had come to really put his gears to the test. With Emory's possessions distributed between her Jeep and a U-Haul trailer, Ellis hitched his BMW K 1600 GT touring-class motorcycle on the back and accompanied her last summer as they made their way northwest, a long but straightforward path ending in a brief visit to Ellis' brother's Seattle home before settling Emory into her new digs.
As for the journey back to Baton Rouge? Ellis had something a bit more wayward in mind. For two weeks, Ellis drove an alternative route home, traveling a total of 752 miles through Washington, Oregon, Idaho, Montana, Wyoming, Nebraska, Kansas, Arkansas, Mississippi and, eventually, back to Louisiana.
"My wife had gotten me a book, Great American Motorcycle Tours, for Christmas a while back, and I thought this would be the perfect opportunity to check some of them out," says Ellis. "As for deciding where to stay or where to eat, I was kind of just playing it by ear. Fortunately it all worked out better than expected, with blue skies almost the whole way home."
And a good thing, too, with so much sightseeing in so little time. The snowy peaks of North Cascades National Park, roadside waterfalls of Oregon's national forests, wildflowers of Sun Valley, buffalo of Yellowstone, jagged knuckles of the Tetons, yellow farmlands of corn country and riverside roads of Hot Springs all served as welcome replacements for billboards and cramped car seats.
"I had my iPod loaded up with music and podcasts and the like, so I had some entertainment," says Ellis. "But the scenery itself was so breathtaking that it was often enough to just focus on being one with nature on the back of the motorcycle, taking in the environment through the senses."
Only once did the wilderness try to lead him astray. "In Idaho there's a really interesting place called Craters of the Moon National Monument, where the forest ends and the landscape becomes very arid, like a desert," says Ellis. "It was super cool to see, but I had a close call where I almost ran out of gas there, literally in the middle of nowhere, where even gas stations I tried to pull up on my phone turned out to have shut down decades ago."
Ellis survived, of course, as did his many tales from the mid-pandemic cross-country adventure. "I can't recommend it enough," says Ellis, "and I can't wait to do it again."