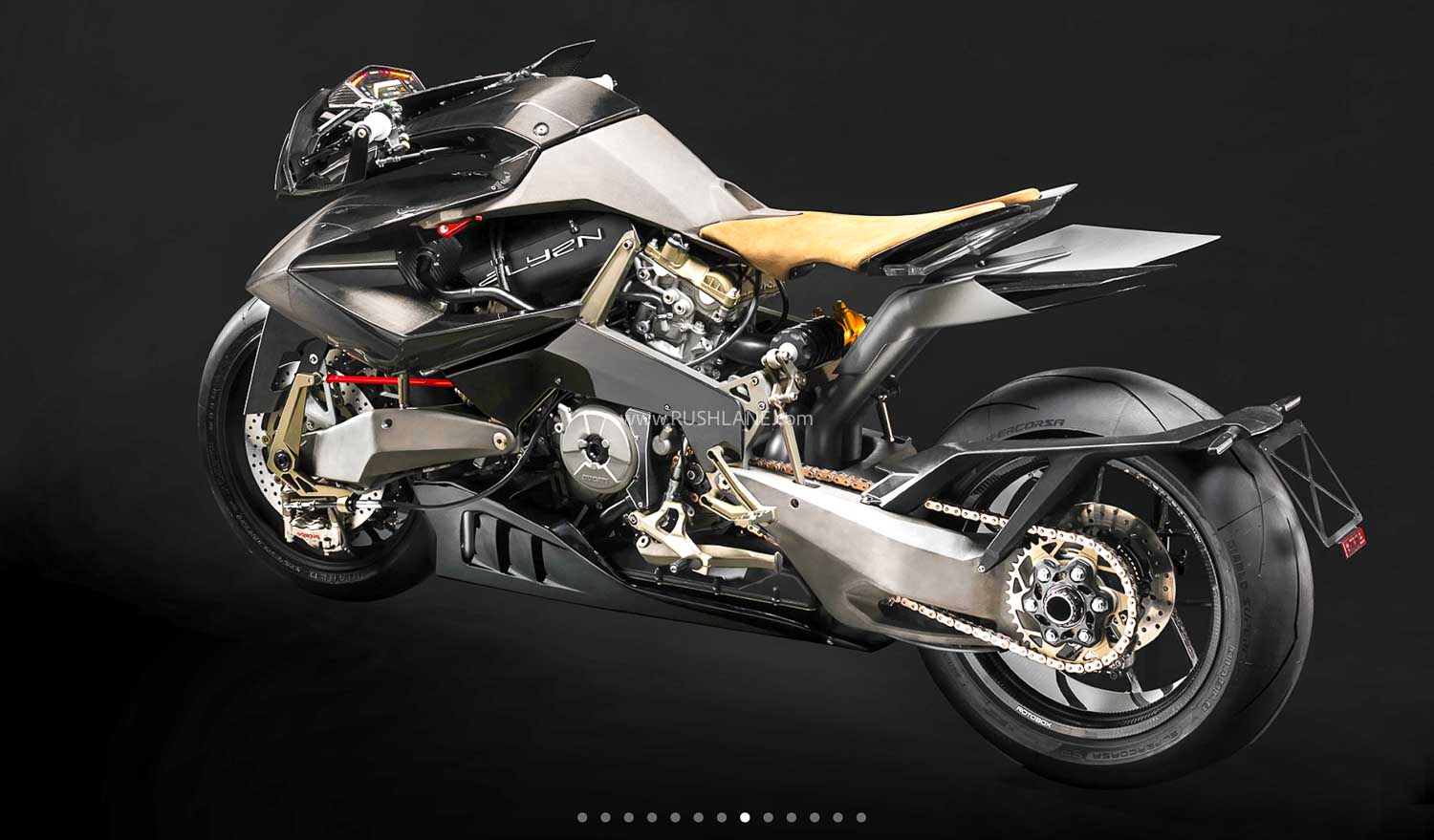 by Satya Singh from https://www.rushlane.com/
A bike that appears to utilize advanced alien engineering, Vyrus Alyen easily qualifies as a formidable competitor to the likes of batpod
Vyrus is an Italy based innovation workshop that has been producing absolute masterpieces for more than thirty years. The workshop's latest creation Alyen is a seamless blend of art, passion, performance and hi-tech innovation. The awe-inspiring motorcycle seems like a product from the future, with the idea probably being brought home by a time traveller.
While Vyrus Alyen appears to be quite heavy by its looks, its weight may be well below your expectations. That's because the motorcycle utilizes lightweight carbon fibre for its wheels and bodywork. The forged carbon fibre wheels have been sourced from Rotobox, a firm that specializes in producing lightweight yet extra strong wheels. The uniquely shaped wheels also enhance the bike's visual appeal and overall aesthetics.
As of now, Vyrus has released only some basic information about Alyen. The motorcycle is powered by a 1285 cc, water-cooled, Ducati L shaped 90° Desmo drive engine that produces max power of 205 hp at 10,500 rpm. Max torque is 144.6 Nm at 8,750 rpm. However, this also makes it a fuel guzzler. With its small fuel tank, Vyrus Alyen would be most appropriate for short rides. Engine is mated to a 6-speed gearbox and comes with wet clutch.
Vyrus Alyen sits on Magnesium double omega frame that is integrated with a self-supporting composite body. Suspension system comprises push rod twin pivot units at both front and rear. The hub-centre steering system works independently and does not interact with suspension functions.
Also known as hydraulic wired steering system, it was designed in 2004 by Vyrus project leader Ascanio Rodorigo. It was used for the first time in Bimota Tesi 2D superbike. As braking forces do not impact suspension movements, it makes Alyen a lot more agile when negotiating corners. Braking duties are performed by Brembo GP4 series.
To get an idea about Vyrus Alyen's performance, we can look at the 1285 cc Ducati engine that can reach 0-60 kmph in just around 4 seconds. Top speed is 300 kmph.
Vyrus has not revealed how many of Alyen motorcycles will be produced. Vyrus motorcycles are usually manufactured in limited numbers and are meant for collectors and enthusiasts. You would be lucky to spot a Vyrus Alyen on the streets. Motorcycles created by Vyrus are also known to be priced astronomically. To know the price, you need to contact the Vyrus team.