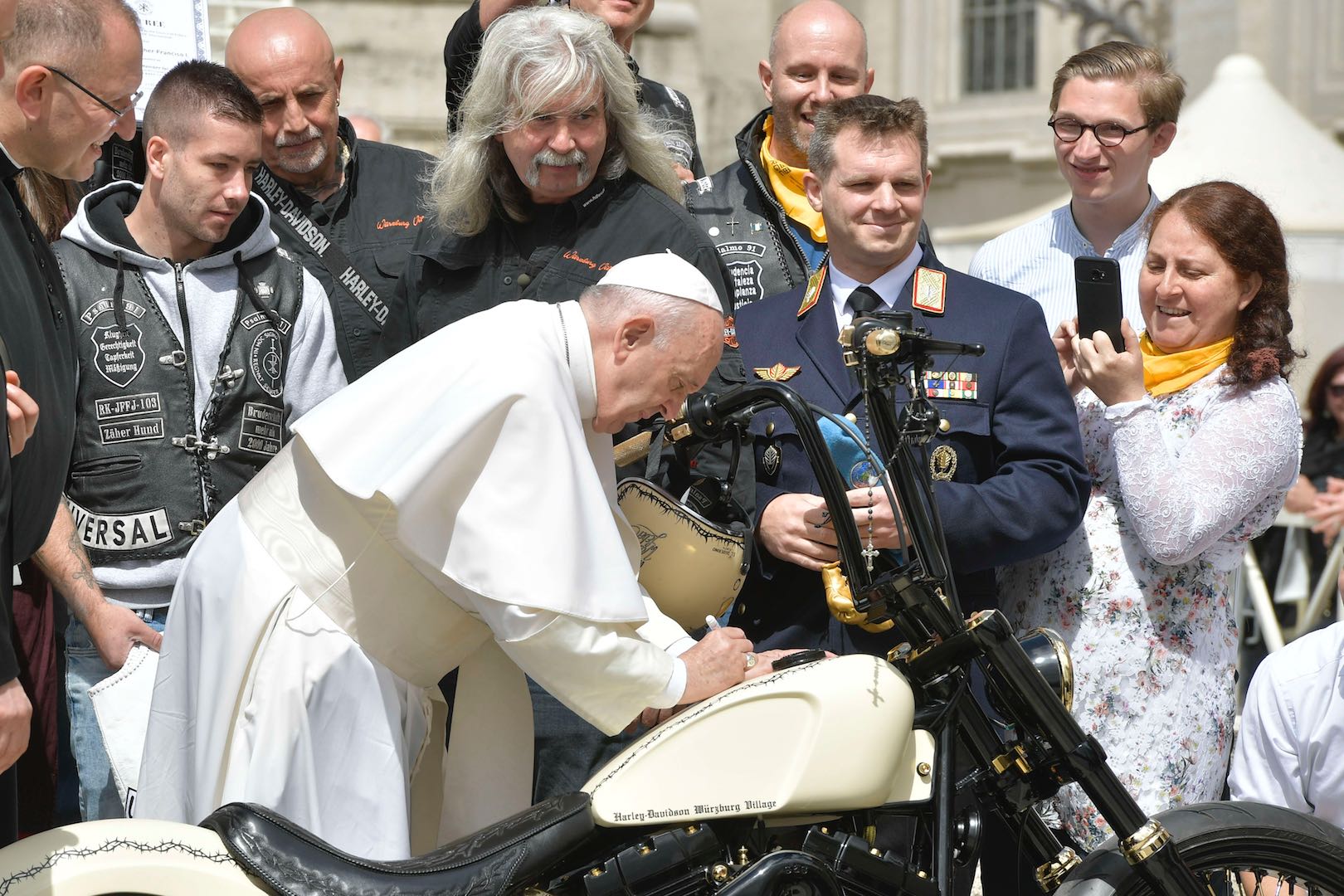 by Daniel Patrascu from https://www.autoevolution.com
If anything, the six years spent by Pope Francis at the head of the Holy See have been characterized by unorthodox approaches to very catholic problems. So when you hear the Pope signed his name on a custom motorcycle, there's no surprise there.
The bike in questions started life as a 2016 1,570cc Harley-Davidson owned by a Harley dealer in Germany. At the request of the Jesus Bikers group in Austria – yes, there is such a thing – the bike was modified with the goal of being donated to the Pontifical Mission Societies, a group that provides support for Catholic overseas missions.
It was named White Unique because it is finished in pearlescent white mixed with Chicano detailing, gold-plated components, and a Dorne wreath ornament. The two cherries on the cake are the sunken cross and Pope Francis' signature on the tank.
So, how did the Pope got tied up to this? The bike was shown for the first time on June 29 in Würzburg, Germany, and then headed off to the Vatican as part of a procession of the Jesus Bikers.
Once at the Vatican, on July 7, the bike was presented to the Pope in St Peter's Square, where His Holiness blessed it and signed it, surrounded by a crowd of 17,000 people.
On October 20, the bike is heading for the Bonhams Autumn Stafford Sale where the auction house by the same name hopes to sell it for anywhere in between £50,000 – £100,000 for it. All the proceeds are to be donated for charity.
"We are incredibly proud to be entrusted with the sale of this unique motorcycle, set to benefit such an important cause," said in a statement James Stensel, Head of Bonhams Collectors' Motorcycles UK.
"It's fitting that a Harley-Davidson motorcycle, (mobilising people around the world for more than 115 years), should bring so many like-minded people together."