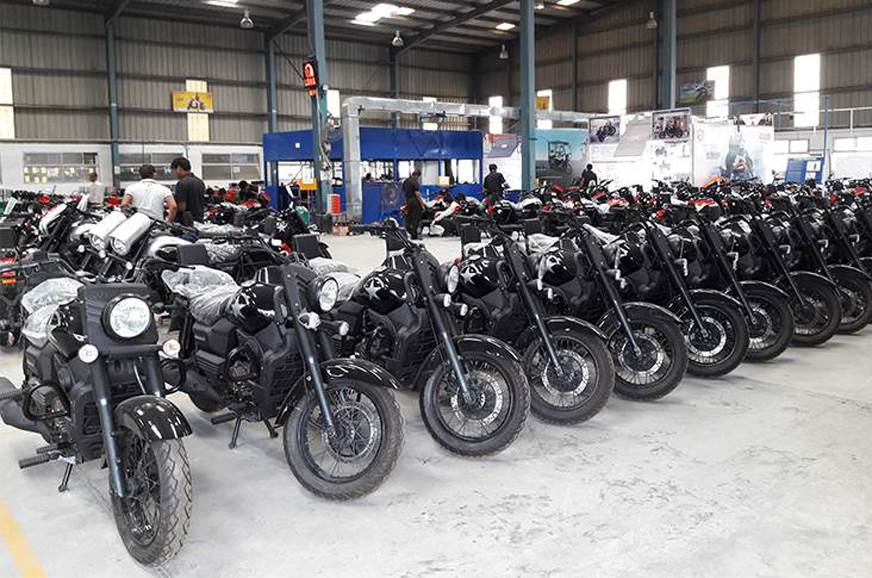 The American bike maker has halted production at its Kashipur plant in Uttarakhand and the joint venture with Lohia Auto looks to be strained.
Following reports of several UM motorcycle showrooms shutting down in India, it is learnt that American bike maker United Motors has stopped its operations in India and that the joint venture with Lohia Auto looks to be strained. With this, it joins the list of automakers to exit India which includes General Motors and MAN Truck & Bus AG.
The last UM product launched was the Renegade Commando Classic, priced at Rs 1.89 lakh in September 2017. The long-drawn slowdown in the two-wheeler industry seems to have hit the company hard and production at its Kashipur plant in Uttarakhand seems to have stopped.
Understandably, UM motorcycle dealers of are getting furtive, given that there are no new product launches expected any time soon. Also, it appears that UM is facing a financial crisis globally and reports say that the company has shut its operations in China.
In an interaction with our sister publication, Autocar Professional, Ayush Lohia, CEO, Lohia Auto Industries, explained, "Our JV with UM Motorcycles was of a 50:50 nature. UM Motorcycles is currently not able to invest any money in India and thus the Kashipur plant in Uttarakhand is not manufacturing any of the UM motorcycles."
UM motorcycles were built with 40 percent localised parts and 60 percent imported bits. While most of the local suppliers are based in North India, the imported parts were being sourced from Indonesia, Thailand and a few other countries. Ayush Lohia confirmed that all the supplies for the last UM motorcycles produced have been paid for and no new parts are to arrive at the plant. However, Lohia says not all hope is lost in the JV and he does not plan to dissolve it any time soon.
Not too long ago, till April 2019, United Motors was retailing around 200 motorcycles a month in India. At present, most of its dealers have pulled down shutters while a few are open just for the servicing process. Acknowledging the Indian dealers' plight, Lohia said, "We are awaiting clarity from our partner as regards addressing our dealers' condition. For the time being though, since UM is showing no intention of going ahead with its India operations, I am not able to give a confirmed status of the current scenario of the brand in India."
It may be noted that after April 2019, reports began coming in of UM discontinuing its operations temporarily in India as none of its products had ABS. Around the same time, official reports from the company stated that new launches could be expected during the festive season.
United Motors' product portfolio in India includes the Renegade Commando, Renegade Sport S, Renegade Mojave and Renegade Classic – all American-styled cruiser motorcycles powered by the same 300cc liquid-cooled engines. It was speculated that UM was supposed to come out with a 150cc scooter this year, called the 'Chill 150 ABS'. In the current scenario, that project seems to be in the pigeonhole.