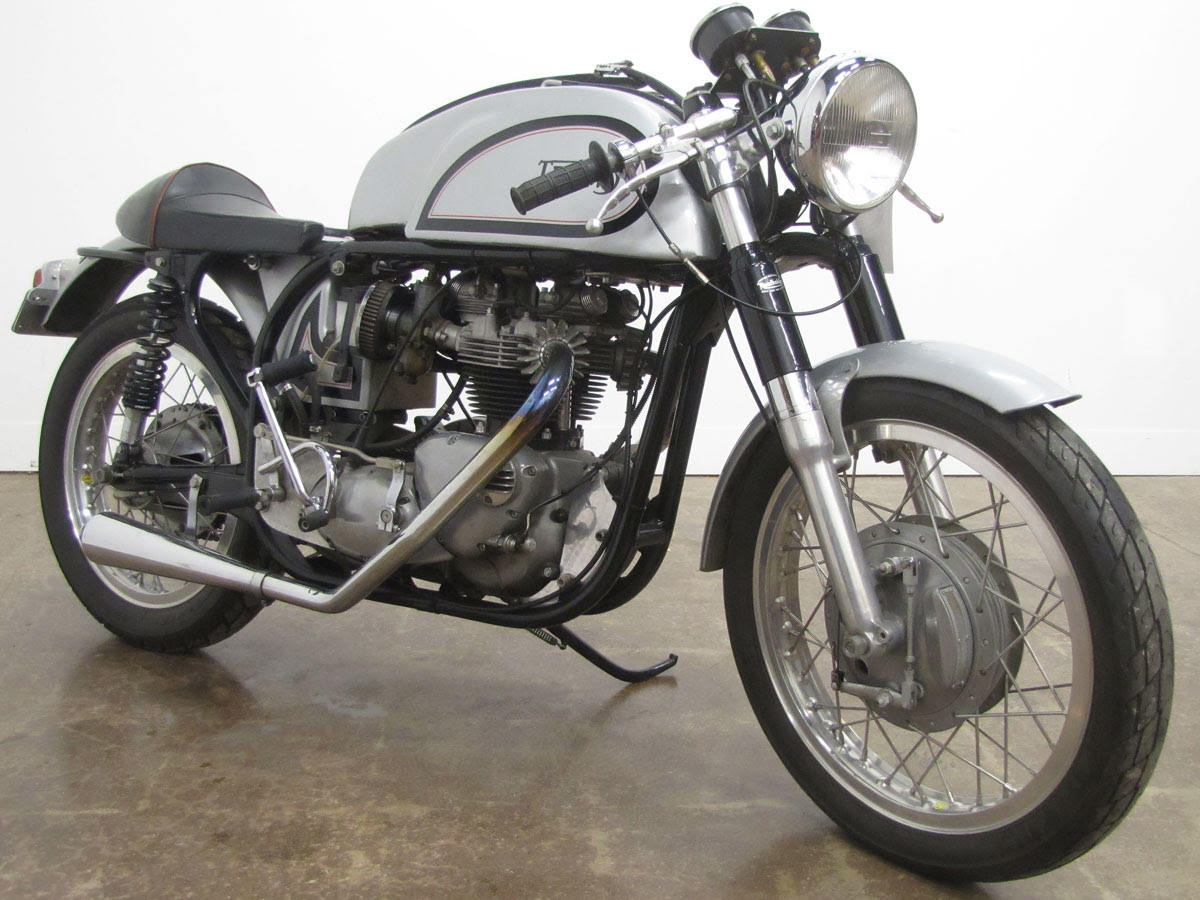 Road racing on a closed circuit may be the most demanding of a motorcycle chassis, an engine and the leather-clad rider. Perhaps most revered, especially for its chassis, is the "Featherbed" Manx Norton made from the 1950 through 1962. Earliest Manx models were rigid (no rear suspension) with girder forks. Then the plunger rear suspension was developed. But fitted with the McCandless brothers Featherbed frame for 1950, the Manx was at its height in chassis design, and the bike to beat on tracks like the Isle of Man.
But the Manx Norton was never road legal, so many street riders seeking maximum handling qualities emulated the Manx, and substituted road-going Norton twin frames and used more street-able engines like Triumph twins at the same time. A contraction of "Norton" and "Triumph," the Triton was born; the Norton featherbed frame and a Triumph twin engine. Going all out and using a Vincent twin engine, a NorVin was created.
As with this machine, clip-on bars, a "bread loaf" fuel tank, a decked seat, alloy rims, big front brakes and rear-set foot-pegs were mandatory, even if comfort was compromised. These features put the rider low in a streamlined posture and offered fuel capacity for long races. Light weight is desirable for racing so many components are aluminum, even magnesium on true old race bikes. This Triton uses a lot of aluminum for chassis components and to add to its style, much of it is polished. Bold striping on the silver paint and red piping on the seat mimic the Manx Norton design as does the oil tank access through the seat and conical rear brake.
As big fans of closed course road racing, European and British riders built the earliest of cafe racers and proudly rode them on public roads, often running over the speed limit. The craze came to America in the 1960's and has thankfully had a recent resurgence though it is more likely 70's Japanese bikes that are reworked into cafe racers today.
When you visit the National Motorcycle Museum you can view this Triton and a few cafe racers based around British, Italian and Japanese motorcycles and some true road racers, the inspiration for the cafe racer. This great Triton is from the John and Jill Parham Collection.
Specifications:
Engine: Four-Stroke Twin, Unit Triumph
Type: Overhead Valves, Two Valves per Cylinder
Bore & Stroke: 71mm x 82mm
Displacement: 649cc's
Compression Ratio: 8.5 – 1
Ignition: Battery/ Points
Carburetor: Twin Amal Concentric
Starting: Kick Only
Horsepower: About 45HP
Primary: Chain Driven
Clutch: Wet, Multi-Plate
Final Drive: Chain
Transmission: 4-Speed
Frame: Featherbed Duplex, Steel
Suspension: "Road Holder" Hydraulic Fork / Swing-arm, Koni Shocks
Brakes: Drum Front / Drum Rear
Wheelbase: 56.5 Inches
Weight: 375 Pounds
Top Speed: 115MPH