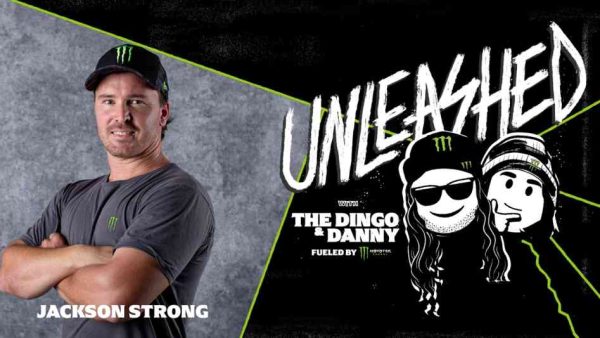 Monster Energy's UNLEASHED Podcast Welcomes Motocross Trailblazer Jackson Strong
Episode 36 Gets personal with 30-Year-Old FMX Innovator and Six-Time X Games Gold Medalist
Start your engines! Monster Energy is proud to welcome freestyle motocross innovator and six-time X Games gold medalist Jackson Strong on Episode 36 of the sports and pop culture podcast UNLEASHED with The Dingo and Danny.
This latest one-hour episode released today across Monster Energy's social media channels and was recorded inside Monster Energy headquarters in Corona, California. A must-listen for all motocross fans, the podcast gets the inside story from the 30-year-old from Lockhart, New South Wales, Australia, who became a professional freestyle motocross rider as a teenager and left his unique mark on the sport ever since.
"I think freestyle motocross is in a bit of a transitional period at this point in time. There are a lot of guys doing a lot more freeride-type stuff, like what Axell [Hodges] is doing is really cool. But I think we're going to see freestyle move away from being inside small stadiums and moving outside with bigger jumps, longer distances and highest air. But we'll always have the Best Trick and people learning new tricks," said Strong.
Fans can now tune in to Episode 36 of UNLEASHED featuring Jackson "Jacko" Strong.
Released today, the new podcast is streaming on all major platforms, including Spotify, iTunes, and YouTube.
Jackson Strong's career is without parallel in professional freestyle motocross. At age 13, Strong began performing in shows with the Crusty Demons crew and has pushed the limits with never-been-done tricks ever since. He earned his first X Games gold medal in 2011 and has clinched the win in Motocross Best Trick six times since. His X Games record currently stands at 13 medals (6 gold, 4 silver, 3 bronze) and includes one bronze from Snow Bike Best Trick. A fearless innovator and next-level athlete, Strong embodies the action sports mindset like few other riders and keeps the innovations coming in boundary-pushing video parts.
Learn about Strong's innovative approach to motocross and unparalleled mental resilience in conversation with the two podcast hosts, Australian action sports personality Luke "The Dingo" Trembath and professional snowboarder Danny Kass on Episode 36 of UNLEASHED. Tune in right here.
Born in New South Wales, Australia, to a farming family spanning several generations, Strong discovered dirt bikes at a young age. "For me it all began riding around dirt bikes on the farm. More like a ways of getting around, sort of my transport. It was how I got to school," said Strong on UNLEASHED. With a penchant for catching air, he soon began building his own jumps and training at abandoned spots near his home. And he got good quick: When he was only 13 years old, Strong began touring with the Crusty Demons of Dirt crew. "I learned all the bad habits of life, early on. Crusty tours were fun," said Strong.
Ultimately, the young rookie began traveling to the United States and competing in the world's biggest showcase for action sports: The X Games. In what was only his second X Games appearance, the Australian shook up the established order by claiming gold in Motocross Best Trick with a spectacular front flip. "I've been doing this for a long time. That's eleven years ago now, I was age 19 then," said Strong.
Over the next few years, Strong began dominating the Best Trick discipline like no other rider before – and kept the trick innovations coming. In 2015, he landed the first-ever double back flip into dirt off a quarter pipe as one of many never-been-done tricks on his resume. "There are so many more tricks that can happen. Moving forward, we are going to see more technicality in the jumps. And when it comes to Best Trick, we're going to see more air bag landings and things to make the sport safer."
Before the pandemic, Strong built his own training facility, The Sandbox, to prepare for competitions and film his viral video segments: "I built it because with a busy traveling schedule of doing shows, it was hard trying to find enough time to practice. For me when I'm practicing, I want to go riding two times a day. I want to put in the work and be as current as I can! Freestyle motocross is a very real sport. And that's why I love it!"
Constantly evolving his skill set, Strong also took his freestyle talent to the snow, competing in the Snow Bike Best Trick event at X Games Aspen 2020, where he won a bronze medal. Not known for resting on his laurels, Strong also likes to get his kicks base jumping from bridges and tall cliffs. "My friends at home who sky dive, fly planes and base jump, I started hanging out with them a lot more because you couldn't travel as much during the pandemic."
After dealing with several heavy injuries, Strong began cultivating a resilient mental attitude to fortify himself against doubt and distractions. "There have been lots of injuries and broken bones. But anyone who's looked at action sports has their fair share of bones and injuries happen. It's not something I like to pride myself in, because you've done something wrong when that happens, but everyone who's looked at a motor bike had something happen."
Want to hear it from Monster Energy's Jackson Strong himself? Visit the landing page to access Episode 36 of the UNLEASHED with The Dingo and Danny Podcast featuring daredevil FMX athlete Jackson Strong.
Episodes of UNLEASHED are filmed on a special set inside Studio M at Monster Energy headquarters in Corona, California. The podcast is hosted by the dynamic duo of Australian action sports personality Luke "The Dingo" Trembath and professional snowboarder Danny Kass. Known for their deep roots in action sports culture, the two starred in the beloved cult TV show 'The Adventures of Danny and The Dingo' on Fuel TV for five action-packed seasons in the early 2010s. Both hosts have walked the walk as pro snowboarders and possess the interview skills to find common ground with guests from any type of background – sports and pop culture. Always look out for new episodes dropping bi-weekly on Mondays.
The UNLEASHED with The Dingo and Danny Podcast is here to celebrate the personalities behind the Monster Energy lifestyle.
For more on Monster Energy and the UNLEASHED Podcast, visit www.monsterenergy.com.
* * * * * * * *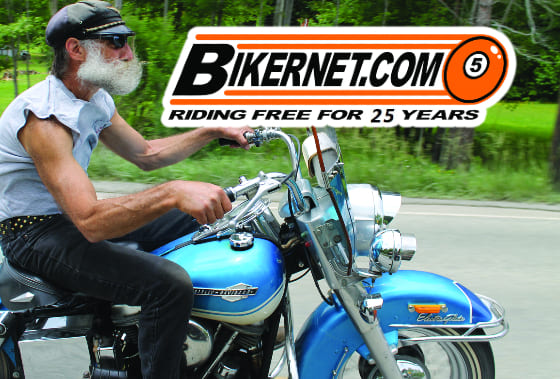 Sign up for Free Weekly Newsletter from Bikernet.com to stay updated on latest Motorcycle news, events, products, tech, tips, reviews, deals, fun & more
Click Here to Join – it's Free – you can unsubscribe anytime