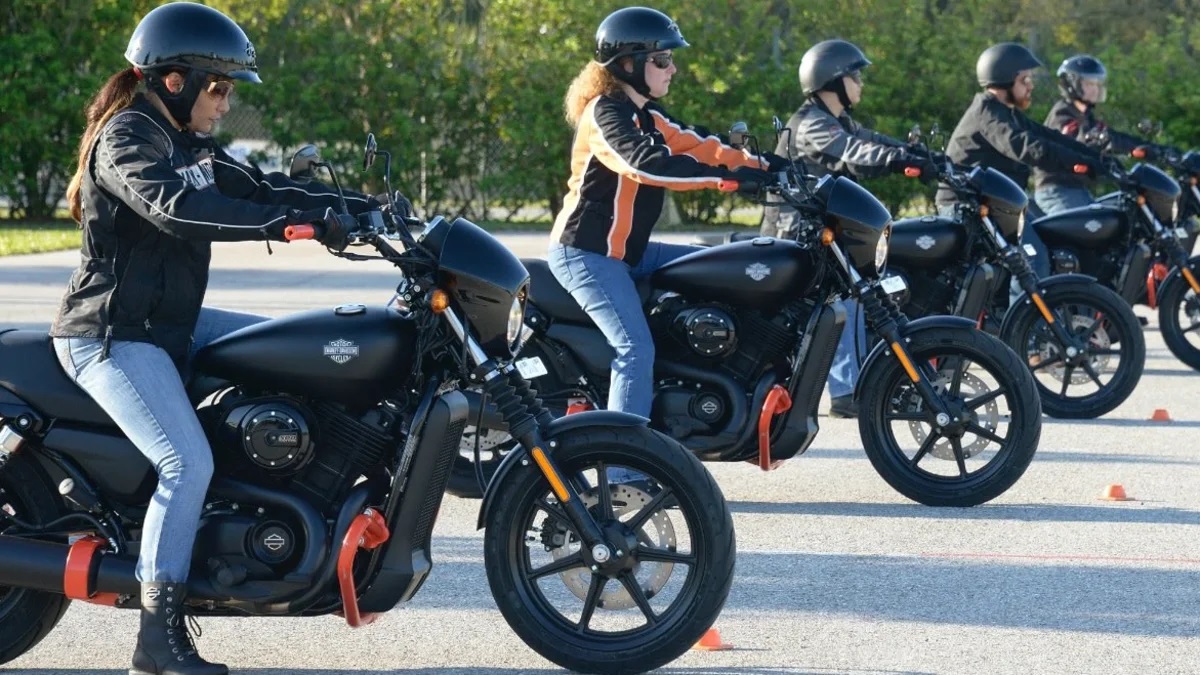 by Margaret Naczek from https://www.bizjournals.com/
Last spring, the University of Wisconsin-Milwaukee offered its first Harley-Davidson one-credit ridership class through the College of Health Sciences. Four students enrolled the first semester followed by an additional 16 students in the fall of 2019.
As students begin enrolling in classes for spring 2020, the director of the College of Health Sciences Ron Wiza said there are only four remaining slots available.
As the program grows, so do the amount of motorcycle riders, coinciding with Harley-Davidson's "More Roads Lead to Harley-Davidson" strategic plan. Part of Harley-Davidson's plan is the Broader Access goal to "create new pathways to Harley-Davidson, expanding access and appeal to more people around the world."
The Milwaukee-based motorcycle manufacturer detailed that it hopes to create high-engagement customer experiences across all retail channels. The company's "Amplify Brand" goal also encourages "enhancing the Harley-Davidson experience to inspire interest in riding, fostering Moto-culture and build an even bigger, more passionate community of Harley-Davidson riders."
The program began as a partnership between Harley-Davidson and UW-Milwaukee. The company connected Wiza with Milwaukee Harley-Davidson dealership at 11310 W. Silver Spring Road.
"The other reason that we chose the Milwaukee Harley-Davidson location is because even though UW-Milwaukee is a commuter college where a lot of people don't live on campus, there are still several thousand students that live in the surrounding community around UWM," Wiza said, noting that it was important to pick a dealership that was either close to the campus or accessible on the transit line.
"Here at UWM, we're kind of an urban campus. One of our selling points is we are always encouraging students who attend our university to experience the vast array of things that Milwaukee has to offer," Wiza said. "With that in mind, we strive to create partnerships and develop opportunities with local well-known businesses and attractions in the Milwaukee area."
Twenty-year-old Grace Oddis, a sophomore studying mechanical engineering at UWM, took the course in its inaugural semester.
"I knew the class was really expensive. I saw that UWM offered it as a credit. I thought that would be a great opportunity to take it and also get a credit, just for the goal of being able to ride on the road and feel comfortable," Oddis said.
As a one-credit class, the students are required to commit about 48 hours of learning to that course. For the Harley-Davidson ridership class, students complete a pre-course and post-course assignment along with two evening sessions. The rest of the time is dedicated to a weekend at the dealership doing the physical motorcycle driving lessons.
"We learned a lot about motorcycle safety. That was the biggest thing — how to prevent things from happening, being able to go around different obstacles and keeping the bike straight on the safety course," Oddis said.
Now the sophomore has her motorcycle license and is looking at buying a bike, something that would have taken longer if she had not participated in the course.
"I thought it was a great experience. You felt comfortable. You felt safe. I think it's great to get more women involved in motorcycles and teaching them. This was a great way for a college student to be able to do that no matter what you're going to school for," she said.
Harley-Davidson did not respond to a Milwaukee Business Journal request for comments on the UWM program.