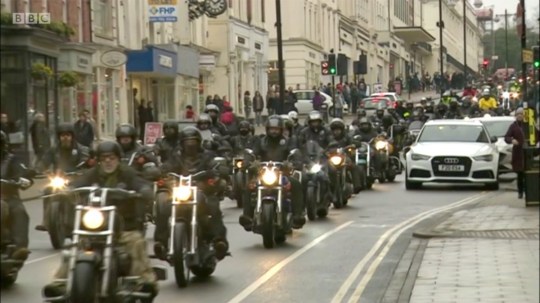 Hundreds of bikers made the wish of a grieving dad come true by revving engines at his young son's funeral so he could "hear them in heaven".
Romeo Ferreira, who loved motorbikes, died aged three in December after battling a brain tumour.
His father Leandro made a hopeful plea on social media for roadies to make his son's final day special.
He said he never expected hundreds of clubs from across the country to appear in Leamington Spa on Thursday.
The bikers rode and revved their engines in convoy behind the Romeo's tiny coffin in a funeral cart, attached to a bike.
Romeo's mother Kelly told the riders: "The louder the better. And rev it up so everyone can hear them and Romeo can hear from upstairs."
"Heaven needs to hear the bikes," Leandro told BBC Midlands Today. "Most of the bikers, 99 per cent, they don't know Romeo. Everyone has just been awesome."
One biker said: "Any support we can show, that's why we're here," adding of the small funeral cart: "I'm big and ugly and it teared me up."
Bikers from across the country answered a grieving dad's call to come and rev their engines at his son's funeral so the youngster could 'hear them in heaven'. Romeo Ferreira died from a brain tumour in December aged three. He loved motorbikes, so his father Leandro appealed for riders to come and make some noise as he was being laid to rest in Leamington Spa. His tiny coffin was even ferried to church in a small sidecar as the convoy of riders followed.
Leandro told the BBC: 'Heaven needs to hear the bikes, the bikers. Most of the bikers, 99 per cent, they don't know Romeo. 'Everyone has just been awesome.' Romeo's mum Kelly said she told the bikers: 'The louder the better. And rev it up so everyone can hear them and Romeo can hear from upstairs.'