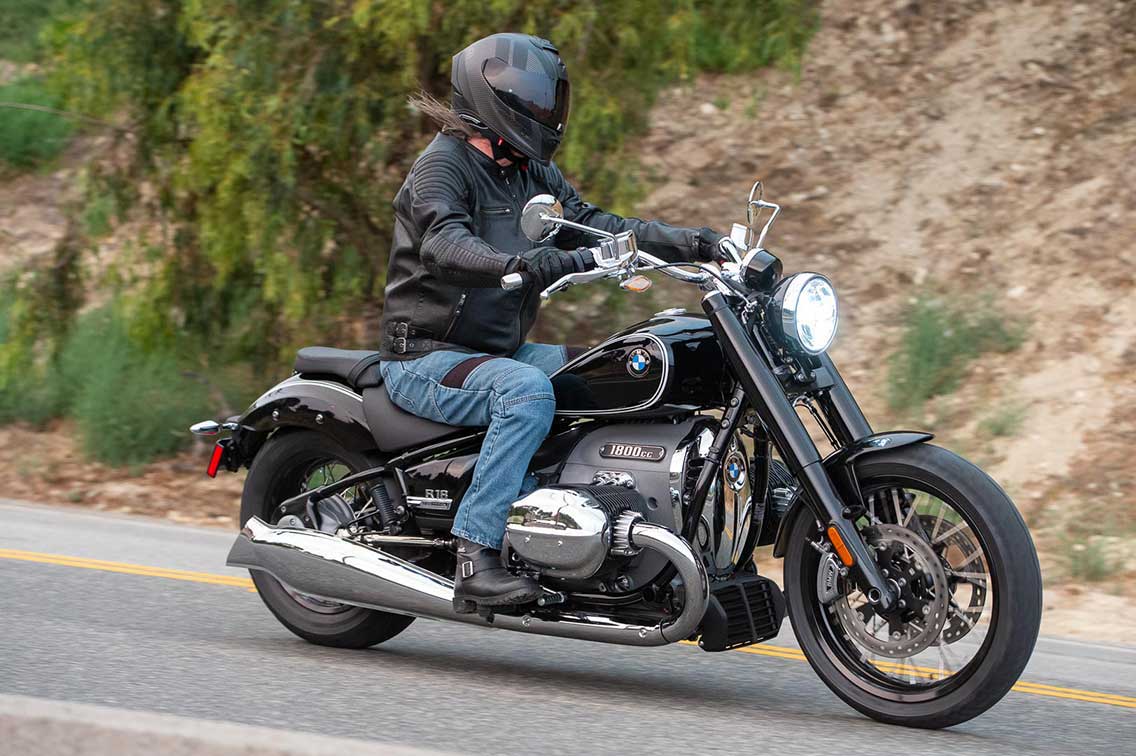 by Anthony Conroy from https://www.post-gazette.com
BMW's R18 First Edition is powerful, simple and sophisticated
Size isn't everything, the old saying goes, but when you take a ride aboard BMW Motorrad's R18 First Edition, its size is impossible to ignore.
Put a leg over the seat, settle in and take in those two massive, chromed cylinder covers sitting in front of you, each one its own 901cc power-making factory. It's like sitting on the neck of a shiny hammerhead shark.
The engine — a twin-cylinder configuration known as a Boxer — has been BMW's signature since 1923. But the Boxer on the R18 is the largest the German manufacturer has ever produced, with a claimed output of 91 horsepower and 116 pounds-foot of torque.
Other manufacturers will claim to have bigger and better numbers, but the R18 isn't designed for life on the rowdy edge. It's a power cruiser, but with the soul of something vintage and simple. A modern throwback, if you will.
In fact, despite the $20,000 price tag, there aren't many frills. Some adjustability in the rear, none in the front. Heated grips. A reverse gear. BMW's automatic stability control, which is essentially traction control. And three power modes: Rock, Roll and Rain. For our purposes, those might as well have been called Road Rage, Easy Jaunt and Tip-Toeing Through the Puddles.
In other words, let's Rock.
The R18 has a keyless ignition and once the starter is pushed, the bike thunders and shudders to life. At stops, there's quite a bit of vibration, but that's exactly what you'd expect with two giant metal buckets rotating and internally combusting between your legs. The vibrations don't exactly fade away once on the go — you'll see a lot of blurring in the rear view mirrors, but I never felt any numbness in the hands, feet or butt after long rides.
Rock mode taps into the full potential of the beastly Boxer. You'll feel the torque at 3,000 rpm. Max horsepower comes at 4,750 rpm. The best part is there's nothing grabby or choppy about its power delivery. A sharp pull on the throttle produces smooth, linear power through six gears. Despite the nearly 800 pounds of motorcycle sitting beneath you, the bike requires minimum inputs at speed. A long wheelbase and a wonderful center of gravity contribute to the bike's stability. Handlebars that are wide but nicely swept provide excellent leverage and contribute to the bike's agility.
And it is agile — at speed anyway. It actually feels light going around fast, sweeping turns. And going faster feels right, as your feet are not in front of you, like with most American cruisers. They're underneath you, which seems more natural during aggressive riding.
At the front wheel, twin four-piston calipers developed in-house by BMW are paired with dual 300mm discs to slow down the big Beemer. When the pace gets really slow — like in a parking lot — the R18's weight does feel a bit cumbersome, like pushing around a fully-dressed Harley-Davidson without the cabinetry.
Potential buyers also will need to carefully decide how they intend to ride the bike, particularly if long hauls are on the agenda. Those massive cylinders look great, but they make the prospect of having highway pegs impossible. There's also no back rest or cruise control (at least not on the First Edition), so it's not the kind of bike you'll be able to kick back on while eating up highway miles. The tank holds 3.2 gallons of fuel with a 1-gallon reserve, so expect to get around 120 miles per fill-up. For some reason, BMW opted against a fuel gauge. However, a warning light will let you know when you have about 20 miles left to go.
Riders looking for a more travel-friendly R18 right out of the box may want to opt for the Classic model, which comes with a windscreen and baggage, rather than the First Edition. To be honest, there will be no shortage of aftermarket accessories for any model marketed under the R18 badge.
The BMW was flawless in tearing around town and rural backroads, with the seating position and seat itself good for all-day riding. There's 3½ inches of travel at the rear suspension, but it's a bit stiff. Best to avoid the bumps. Ergonomically, there wasn't much to complain about.
One complaint, if you can call it that, is that the R18 has a very quiet transmission. When going from neutral to first gear, there was hardly ever a sound or a shimmy — no knock, ping or usual KERTHUNK! that I'm used to hearing (and feeling). Without that, quite frankly, I sometimes found myself doing double-takes for the neutral light to make sure I was in gear before speeding away.
In other words, leave it to the Germans to make something so mechanically perfect that it's worth complaining about.
Aesthetically, it's hard to miss those giant cylinders, but there are other visual items that shouldn't go unnoticed.
If chrome is your thing, there's no shortage of it, especially on those those wonderful looking fishtail mufflers. They don't make a lot of sound, but they are beautiful to look at and give the R18 a distinctive look. Also chromed is the front of the engine housing. Overall, the housing eliminates clutter and gives the bike a polished, clean look, but it does make everything else — apart from the cylinder heads — a bit of a mystery.
Thankfully, for those who need to see something mechanical to soothe our inner motorhead, BMW's engineers gave us an exposed bevel-geared driveshaft. Seeing it in action while actually riding is a bit of a task, but we'll take mechanical porn however we can get it.
Overall, this Beemer is an excellent motorcycle. The price tag may be a bit on the high side, but the R18 is for owners wanting two things: a cruiser with impressive performance and one that distinguishes itself from American cruisers and Japanese knock-offs. The R18 First Edition definitely accomplishes both goals.