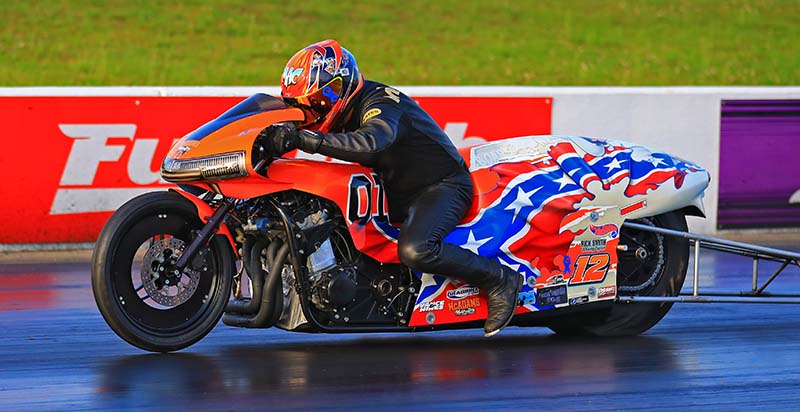 The XDA's 36th Annual MTC Engineering Summer Nationals at Virginia Motorsports Park was hot on and off the track this past weekend, with temperatures in the high 90s.
XDA racers got the Trifecta in track prep at VMP's world-renowned facility, with Tyler Crossnoe, Jimmy Bradshaw, and Jason Miller all on hand for this event. The track prep was on point and done right to keep the surface in optimal shape as the warm temperatures wreaked havoc on the racing surface.
Orient Express Racing Pro Street
Orient Express Racing Pro Street was incredible as the performance numbers were shocking for this unseasonably warm event where tack temperatures exceeded 140 degrees. Rodney Williford and Justin Shakir lead qualifying with big numbers. Williford ran a 6.415 at 232.03 mph to qualify number one, followed by Shakir with a 6.484 at 230.57 mph.
In qualifying Gaige Herrera on the only nitrous motorcycle reset his record to 6.588, and then went on to lower that ET to a 6.535 in eliminations. Herrera holds the title as the quickest Nitrous Hayabusa in the World.
Rudy Sanzoterra also lowered his personal best in qualifying to a 6.653 to move himself up the GOAT List.
Greg Wallace ran a 6.486 and 6.468 in eliminations, but surprisingly the 6.468 did not turn on a win light as Rodney Williford ran a 6.420 in the semi-final round to end his weekend.
Jason Dunigan and Gaige Herrera both ran a 6.56 and 6.55 in round two of eliminations and looked to put on a good show in the semi-final. However, Dunigan turned on a -.002 light to send Herrera to the final against Williford.
Herrera and Williford faced off last season and Herrera was looking for redemption as he took the starting line advantage with a .036 reaction to Williford's .057. However, Herrera wasn't out in front for long as Williford barreled around him and stayed out in front of him to put an astonishing 6.396 at 232.03 on the board that Herrera's 6.572 could not compete with.
The Pro Street action continues in just one month at the 5th annual FuelTech Superbike Showdown on June 17-19, 2022 at Maryland International Raceway.
DME Racing Real Street
The DME Racing Real Street class was again led by champion David Stewart in qualifying with a 7.615, followed by Rickey Gadson with a 7.625.
David Stewart made it to the semi-final, where fellow class champion Mark Hylton took him out on a holeshot win with a .004 reaction time, running a 7.618 to Stewarts' quicker 7.564.
Ben Knight, who won the season opener, made it to another final round after taking wins against Caleb Holt and David Fondon.
Hylton and Knight on their all motor Hayabusa's, seemed unaffected by the heat of the weekend as they kept their performance numbers up round after round. Knight cut an uncharacteristic .108 light in the final, giving Hylton's .059 light the starting line advantage. With Hylton getting off the starting line first, Knight struggled to catch him, and Hylton took the win with a 7.15 to Knight's 7.667.
MaxxECU Pro Xtreme
Ronnie Procopio entered his first MaxxECU Pro Xtreme race this past weekend and dominated like a veteran. Procopio qualified #1 with a 3.970, putting the only three-second pass on the boards during qualifying.
Procopio had an earned bye in round one. In round two, he won over Chris Cutsinger to place himself in the final to John Collins, who qualified number two with a 4.032. Collins took wins against Travis Davis and Chris Theodoridis before the final.
Despite the heat, these two machines had the potential to put three-second passes on the boards in the final round. It was looking to be a good round of competition, but Collins turned on the dreaded red light with a -.004. The red light did not slow either competitor down as Procopio, with the secured win, ran a 3.961, and Collins came close with a 4.002 pass.
MaxxECU Pro Xtreme is presented by Billy Vose Racing, Fast by Gast, Dunigan Racing, DME Racing, Grothus Dragbikes, Harley Haul, Rob Bush Motorsports, Robinson Industries, Schnitz Racing, Timblin Chassis, and Worldwide Bearings.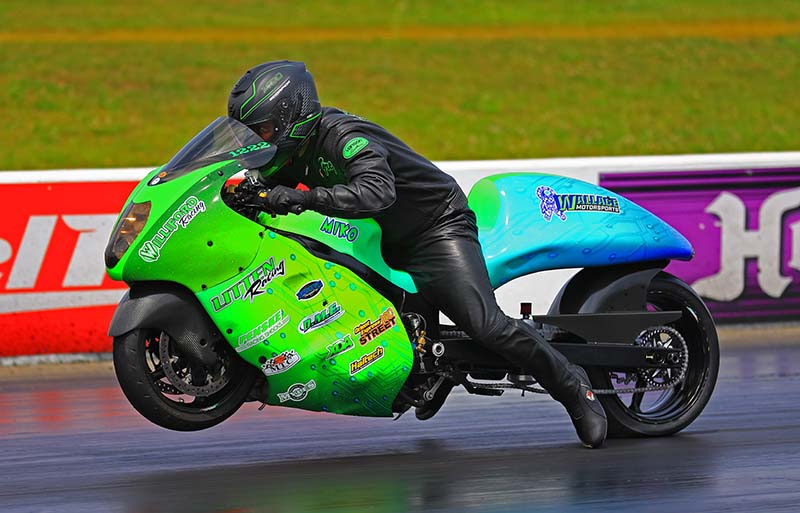 HTP Performance Super Stock
For the second straight event, HTP Performance Super Stock had us feeling like it was Déjà vu. Again, Curtis McDougald took the #1 qualifying spot with an 8.867 to lead the eighteen-bike field of clutch hand racers.
Mike Davis and Darion Payne fought their way back to another final round appearance. Payne took the win at the first event, and Davis was eager for his turn in the winner's circle, a little too eager as he left before the bulbs dropped to hand Darion Payne his second straight win of the season.
Vance & Hines 4.60
The Vance & Hines 4.60 class didn't disappoint at the MTC Summer Nationals with five rounds of tough competition. Six racers ran a 4.60 in qualifying, but Jeff Jones got the #1 qualifying spot with his high mph of 150mph as the tie breaker.
Mac McAdams won against Troy Hausmann, Spencer Allen, Michael Stewart, and Jimmy Shifflett to make it to the final round. On the other side of the ladder Joe Rodney took wins over Durwood Rawlings, Brayden Davis, Wes Hawkins, and Kenny Cornell.
With two big names in the final round, it all came down to who was hungrier. McAdams cut a .004 to Rodney's .022, but Rodney caught McAdams quick, and they were side-by-side approaching the eight-mile finish line. Rodney may have been too hungry as he broke out, crossing the finish line first with a 4.592 to McAdams's 4.615. The margin of victory on this run was .005 seconds.
HTP Performance Grudge
The rain came in on Saturday night and put a swift end to Saturday night grudge racing. The Tommie's Motorsports DMV Bulls class decided to split the purse as some racers couldn't run on Sunday. The APE Nitrous Bulls class and the 3 Sixty 5 Transport Monster Bulls classes voted to finish their shootouts on Sunday.
Boosted Bulls
Malcom Phillips was the only rider that came to win at Virginia and was uncontested. That didn't stop 'Billy Mays' from laying down some lightning-fast laps that left everyone in disbelief while he gained valuable points towards his championship.
APE Nitrous Bulls
In round one of APE Nitrous Bulls, Busa Benjamin on 'Mister Jay' got the jump on Lavar Delee on 'High Roller', but by the eighth mile, Delee was hard-charging around him for the win light. Malcolm Phillips on 'Black Jesus' got an easy win over DeSean Jones on 'Jimmy Hendrix' when he broke on the starting line. And Desmond Spalding on 'Sho Nuff' had an earned bye in round one.
Spalding was fighting wheelies in round two from start to finish as Phillips controlled pass turned on the win light to send him to the final to face off with Delee who had a bye this round.
'Black Jesus' said a prayer in the final while 'High Roller' threw the dice. Phillips got off the line first and stayed in front of Delee until the finish line for the win, proving prayers over gambling is always the way to go.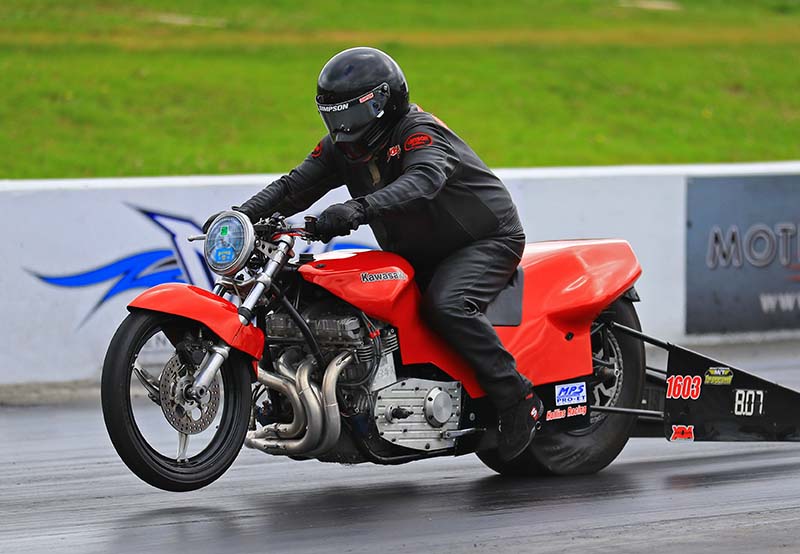 3 Sixty 5 Monster Bulls
3 Sixty 5 Monster Bulls was a 'Flawless Victory' delivered by Antonio Williams. Williams put the voodoo on his opponents who struggled in the rounds they faced him. In round one 'Tik Tok' struggled to get off the line; in round two, 'Pickin Pockets' suffered the same fate. And then, in the final when Williams faced Jamael Jones on 'Stimulus Check', Jones left before the bulbs came down to give Williams his first XDA win with a leisurely cruise down the track.
Tommie's Motorsports All Motor Shootout
Tommie's Motorsports put together an All-Motor Shootout on Friday night that Edward Thomas on 'Da Setup' won over Henry Wise on 'Henry'.
1 Stop Speed 5.60
The 1 Stop Speed 5.60 class was on fire at the MTC Engineering Summer Nationals as the lanes were packed for a chance at the eight-mile title. Steve Holden qualified on top with a 5.604, leading the thirty-three bike field.
When Sunday eliminations started, nothing stopped sixteen-year-old racer Brayden Davis from making his mark at his first XDA event. Davis took out big names on his way to the final with wins against Mike Sweeney, Dave Cornell, Stephen Moye, and Jimmie Miller. In the final, he would face class champion, Dustin Lee. Lee put a .006 light on the tree for the starting line advantage to Davis's .040, but when it came to covering those six hundred and sixty feet, Davis would clear it first, running a 5.606 to Lee's 5.656. It was an exciting final as Brayden Davis' margin of victory was a mere twelve inches over Lee.
Mickey Thompson Tires Top Sportsman
Mickey Thompson Tires Top Sportsman features the quickest ET racers on the property. Bill Maturo Jr took the number one qualifying position with a 7.741. Maturo, however, would not survive round one as he broke out against Orlando Johnson with a 7.701 on his 7.73 dial.
George Shriver and Jim Shifflett survived four rounds of competition to face each other in the final. The final was set to be a close race with Shriver dialing an 8.04 and Shifflett an 8.17. However, Shifflett gave the win to Shriver at the starting line when he turned on a -.009 red light to end his chance for a winner circle finish.
MPS Racing Pro ET
In MPS Racing Pro ET, the competition saw red in the Virginia heat. The first round saw a whooping twenty-one red lights as racers pushed the tree for that starting line advantage. James Farmer and Nick Hamlett won their seven rounds from their side of the ladder to meet in the final round of competition for a bar vs. no bar final.
Hamlett dialed an 8.77 and Farmer an 8.16. Farmer got the starting line advantage with a .020 light to Hamlett's .060. Farmer left second but quickly caught Hamlett for a side-by-side race to the finish. As the two took the stripe, Hamlett broke out, running an 8.757 giving the win to Farmer, who ran an 8.172.
VooDoo Components Bracket Bash
Over a hundred racers braved the heat and entered the Saturday VooDoo Components Bracket Bash class. Four rounds of competition were completed until the rain came in and shut down the race Saturday night. Ten racers split the prize money and started their Saturday night celebrations early.
Brock's Performance Street ET
In Brock's Performance Street ET, the competition was at its best despite the high temperatures of the event. Class champion Derrick Milbourne started the weekend off with a win on Friday night and carried that right into Sunday's competition. After winning six rounds, he faced Shayne Proctor in the finals. Proctor dialed a 9.14 and cut the better light with .033; Milbourne left the tree second with his 8.81 dial and chased Proctor down to get to the stripe first, winning with an 8.834 to Proctor's 9.178.
Hard Times Parts & Service Gambler's Race
The Friday night Hard Times Parts and Service Gamblers race kicked off the weekend, putting cash in sportsman's pockets. Derrick Milbourne and Rico Brown won five rounds to make it to the final to face each other. Both riders were cutting lights and running well on their dials to make this a tremendous final-round matchup. Dialed an 8.86, Milbourne, a veteran racer, cut a.004 light for the starting line advantage. Brown dialed an 8.76, and chased Milbourne to the stipe but broke out running an 8.758 giving the win to Milbourne, who ran an 8.887.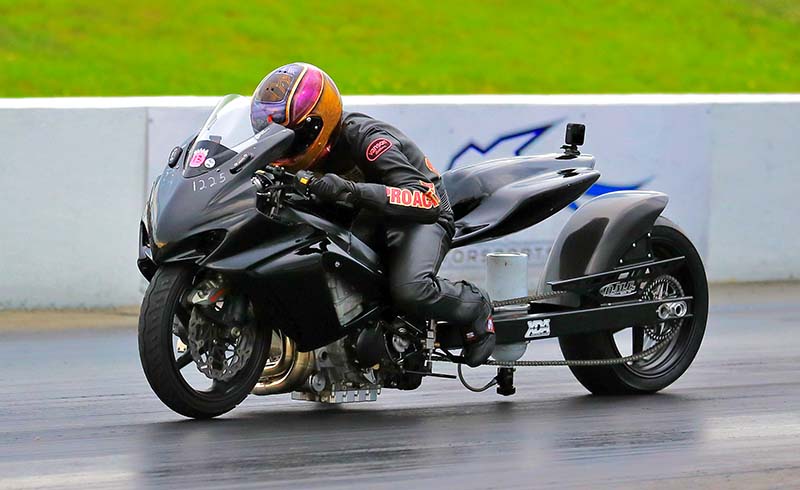 For full qualifying and round-by-round results of the event, visit www.xdaracing.com.
The XDA will head back to Maryland International Raceway for the 5th annual FuelTech Superbike Showdown on June 17-19, 2022.
There will be over 700 Professional, Sportsman, and Grudge motorcycle racers in competition, battling it out for over $80,000 in cash purse. Make plans now to watch the best drag racers in the country put on the quickest and fastest show on two wheels the East Coast has to offer.
About XDA Racing: The Xtreme Dragbike Association (XDA) is an east coast motorcycle drag racing series with 700+ motorcycle racers competing at each event. Every XDA event hosts professional classes, sportsman classes, grudge racing and a vendor midway. Lifestyle activities such as bike shows, bikini contests, DJ and live bands are also held at select events. For more information on the XDA, please visit xdaracing.com or connect with us on Facebook, Instagram, Twitter and YouTube @xdaracing
Hey, ever wondered how you can build a motorcycle for racing it as an amateur or a professional ?
Well, 5-Ball Racing built and raced one at Bonneville Salt Flats – broke a record. The entire process was also documented. In this book, you can get all the details – from concept to the racing venue – with high quality full-color printing.
Titled "How to Build a Bonneville Salt Flats Motorcycle", it documents the construction of "The Worlds Fastest Panhead," conceived and assembled by Keith Ball, former editor or Easyriders magazine and current owner of Bikernet.com, the most popular biker stop on the internet.
All 5-Ball Books will be signed by the Author and contain 5-Ball Bling—Amazing!