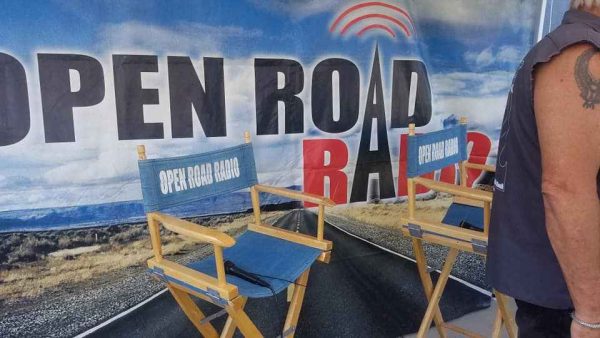 Open Road Radio –America's Standard in Motorcycle Talk RADIO Show – celebrating 25 years & streamed live weekly!
Join our host Gina Woods, Scrapper Dan, Penny FXR 😊 is OUT tonight, but we have the be-Dazzlin in the house with Justin in the Full Throttle Law studios from Viva Las Vegas!
New to the show Dave Ratner makes a special appearance and Peter Cage our new effin awesome engineer is in the house!
We discuss Hot Weather Riding & ways to eliminate letting the elements get to you in these extreme temps!
LIVE Mon Nite 9:00 pm-10:00 pm EST: Coast to coast & worldwide!
1400 AM 107.1 FM KSHP- Las Vegas
Featuring The Ornery One & his Ornery Squaw: Motorcycle travels on a budget to inspire individuals! 100 proof of Onery w/ a double shot of LOVE. They are currently on a cross country trip riding border to border & coast to coast while making their way to The Best Party Anywhere: Sturgis Buffalo Chip! They'll be riding roughly 11,000 miles from Maryland to California via HWY 50 the "Loneliest Road in America" and Texas to New York via HWY 62 the only US Highway that runs border to border & to boot they have a treasure hunt going on, which we'll be sure to get the scoop on tonight….
We'll put a wrap on it by discussing motorcycle events coming up and NEXT week a Sturgis 2022 preview!
WATCH & Share The Promo Video: https://animoto.com/play/igcRrrmo6PkkxdPTf9exiw
Our show is fueled by Andrews Products, Sea Foam Products, Harley-Davidson, Full Throttle Law, Bike Show Mafia, Motorcycle Safety Foundation, Chixs On 66, MegWear, & Biker Belle's Women's Day Buffalo Chip
Hold on tight it's going to be a thrilling ride!
Follow & Know more about Open Road Radio at:
https://facebook.com/Roadhost
https://facebook.com/gina.woods.961
https://www.youtube.com/channel/UCgY9e0X2D_z7pywy7d1QuLg
* Tell'em Bikernet.com Sent Ya !!!