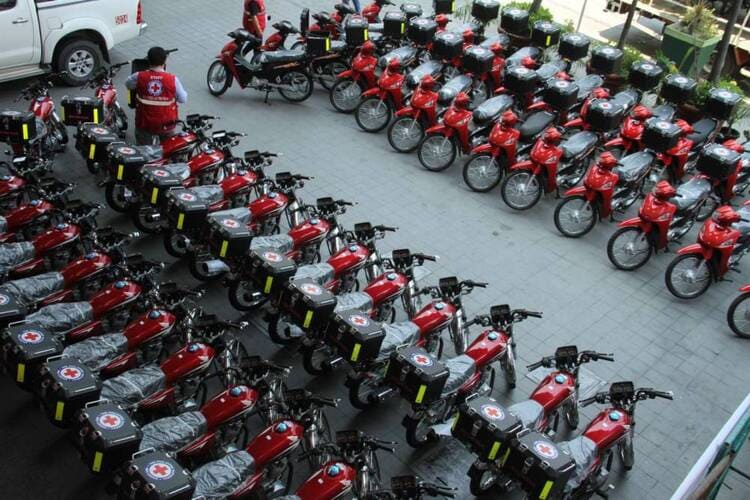 from https://mb.com.ph by Dhel Nazario
The Philippine Red Cross vowed on Saturday, Dec. 11, to provide a more effective humanitarian response now that it is more equipped after receiving motorcycles donated by Honda Philippines Inc.
PRC Chairman and Chief Executive Officer (CEO) Sen. Richard Gordon gave this assurance to the public during the ceremonial distribution of Honda motorcycle units to local Red Cross chapters in North Luzon, Central Luzon, South Luzon, Bicol, Visayas, and Mindanao clusters.
Gordon expressed his gratitude to Honda Philippines Inc. President Susumu Mitsuishi for the carmaker's turnover of 104 motorcycles, complete with insulated top box.
"These motorcycles will level-up the capacity of PRC's fleet for responding to emergencies. The PRC is now more equipped to provide speedy and effective responses during disasters, public health crises, and other situations that require humanitarian aid," Gordon said.
Gordon also thanked respected automotive industry parts supplier Eddie Jose as he assured the group of the PRC's commitment to use the assets to protect the public's well-being, health, and to save lives.
"Each PRC chapter will use these new motorcycles to ensure faster and easier access to blood, saliva RT-PCR testing, and soon, even first aid assistance. These motorcycles will enable PRC volunteers and staff to quickly reach areas that would be inaccessible to larger vehicles." Gordon said.
He also reiterated that PRC personnel assigned to use the motorcycles will undergo a series of safety trainings that will enable them to properly handle and operate the units safely especially during high-stress, high-pressure situations.
"The humanitarian situations faced by PRC riders will range from the routine to the extreme. This makes it a priority for us to train volunteers and staff on the safe and proper handling of these vehicles especially during high-stress incidents. We are a staunch advocate of road safety and I want our volunteers and staff to achieve a high level of skill and safety in their use of these motorcycles," he said.
The initial phase of the training is composed of three hours of classroom lectures and three hours of practical motorcycle handling. Further training will be given as needed to the PRC staff and volunteers.