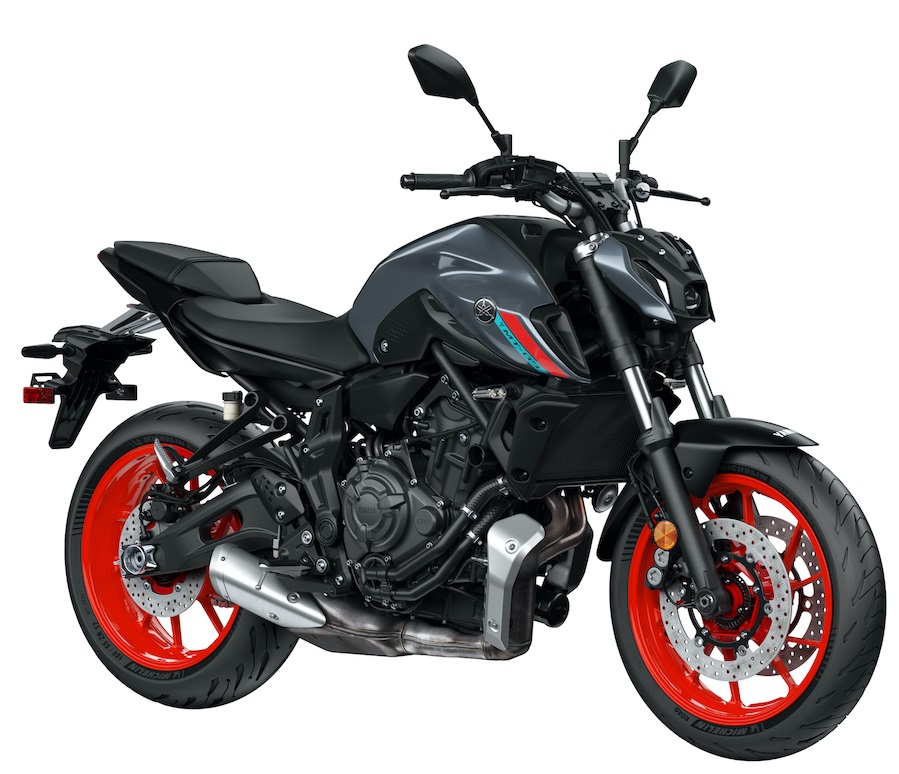 Yamaha Introduces the Next-Generation MT-07
The Most Successful Mid-Size Hyper Naked Goes to the Next Level
MARIETTA, Ga. – November 3, 2020 – Yamaha Motor Corporation, USA, today introduced the 2021 MT-07 as the new model in the company's Hyper Naked motorcycle segment. With features such as distinctive next-generation MT styling with a signature LED headlight, updated inverted LCD dash and larger diameter brake discs, the new MT-07 is the ultimate Hyper Naked middleweight.
The Dark Side of Japan
Yamaha's focus is on the future, and by the end of the first decade of the 21st century the company's product development teams were on a mission to create a new generation of future icons. To make a difference it is necessary to take a risk, and some of the company's greatest designs have been those bikes that defied convention and dared to be different. So, when Yamaha's designers and engineers set about creating a new breed of motorcycles, they made the conscious decision to break all the rules and take a whole new direction.
The next key decision in the development of this new generation of bikes was that they would be distinctly Japanese, with a unique look and feel that set them apart from every other brand. Playing with a variety of Japanese influences, including Tokyo's motorcycle subculture, the development team's focus would be on crafting a bike with a unique, thrilling and enjoyable riding experience, achieved primarily through the delivery of linear torque and easy agility. The look would be naked and mechanical, to give this new breed of bike a pure and muscular image. Every piece of technology would be there to serve the rider and create a more engaging, rewarding and satisfying riding experience.
Inspired by Japanese Subculture and created by some of the most visionary designers in the business, the MT-07 arrived shortly after the very first MT-09 was launched. The motorcycle world was changing, and Yamaha was leading the way with two of the most significant new models to be launched by the company in its long and illustrious history. With its unique package of price, performance and engine character, the MT line is proving to be one of the most successful product ranges ever produced by Yamaha.
New MT-07
Featuring distinctive new bodywork that reflects its pure, next-generation MT DNA, the 2021 MT-07 represents the progressive evolution of one of the world's favorite naked bikes. A range of upgraded features include an engaging and character-packed engine, more powerful front brakes, Michelin tires, new LED headlight with LED turn signals and position lights, and LCD instruments, as well as tapered handlebars.
New colors and refined detailing reinforce the bike's MT family DNA, and with an extremely competitive price point, the MT-07 is ready to maintain its leading position as the bike that works for everyone by offering the best balance of performance and value in its segment.
Next-generation design
The 2021 MT-07's next-generation bodywork reflects the ongoing evolution of the MT family and gives the Hyper Naked bike a more refined and distinctive look with a quality feel. Key to the new look is a compact and minimalist new LED headlight assembly whose position lights and headlight deliver a signature look of the next-generation MT family. By tightly compacting the new bodywork, radiator and seat around the machine's CP2 engine, the mass-centralized layout projects a real sense of torque and power. Many details – from the headlight accents and fuel tank covers to the engine stays and footpegs – enhance the overall feel of quality, underlining the MT-07's winning combination of outstanding value with a premium specification.
LED projector lighting
Modern, compact and lightweight, the new bifunctional LED headlight features a centrally located high/low projector lamp that underlines the pure MT DNA it shares with the new MT-09. As well as giving the MT-07 a bold and distinctive new look, this compact projector headlight produces a powerful beam with well-defined edges that provide excellent forward visibility during nighttime riding. New left and right side LED position lights give the MT-07 its signature face and reaffirms its close family ties with the MT-09.
689cc CP2 engine
The latest 689cc 2-cylinder CP2 engine features a revised air intake duct design and optimized fuel injection settings, as well as a new 2-into-1 exhaust and new ECU. These changes give a more linear engine response and deliver a smoother torque/rpm curve for thrilling acceleration. The 2021 engine also features new Crystal Graphite engine covers as well as a new silver-colored exhaust pipe and new muffler and exhaust protectors. The crossplane concept engine's 270-degree crank gives an uneven firing sequence with a more characterful exhaust note that emphasizes the torque feeling during acceleration with a more linear torque delivery for outstanding response at all engine speeds.
Larger diameter 298mm dual front discs
One of the most significant technical upgrades on the MT-07 is the new larger diameter front brake discs. Front dual disc size is increased from 282mm on the previous model to 298mm on the new bike, giving more stopping power and greater controllability. Together with the 245mm rear disc, the new system offers increased performance – and with the fitment of the new Michelin Road 5 tires, the increased stopping power is especially apparent in wet conditions. ABS is standard as well on the MT-07.
Wider tapered aluminum bars
Following numerous evaluations of clay models and many test rides using riders with different physiques, Yamaha designers have fine-tuned the new MT-07's riding position in order to achieve added comfort and better controllability. The 2021 model is fitted with new aluminum tapered handlebars that are 32mm wider to give a more assertive riding position as well as a little extra leverage for easier maneuverability at slow speeds.
New LCD instruments
The 2021 MT-07 now features a higher specification LCD meter. The inverted dashboard and its compact and lightweight multifunction display with larger displays for the clock, gear, trip meters and tachometer provide clear information. The use of spot color gives an accent for the high-rpm range display – and new handlebar switches enables the rider to operate the meter more easily and efficiently.
LED turn signals
Along with the new LED headlight, the 2021 MT-07 is also equipped with new LED turn signals at the front and rear. Lighter and more compact, they complement the next-generation style of the bike and reinforce the premium specification of this best-selling Hyper Naked.
Latest generation tires
The latest Michelin Road 5 tires – 180/55-17 at the rear and 120/70-17 at the front – provide excellent levels of traction, sporty handling performance, and excellent wet weather handling qualities, making the MT-07 the ideal choice for both new and experienced riders.
New colors, graphics and finishing
For 2021, the new MT-07 is available in the latest color schemes and graphics that reinforce the MT family connection and give a premium feel to this outstanding middleweight. New black levers give the MT-07 a refined look.
2021 MT-07 Key Features
Next-generation body design with pure MT family DNA
New LED projector headlight with LED position lights
689cc crossplane technology CP2 engine
270-degree crank for linear torque delivery
New 298mm dual front wave-type discs
New wider aluminum tapered handlebars
More comfortable and assertive riding position
New inverted LCD meter
New LED turn signals
Latest generation Michelin Road 5 tires
New colors and graphics
The 2021 Yamaha MT-07 will arrive at authorized Yamaha dealers beginning in January and will be available in Storm Fluo, Team Yamaha Blue and Matte Raven Black color schemes for $7,699 MSRP. To learn more about the 2021 Yamaha MT-07 visit https://www.yamahamotorsports.com/hyper-naked/models/mt-07.
Find a range of Genuine Yamaha Accessories, apparel and more at https://www.shopyamaha.com.
For more information related to all Yamaha products, visit https://www.yamahamotorsports.com.
Follow Yamaha Motor Corporation, USA, through your favorite social media sites at www.facebook.com/yamahamotorusa, www.instagram.com/yamahamotorusa, www.twitter.com/yamahamotorusa. #Yamaha #YamahaMotor #YamahaMotorUSA