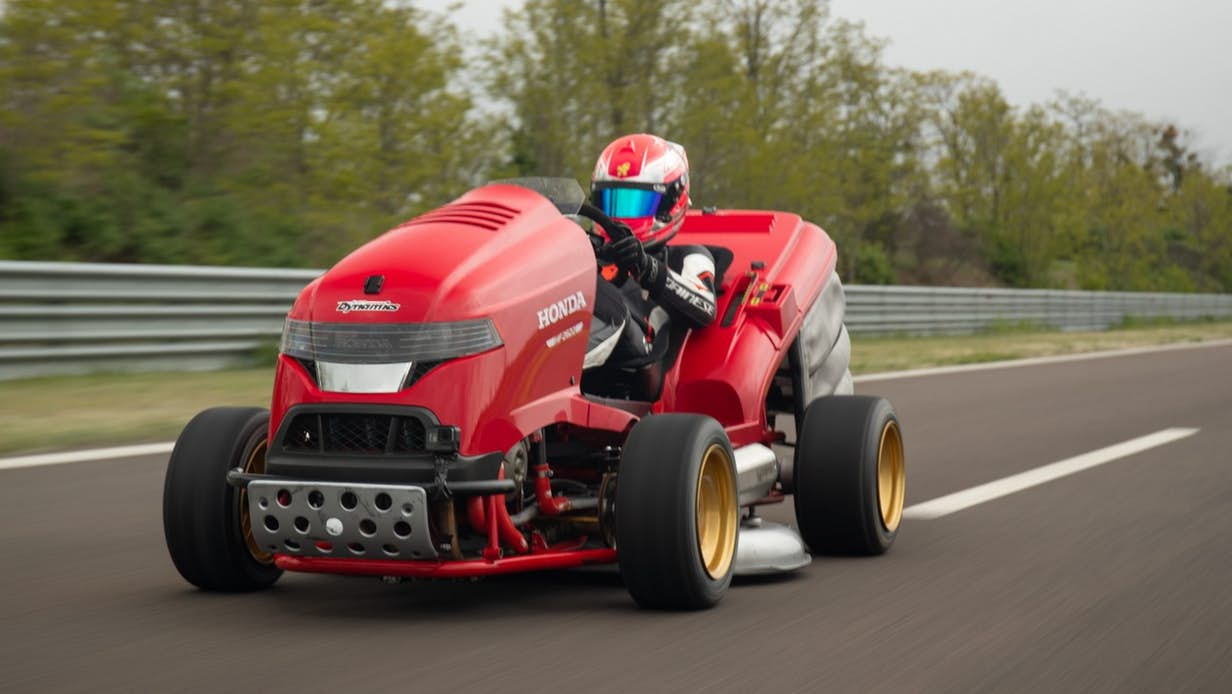 Honda's Mean Mower V2 might have wrestled back the title of world's fastest lawnmower for the Japanese factory, with a 150.99-mph (243-km/h) top speed, a power-to-weight ratio better than a Bugatti Chiron and the fastest 0-100 mph time in history for a lawn care vehicle.
Using the 4-cylinder engine from a CBR1000RR Fireblade motorcycle that produces 200 hp at 13,000 rpm, a custom-built, ultra-lightweight frame and a set of standard bodywork from a regular ol' Honda HF 2622 lawn tractor, Honda and its British Touring Car Championship partner Team Dynamics put together a screaming beast of a thing in an attempt to take back the title of World's Fastest Lawnmower.
Honda held this profoundly silly record back in 2013, and was a little miffed when a Norwegian team bundled a 408-hp Corvette motor into a Viking T6 and took the title off them in 2015.
But the Viking's record of 134 mph (215 km/h) was no match for the Mean Mower V2, which just squeaked past its goal of hitting 150 mph (241 km/h) at the Dekra Lausitzring, near Dresden, last week. It also set a new world record in acceleration for a lawnmower, if such a thing had ever existed before, by blasting its way from 0-100 mph (0-161 km/h) in 6.29 seconds.
Honda's press release curiously only celebrates this acceleration title, so there's a chance it couldn't officially prove the top speed run in both directions, within an hour, which are the official requirements for a Guinness World Record in this category. Either that, or the Japanese company thinks this whole high-speed mower shebang is getting a bit dangerous and wants to put a stop to it.
We suspect the former; breaking the top speed record was the only thing Honda spoke of in its July press release, and now Dave Hodgetts, the Managing Director of Honda UK, is saying things like "After taking the top speed record in 2014, we wanted to do something a little different by setting an all-new record for acceleration." Did you really, Dave? Or are you salvaging an acceleration record out of an unsuccessful top speed attempt?
Mystery and intrigue, folks. Either way, in case anyone's asking, yes, it can cut grass. And it can do so at speed – although how good of a job it can do at freeway speeds may be another issue altogether.
Enjoy a fun video of the record attempt below, with racer and stunt driver Jess Hawkins at the wheel.