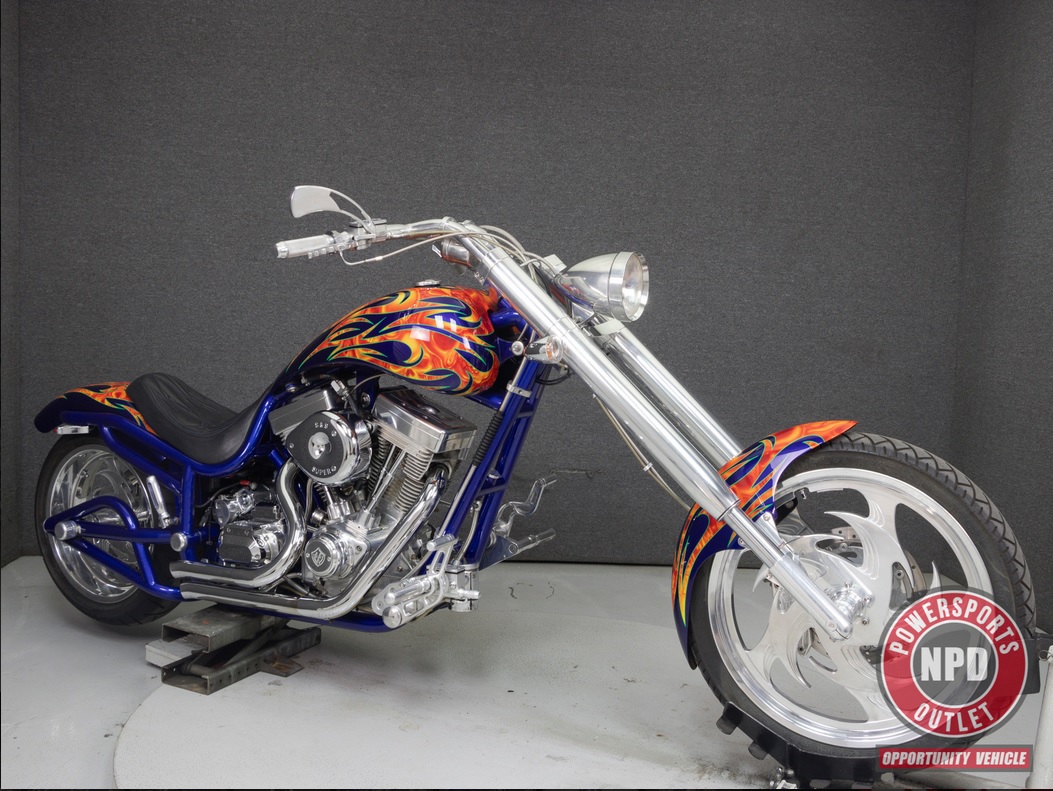 This 2004 Bourget Low Blow Chopper with only 6,027 miles has been detailed and put through NH state inspection. It runs, rides, and hauls ass. Powered by a 113 cubic inch v-twin engine with a 6-speed transmission, the Low Blow produces 103 hp and 115 foot-pounds of torque. It has a seat height of 21″ and a dry weight of 550 lbs. It has been upgraded with a Primo open primary, an aftermarket exhaust, and a JIMS 6-speed transmission, and comes equipped with an S&S Super G carburetor and a 200mm rear wheel. This vehicle does not pass NH state inspection due to front brakes that are contaminated with fluid, an exhaust that is above NH decibel limits, and an excess of rake in the front end.
We encourage you to see and hear this bike in person. Nobody here is on commission and we are happy to take as much time with you as you need. We do not charge any dealer fees either! If you cannot see it in person, we will be happy to do a live inspection via Skype or Facetime. Please call 603-410-4120 for more info.
At National Powersports, we buy a lot of bikes! While many are fully serviced and sold with a warranty, some will not go through the process due to a variety of reasons, including special purchases, overstock of the same model, high mileage, running or cosmetic condition, or a simple lack of shop availability. We sell these vehicles "as-is" from our Outlet location in Merrimack, NH, as well as in our Pembroke, NH location. We call them Opportunity Vehicles, as they are sold at a substantial discount.
If you are not comfortable buying a vehicle as-is, we have hundreds of bikes in stock at our Pembroke location that are fully serviced and come with a warranty. Click HERE to view our Premium Inventory.
PRICE: $8995
MILES: 6027 (Actual Mileage)
VIN: 1B9BLY8A54A393464
COLOR: BLUE W/FLAMES
ITEM ID: 45956
CATEGORY: CHOPPER
Choppers will never die!–Bandit