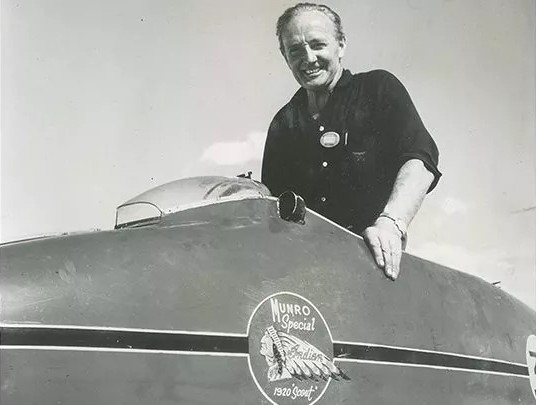 Landspeed Racing Icon & Record-holder Immortalized for Lifetime Achievements
An innovator, daredevil, and one of motorcycling's greatest legends, Burt Munro is getting his respects from the Sturgis Museum Hall of Fame.
Indian Motorcycle, the first motorcycle company in America, is commemorating the induction of Burt Munro into the prestigious Sturgis Motorcycle Museum Hall of Fame. Revered as an icon in motorcycle racing and a holder of land speed records, Munro's unyielding determination to etch his name into the record books has left an indelible mark on successive generations of riders.
Aaron Jax, Vice President of Indian Motorcycle, emphasized that the history of motorcycles would be incomplete without the mention of Burt Munro. His narratives have influenced the identity of Indian Motorcycle, as it persistently emulates Burt's spirit by pushing boundaries, fostering innovation, and paving novel pathways.
Originally from Invercargill, New Zealand, Munro developed an insatiable appetite for speed, encapsulated in his famous saying, "You live more in five minutes on a bike like this going flat out than some people live in a lifetime." Over the course of decades, Munro dedicated himself to restoring and fine-tuning his 1920 Indian Scout within the confines of his garage. His relentless efforts culminated in setting three world records at the iconic Bonneville Salt Flats. An astonishing feat came in 1967, when Munro, at the age of 68, established a record of 184.087 mph for under-1,000cc motorcycles—a record that remains unbroken to this day.
Gary Gray, Vice President of Racing, Technology, and Service at Indian Motorcycle, says of Munro, "Burt is a legend. His accomplishments, through trials and tribulations, inspire our racing efforts today." While it may be overdue, it's quite an achievement for Burt to be enshrined into the Sturgis Motorcycle Museum Hall of Fame, and we're incredibly proud and grateful to celebrate Burt Munro not just today, but everyday."
The Sturgis Motorcycle Museum & Hall of Fame pays tribute to exceptional individuals who have made enduring contributions to the motorcycle community. This Hall of Fame celebrates forward-thinking pioneers, showcasing their remarkable achievements and unwavering ardor.
Among the esteemed inductees for the class of 2023 are the 1981 Des Nations Team USA, Burt Munro, Chris Callen, Jay Allen, Roland Sands, Russel Radke, and Scott Jacobs. Further information can be found at SturgisMuseum.com.
(Press Release)
* * * * * * * * * * * * * * * *