Just a week ago, Indian Motorcycle dealers began accepting pre-order deposits for the company's recently unveiled Limited-Edition Jack Daniel's Indian Chieftain. By 12:10 p.m. Eastern, pre-order capacity of 100 units was filled.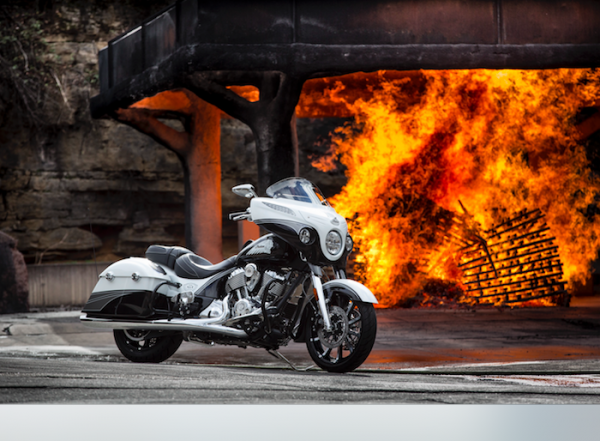 The new limited-edition offering is the latest collaboration between America's first motorcycle company and the iconic Tennessee whiskey distillery. In 2016, the collaboration produced a Limited-Edition Jack Daniel's Indian Springfield and Indian Chief Vintage with pre-order capacity of 150 units filled in merely 8 hours. This year it only took 10 minutes.
"This overwhelming level of demand is an incredible testament to the power of these two iconic American brands," said Steve Menneto, President of Motorcycles for Polaris Industries. "Without a doubt, this brand collaboration and motorcycle are tapping directly into a deep sense of patriotism and American pride. We couldn't be prouder to be a part of it."
The custom-inspired Chieftain marks the second year the two iconic American trailblazers have collaborated to design and manufacture what is ultimately a unique V-twin-powered celebration of American craftsmanship. Both brands have long shared a mutual commitment to independence, originality, and ingenuity. Ultimately, that's what the resulting limited-edition Jack Daniel's Indian Chieftain represents. Based on the consumer response, it's clear that these brands, and the principles they stand for, deeply resonate with American motorcyclists.
"Last year, we were blown away when we filled order capacity in eight hours. Clearly, we have tapped into something truly special, but to fill pre-order to capacity in 10 minutes is nothing short of incredible, "said Dave Stang, Director of Events and Sponsorships for Jack Daniel's. "Ultimately, it's critical to us that our partnered responsibility message of "Bottles & Throttles Don't Mix" is heard as loud and clear as the roar of the 111" V-Twin motor that powers these Indian Chieftains. These incredible bikes are an important platform in carrying that message to consumers."
Only 100 of these show-stopping Limited Edition Indian Chieftain's were available globally, each coming with a commemorative American flag handmade from Jack Daniel's barrel wood. Each flag is customized to include the owner's name, motorcycle number and VIN. The individually numbered bikes carry an MSRP of $34,999 (California models add $250 for California emissions) and a Canada MSRP of $42,499. Each comes with a two-year unlimited mileage factory warranty and free membership in the Indian Motorcycle Riders Group™ for one year.