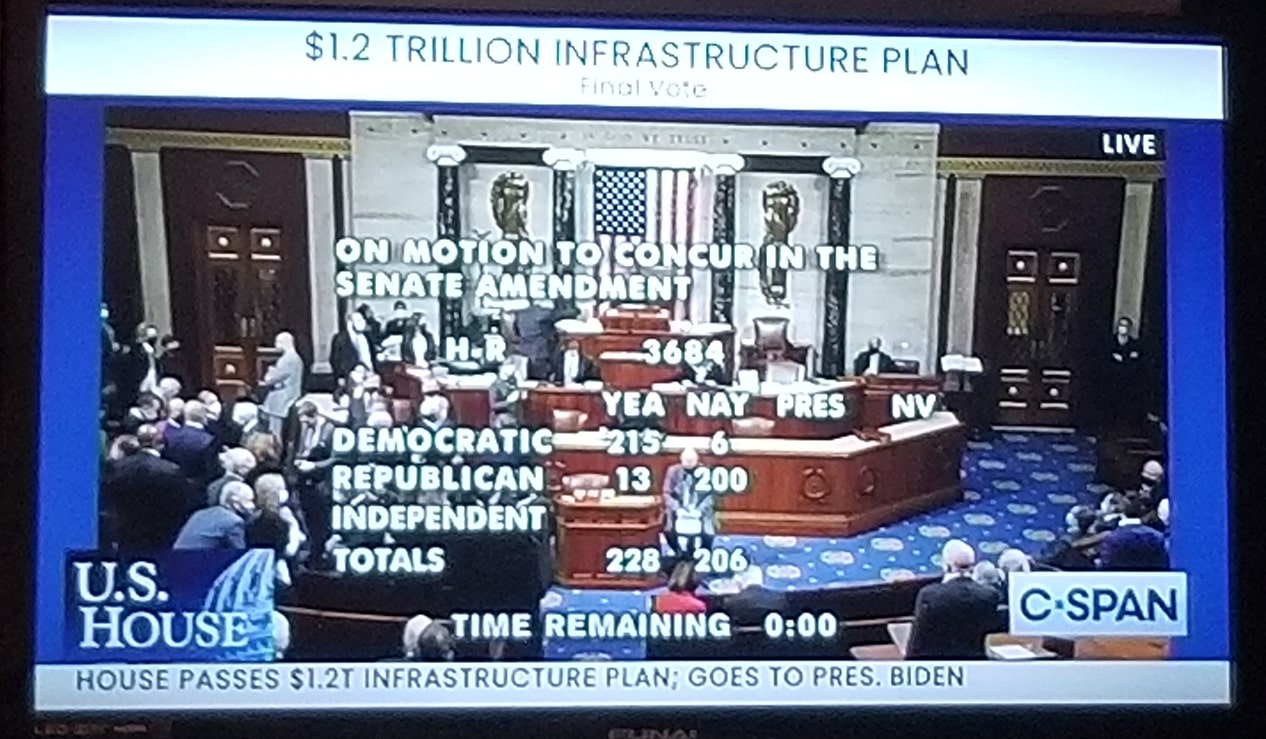 November 5, 2021
Highway Bill Passes… a Year Late
After a 13-month delay and enactment of three separate extensions, Congress finally passed a surface transportation reauthorization bill. This bill, sometimes called the highway bill or the infrastructure bill, has been a hotly debated topic in D.C. for several years. Once signed by the President, the bill will reauthorize many highway programs, provide funding for road and bridge construction and replace the previous highway bill passed in 2015, known as the FAST Act.
Just a week ago, Congress gave itself a third extension running into December. Yet election victories by Republican candidates, especially a win by the GOP in the Virginia governor's race, seems to have spooked Democrats, and motivated passage of a bill that has been awaiting a vote since the summer.
For the last two years, the House of Representatives and Senate have battled over transportation priorities and funding levels. In both 2020 and 2021, the House of Representatives passed versions of their highway bill, only to be rebuffed by the Senate. Under pressure from President Biden, the Senate finally acted, passing in August a $1.2 trillion infrastructure bill. This action by the Senate, effectively forced the House to accept the Senate version of the bill or continue to pass short term extensions of current law.
However, pressure from the left wing of the Democratic party delayed a vote on the Senate's infrastructure bill until an unconnected piece of legislation, referred to as the "human infrastructure bill," was agreed to. That bill, called "Build Back Better," had an original price tag of $3.5 trillion and effectively held the infrastructure bill hostage. After months of debate, and Tuesday's election results, House Democrats agreed to vote on a smaller Build Back Better bill later in the month, opening the door to a final vote on the infrastructure bill.
At 11:27pm Friday night, the House agreed to the Senate's bill and passed a $1.2 trillion 5-year highway bill, known as the INVEST ACT. The final vote in the House was 228 to 206, with 13 Republicans voting in favor and 6 Democrats voting against.
BENEFITS TO BIKERS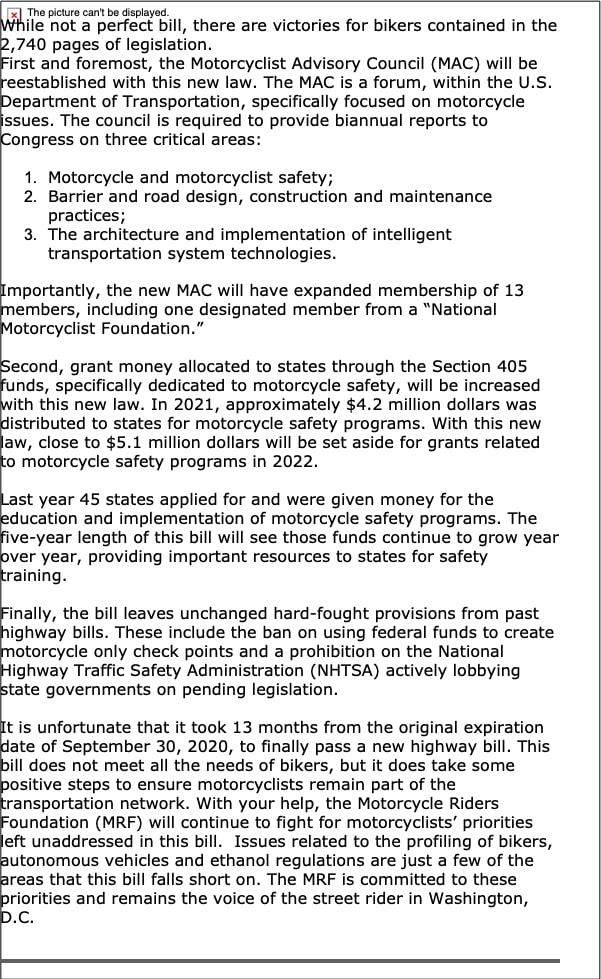 About Motorcycle Riders Foundation
The Motorcycle Riders Foundation (MRF) provides leadership at the federal level for states' motorcyclists' rights organizations as well as motorcycle clubs and individual riders.