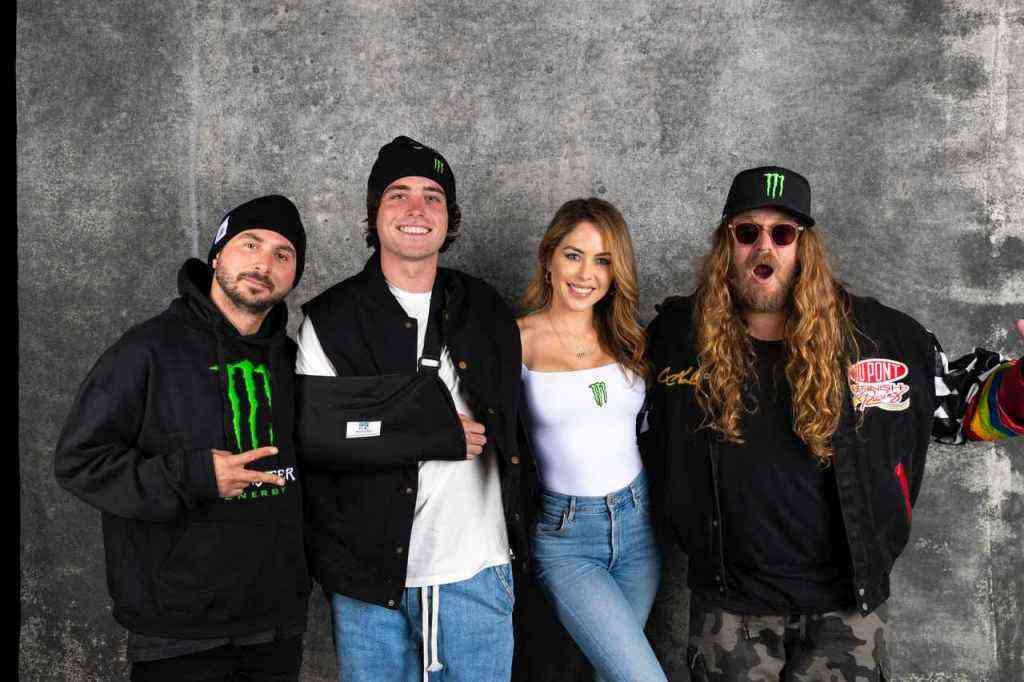 Monster Energy's UNLEASHED Podcast Welcomes Moto X Phenomenon Axell "Slay" Hodges for Episode 45
Broadcast Live on Twitch, Episode 45 of Sports Podcast Interviews 12-Time X Games Medalist /
Episode Now Available for Streaming on Major Podcast Platforms Including YouTube and Spotify
CORONA, California – November 22, 2022 – Get inside the mind of the most creative and progressive motocross athlete on the planet! Monster Energy is proud to welcome freestyle motocross innovator and 12-time X Games medalist Axell Hodges from Encinitas, California on Episode 45 of the sports and pop culture podcast UNLEASHED with The Dingo and Danny.
Recorded inside Monster Energy headquarters in Corona, California, the special episode was initially broadcast live on the Twitch platform on November 18th. As of today, fans can tune in to the official recording of Episode 45 of UNLEASHED on all major platforms, including Spotify, iTunes, and YouTube.
Episode 45 also features special guest Ash "Dirt Shark" Hodges, Axell's brother and creative collaborator, as well as their father, Phillip Hodges.
In the episode, the 26-year-old athlete shares his creative process behind record-setting jumps and boundary-breaking tricks. "I always snowboarded and skated a bit. I had a lot of friends who skated and were better than me and had good style. I never really had that in skateboarding, so that's where I kind of wanted to be a skater on my dirt bike and flow and have good style. So, skating and all that helped a lot on how I ride my dirt bike," said Hodges on UNLEASHED.
Axell Hodges is a motocross rider with no need for introductions. Despite his young age, Hodges already holds twelve X Games medals, including four gold. The prodigy not only dominates competitions such as Best Whip and High Air but raises the bar with innovative freestyle tricks recorded in viral videos. His trilogy of "Slayground" motocross videos has garnered more than 14 million combined views… and counting. In the episode, Hodges dives deep into the high-stakes world of competitive freestyle motocross at the highest level.
Hear "Slay" tell the full story in conversation with the two podcast hosts, Australian action sports personality Luke "The Dingo" Trembath and professional snowboarder Danny Kass on Episode 45 of UNLEASHED. Also joining the interview, acclaimed painter, model, and UFC Octagon girl Brittney Palmer contributes questions and background information to the episode. Tune in right here.
Raised in a motocross family, Hodges discovered dirt bikes at a young age. Initially, the native of Southern California pursued a career as a racer. "I wanted to be a dirt bike racer and thought that was the only way when I was a kid. Like, you gotta race! And I did not want to do freestyle when I was younger." But ultimately, his freestyle tricks would garner Hodges worldwide attention: "I raced from 14 to 18, and then filmed the first 'Slayground' video. That's when I came out of racing and into more freeriding and social media," said Hodges.
While also making his mark in motocross competitions such as the X Games, Hodges discovered the power of social media platforms to document his boundary-pushing tricks in his own online videos. "I never thought I would be able to call what I do my job, just post videos, and ride my bike. Just make up stuff on the regular," said Hodges on UNLEASHED.
Fast-forward to today and the "Slayground" video series – filmed with brother and filmmaker Ash Hodges – has generated over 14 million views on YouTube. "I started the 'Slayground' series in 2015 at my parents' house in Encinitas," said Hodges. "That was my first video and what I was doing every day. Riding in my backyard and had my brother come film a sick line going through my parents' house, and that's where the 'Slayground' originated."
In 2020, Hodges took the dream to the next level by building his own 40-acre "Slayground" facility in Ramona, California, as a place to practice and film the third installment of the video series. "This is what we did through Covid. Bought some property and built and tweaked all the jumps until we got it right then we filmed the video," said Hodges.
For X Games 2021 and 2022, Hodges opened his legendary "Slayground" compound for competitions across five Moto X competitions as well as BMX Dirt. Aside from hosting the world elite of the sport, Hodges also pocketed one gold and two silver medals at X Games 2022, bringing his total count in the world's biggest competition to 12 medals.
For his biggest moment of mainstream fame, Hodges attempted to set the long-distance jump record for the Guinness Book in 2019 for the 'Evel Live 2' event – hitting the ramp at 106 miles per hour – but suffered a life-threatening crash during practice. "I went 396 feet from ramp to ramp, but the next day I went there and ended up going down around 400 feet. I don't really know if I hold the record or not. All I know is I went pretty far on my bike, and I'm satisfied with that."
As his next challenge, Hodges has his eyes on more video projects. "I have a couple of things I want to check off," the Moto X phenom said on UNLEASHED. But let's hear it from "Slay" himself! Visit the landing page to access Episode 45 of the UNLEASHED with The Dingo and Danny Podcast featuring motocross trailblazer Axell Hodges.
Episodes of UNLEASHED are filmed on a special set inside Studio M at Monster Energy headquarters in Corona, California. The podcast is hosted by the dynamic duo of Australian action sports personality Luke "The Dingo" Trembath and professional snowboarder Danny Kass. Known for their deep roots in action sports culture, the two starred in the beloved cult TV show 'The Adventures of Danny and The Dingo' on Fuel TV for five action-packed seasons in the early 2010s. Both hosts have walked the walk as pro snowboarders and possess the interview skills to find common ground with guests from any type of background – sports and pop culture. Always look out for new episodes dropping bi-weekly on Mondays.
The UNLEASHED with The Dingo and Danny Podcast is here to celebrate the personalities behind the Monster Energy lifestyle. With each episode dedicated to a unique guest or topic, listeners learn about living on the edge and advancing the state of the art in the world of high-energy sports as well as music, games, and pop culture from individuals at the top of their game. More than a drink, Monster Energy is a way of life lived by athletes, sports, bands, believers, and fans – and the podcast is an extension of this unique DNA.
For more on Monster Energy and the UNLEASHED Podcast, visit www.monsterenergy.com. Also follow Monster Energy on YouTube, Facebook, Instagram, Twitter, and TikTok for exclusive content and athlete features.
* * * * * * * * * * * * * * * * * * * * * * * * * * * * * * * * * * * *