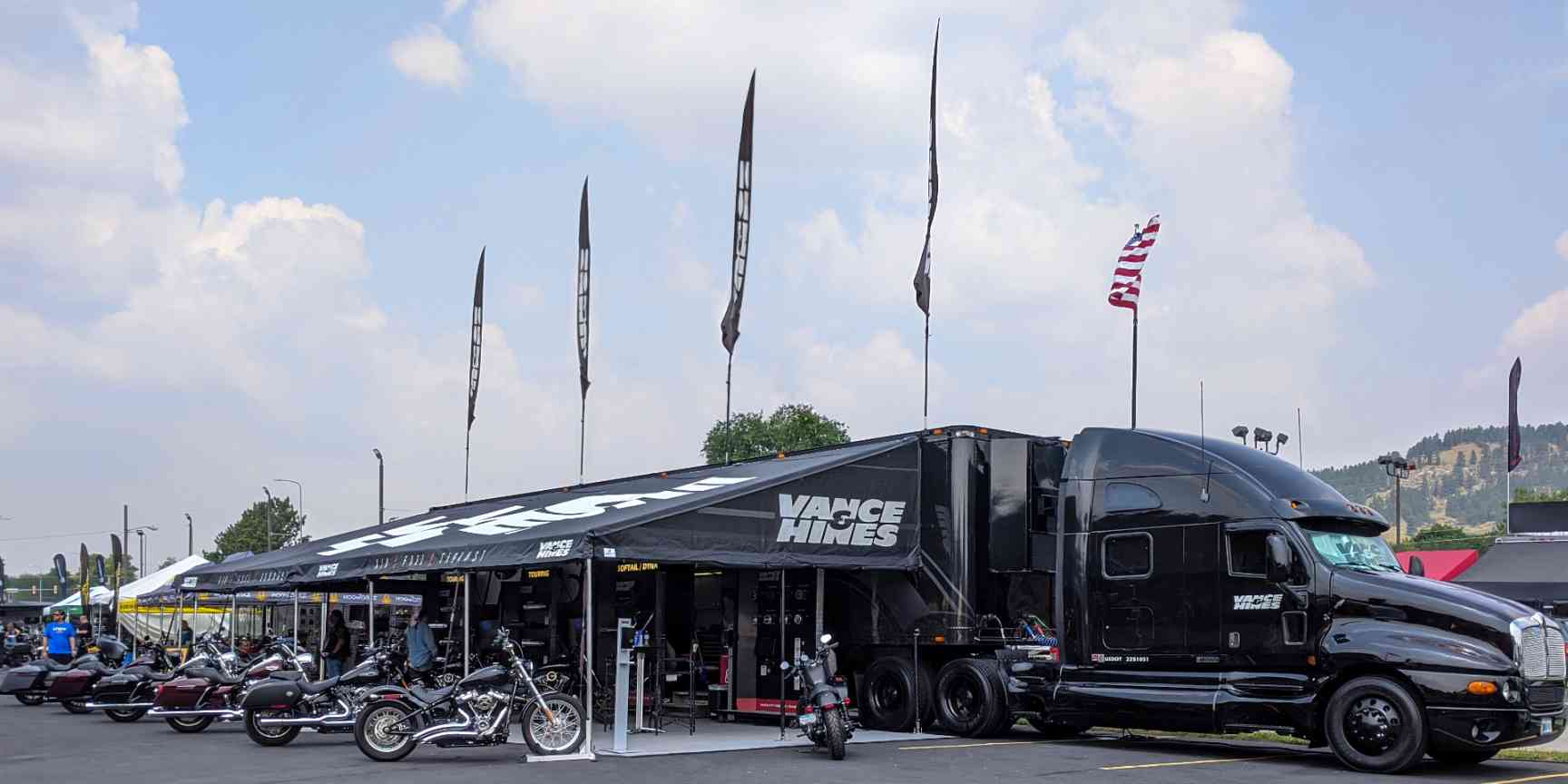 Arizona Bike Week is Next Stop on Vance & Hines' 2022 Event Tour
Company has expanded its event list as more riders plan to hit the road this year
Santa Fe Springs CA – April 7, 2022 – Vance & Hines rally trucks roll again this week, continuing the company's plans for an expanded slate of events in 2022. After a successful event in the sunshine and rain of Daytona Bike Week, the big rig and crews head to Arizona Bike Week, where they will set up at Westworld of Scottsdale for the four-day event.
The 2022 Vance & Hines event schedule includes the top v-twin motorcycle rallies in the country, like Sturgis, Myrtle Beach Bike Week, Biketoberfest, Bikes, Blues & BBQ and Delmarva Bike Week. These rallies provide riders the opportunity to engage directly with factory representatives to see and hear the latest in Vance & Hines performance products. What's more, Vance & Hines partners with local Harley-Davidson dealers and v-twin specialists, J&P Cycles, for sales and installation of Vance & Hines exhaust systems, air intakes and tuners at each venue.
With the popularity of Vance & Hines mini-moto products for the Honda Grom and Monkey, Vance & Hines will also return to Barber Small Bore in June, the ultimate mini-moto festival at Barber Motorsports Park, home to the Barber Vintage Motorsports Museum in Leeds, Alabama.
The expanded 2022 tour includes some new stops as well.
Capitalizing on the company's launch of exhaust systems for popular ADV bikes, Vance & Hines will display and install exhausts at the Get On! ADV Fests in both the Mojave Desert in California and the Black Hills of South Dakota.
"We're stoked about the number of events on our calendar this year and we expect to add a couple more as the year goes on. With our current schedule, plus NHRA drag racing, AFT flat track racing and MotoAmerica road racing, we'll be with our customers at nearly 50 events in 2022," said Vance & Hines Director of Marketing Jacqueline Kelly.
Vance & Hines rally efforts include two locations at Daytona Bike Week, Daytona Biketoberfest and Sturgis.
The current 2022 route looks like this:
Daytona Bike Week, Daytona Beach, Florida (Two locations), March 4 to 13
Arizona Bike Week, Phoenix, Arizona, April 7 to 10
Get On! ADV Fest, Mojave Desert of California, April 21 to 24
Myrtle Beach Bike Week, Myrtle Beach, South Carolina, May 13 to 22
Barber Small Bore, Leeds, Alabama, June 4 to 8
Get On! ADV Fest, Black Hills of South Dakota, July 15 to 17
Sturgis Motorcycle Rally, Black Hills of South Dakota (Two locations), July 30 to August 14
Delmarva Bike Week, Salisbury, Maryland, September 14 to 18
Bikes, Blues and BBQ, Fayetteville, Arkansas, October 5 to 9
Biketoberfest, Daytona Beach, Florida (Two locations), October 13 to 16