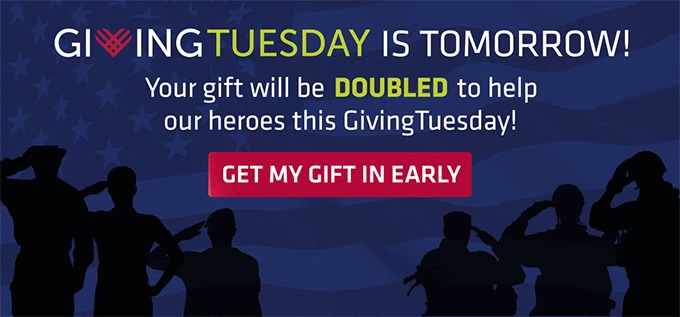 YOUR GIFT WILL BE DOUBLED TO HELP OUR HEROES THIS GIVING TUESDAY!
Tomorrow is the big day — it's GivingTuesday, a global day of giving back! And we have a chance to make a lasting impact for our nation's veterans, because all GivingTuesday donations to DAV are being MATCHED, up to $50,000!
But you don't have to wait until tomorrow to show your support for fellow veterans! YOU can help us get a jump start on GivingTuesday by making a gift that goes TWICE as far today.
Your generous GivingTuesday gift will help fund the free, life-changing services veterans in need depend on each and every day. Thank you so much for all you do for your fellow veterans.
Get Your Gift in Early, click here https://www.dav.org/
About DAV: DAV is a nonprofit charity that provides a lifetime of support for veterans of all generations and their families, helping more than 1 million veterans in positive, life-changing ways each year. Last year, the organization provided more than 163,000 rides to veterans attending medical appointments and assisted in filing over 151,000 claims for benefits. In 2021, DAV-represented veterans received more than $25 billion in earned benefits. DAV's services are offered at no cost to all generations of veterans, their families and survivors.
* * * * * * * * * * * * * * * * * * * * * * * *