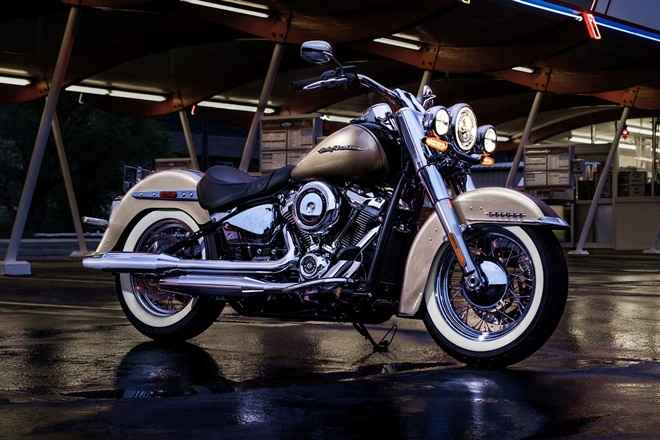 Some 2018-2023 Harley Softails Could Have Breaking of Rear Shock Hardware. A fastener could break, causing the rear shock adjuster to loosen and increase the risk of a crash.
Harley-Daivdson announced the safety recall on 29 August 2023. They filed the same with US National Highway Traffic Safety Administration.
On motorcycles that have the faulty fitting, the fastener used on a particular style of rear shock adjuster may potentially fracture. If it breaks, the shock absorber may then make contact with the rear tire. This could increase the risk of tire damage, and potentially lead to a motorcycle crash.
Approximately 65,224 bikes may potentially be involved in this recall but not all of them may have this fault. Some of the models from 2018 to 2023 use the affected rear shock adjuster whereas some do not.
The motorcycles that were produced between June 28, 2017 and August 7, 2023 are potentially at risk. No VIN number ranges are specified in the official safety recall notice.
A warning sign that riders and passengers should look out for is any noise that seems to come from under the seat. When you remove the seat and find a loose shock adjuster, that may be another sign of faulty fastener. When shock adjuster makes contact with the rear tire, riders may notice unusual handling and/or atypical tire wear on the rear tire.
Since June 2023, a total of 33 Warranty Claims regarding this issue has been recorded. Softails made after 7 August 2023 do not have this problem. Related accessories from Harley-Davidson have also been separately recalled.
Owners may contact Harley-Davidson customer service at 1-800-258-2464. Additionally, owners may contact the NHTSA Vehicle Safety Hotline at 1-888-327-4236 (TTY 1-800-424-9153) or go to www.nhtsa.gov. NHTSA's number for this recall is 23V-591.
The motorcycle model years, models, and the number of bikes affected are:
| | | |
| --- | --- | --- |
| Model Year | Softail Model | Number of Bikes Affected |
| 2018 | FLDE | 2018 |
| 2018 | FLHC | 2917 |
| 2018 | FLHCS | 3504 |
| 2018 | FLHCS ANV | 898 |
| 2019 | FLDE | 1858 |
| 2019 | FLHC | 2078 |
| 2019 | FLHCS | 3384 |
| 2020 | FLHC | 1896 |
| 2020 | FLHCS | 3713 |
| 2020 | FXLRS | 7073 |
| 2021 | FLHC | 1865 |
| 2021 | FLHCS | 3134 |
| 2021 | FXLRS | 5811 |
| 2022 | FLHCS | 3957 |
| 2022 | FXLRS | 5186 |
* * * * * * * * * * * *