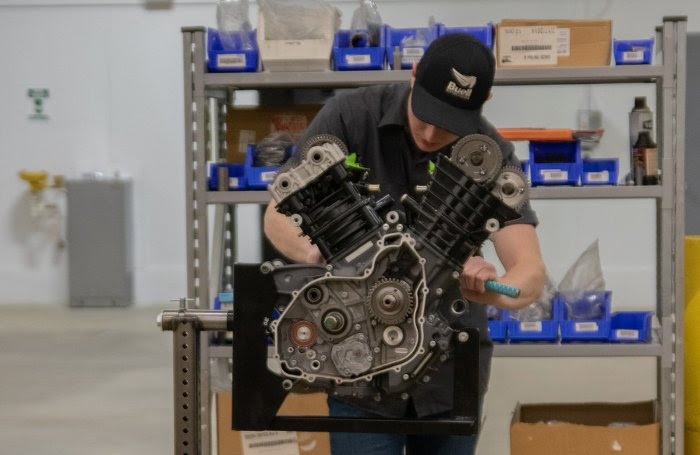 Buell® Announces Upcoming Job Openings for Q1 of 2023 based in Grand Rapids, Michigan
Buell Motorcycles, a Grand Rapids, Michigan-based manufacturer of high-performance motorcycles, is looking to add skilled and motivated individuals that have a passion for building exciting new products, contributing to a dynamic work environment, and becoming part of the Buell team.
"We are excited to take another big step forward in the continued growth of Buell. Today that big step forward is growing the Buell team here in West Michigan," said Steve Laham, Chief Products, Development & Strategist Buell Motorcycle Co. "The Buell team's expansion is in a multitude of areas of growth and will allow us to continue providing high performance motorcycles in the marketplace."
Over the next three months, Buell will be hiring full and part-time employees across multiple areas within the company including:
Engineering
Manufacturing Operations
Digital Marketing Specalist
Production Staff
Painting Professionals
Prior skills and experience are a plus, but not a must with the right enthusiasm, self-motivation and a willingness to contribute to a dynamic work environment, and becoming part of the Buell team.
"We've built out an excellent senior leadership team with deep experience across the motorsports and transportation industries that all have a passion for two-wheeled products." said Bill Melvin, CEO of Buell Motorcycle Co. "We are looking towards the future of the company and will continue to grow our team here in Grand Rapids to keep up with demand and develop some new exciting products."
With formal job postings expected in Q1 of 2023, interested parties can submit their resume and position of interest to careers@buellmotorcycle.com.
Buell is back and delivering performance and excitement at every turn. For future Buell updates, follow our news page on our website and our social media pages.
* * * * * * * * * * * * * * * * * * * *