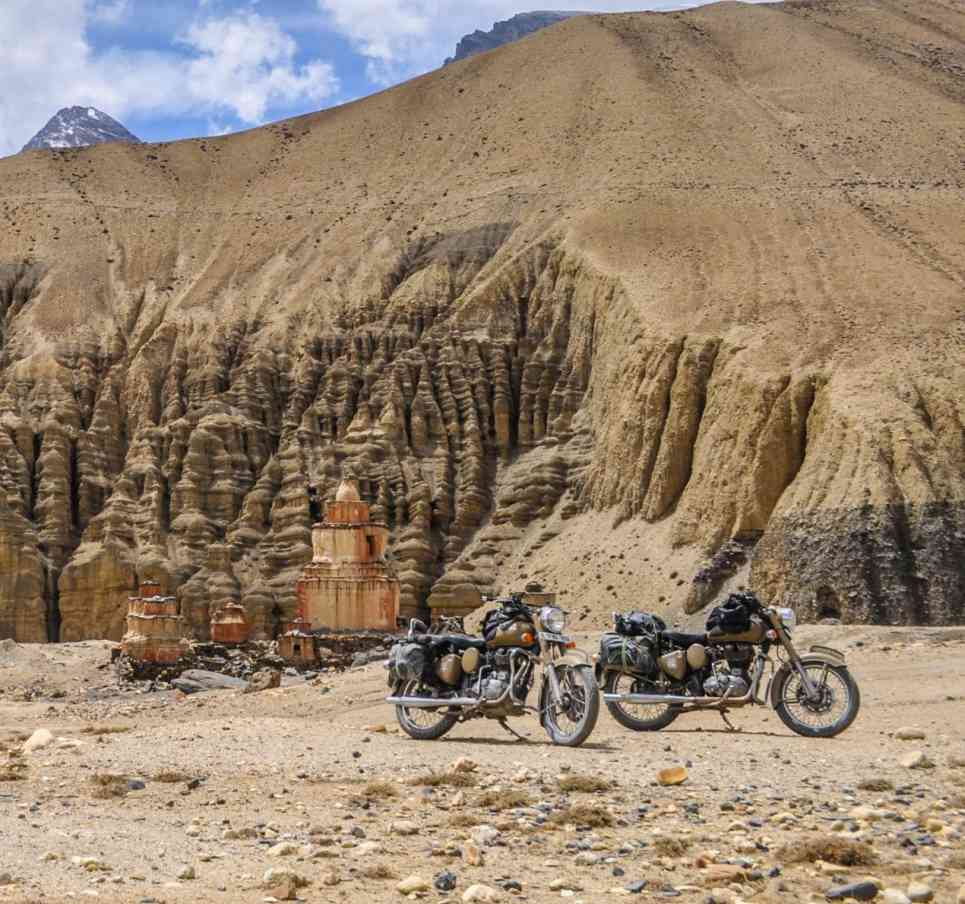 Behind the scenes in Argentina: Ride to the Moon
Argentina: vast open spaces, salt flats, lunar landscapes and Andean peaks towering over 4,500 m altitude. You've been asking us about it since our very first tour across the Himalayas back in 2006: "Since the Himalayas, I can't stop thinking about Argentina. When will you take us there, Vintage Rides?"
Expectations are running high for this legendary destination. So, challenge accepted! 😉
Alexane and Simon: the dream team
During the summer of 2021, Simon suggested entering into partnership and opening a Vintage Rides office in the heart of the Andes. "I have been riding here for more than 10 years and know the region like the back of my hand. I have hundreds of unexplored tracks under my belt, ready to design new tours. I knew it was time for me to set something up". A friendly, enthusiastic biker, he is smitten with his adoptive country and its culture and shares many common values with us. We speak the same language. So we decided to take him up on his offer and set up Vintage Rides Argentina together with the headquarters in Salta, in the north of the country.
At the mercy of nature, which reigns supreme, the tracks are constantly changing. While the borders were closed, Simon had all the time in the world to do what he loves most: criss-cross the tracks, try out all the roads and uncover the best places, which you won't find on Google maps – believe us, we've tried!
From the Lyon office, Alexane is on hand to help get the joint venture up and running. She's been thrown in at the deep end: she's only just joined us at Vintage Rides and she's opening a new office in Argentina! That's a big adventure in itself. ¡Bienvenida, Alexane!
Spring 2022. The routes are ready, the tracks tested and the restaurants and hotels selected. We are raring to go and can't wait for you to come and join us.✌
The bikes are set for adventure
"And what about the bikes?" we hear you cry! Simon isn't just an adventurer, he's also a motorbike mechanic and a fan of Royal Enfields. We asked him to work on the Himalayans, which are ideal for tours that alternate between small roads and winding tracks through the Andes. Simon came up with a series of improvements to make them unique, robust and ready for adventure without scrimping on comfort: reinforced sump guards, side saddlebags and tanks. You won't have seen anything like them!
So far, we are the proud owners of 10 Royal Enfield Himalayans, fresh from the factories in Buenos Aires. Simon has fine-tuned them in our Argentinian workshop and they're dying to be ridden under the Andean sunshine.
Ride to the Moon
As you can see, Argentina makes us dream as much as you do and we are so happy to set our wheels in motion there. And we are not the only ones. Thanks to support from our partners, Mutuelle des Motards, Bell and In&Motion, the film-maker, Florian Moscat, will follow our first group of Vintage Riders this spring and capture their adventure. We'll tell you more about it in the coming months, but for now, we can give you a sneak peek at its name: RIDE TO THE MOON. Try as you might, the landscapes will be even more impressive than you could ever imagine.
Today, we couldn't be prouder of the local knowledge we have on the other side of the Atlantic Ocean. We can't wait to share all the emotions that have kept us going these past few months with you.
Do you want to help us write the rest of our adventure story?
Argentina : Next departures
RAID IN ANDEAN LAND
13 days with 10 riding days
from €4790€/pilot
From april 10th to 22nd 2022 (full)
From september 24th to october 6th 2022
From october 23rd to november 4th 2022
From march 4th to 16th 2023
From april 6th to 18th 2023
From september 17th to 29th 2023
From october 3rd to 15th 2023
From october 19th to 31st 2023
THE MYTHICAL LAND OF THE GAUCHOS
11 days with 8 riding days
from €4390€pilot
From august 21st 31st 2022
From october 11th to 21st 2022
From march 20th to 30th 2023
From september 1st to 11th 2023
CANCELLATION INSURANCE: Book with complete peace of mind
CONTACT: Vintage Rides
+442070316050