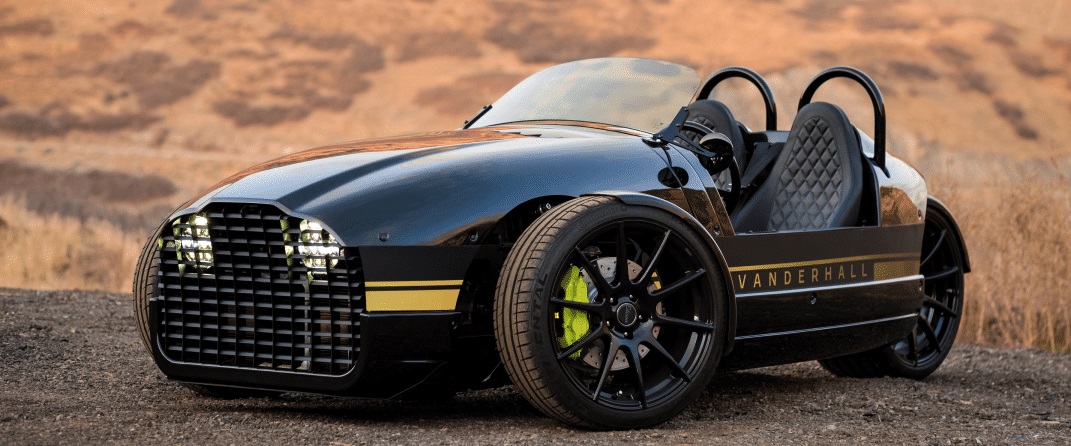 Vanderhall to debut first electric autocycle at Beverly Wilshire Hotel on 11/22. New Carmel and Venice models also available for driving impressions.
Utah-based Vanderhall Motor Works is thrilled to debut the 2020 Vanderhall Edison2 model at the Beverly Wilshire Hotel on Friday, November 22nd. These vehicles exemplify Vanderhall's commitment to continuously expanding its product line using the latest in innovative technology.
The all-new Vanderhall Edison2 will make its first public appearance at the Beverly Wilshire Hotel, and driving impression slots are available for members of the media to get their first experience behind the wheel of this powerful yet eco-friendly machine.
Highlights of the new 2020 Vanderhall Edison2:
• DRIVE: Front, twin electric / 52 kW each
• FRAME: Aluminum mono
• BODY: Composite
• SUSPENSION: Pushrod front coil over, rear single-sided swing arm coil over
• PERFORMANCE: 0-60 in 4.4 Seconds
• BRAKING: 60 mph to 0 in 100 feet
• STEERING: Electric Power Steering
• BATTERY: 28.8 kilowatt
• CURB WEIGHT: 1400lbs / 635kg
• RANGE: Up to 200 miles / single charge, est.
• 2 Year Roadside Assistance
• 2 Year Limited Warranty
Test-drives of the Edison2 and other Vanderhall models will be available throughout the day (Edison2: 10-2; Venice & Carmel: 10-5).
For more information, please visit Vanderhall at vanderhallusa.com.