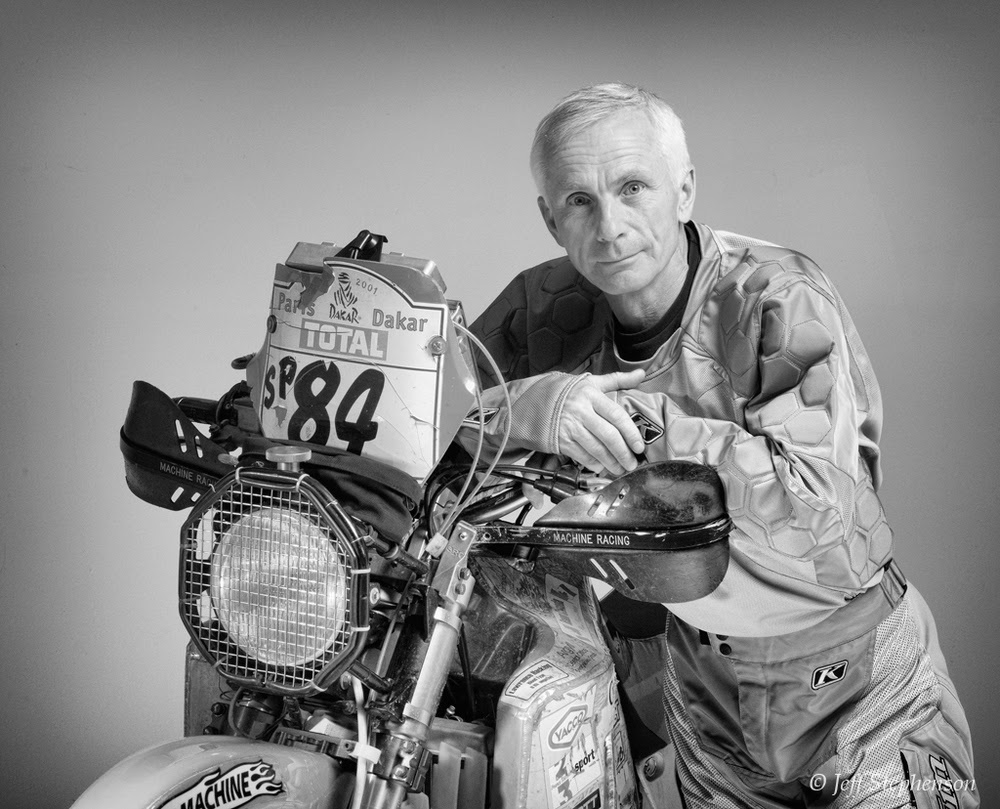 TMFF Talk – Racing Dakar
55 minutes – Free to watch
Lawrence Hacking has been a motorcycle racer since 1971, he has raced the 21-day long 2001 Paris Dakar Rally and was the first ever Canadian to complete the toughest off-road race on earth. Since then, Lawrence has written a book "To Dakar and Back" and manages Overland Adventure Rally held each year in Ontario, Canada.
Christophe Barriere-Varju started racing motocross at the age of 14 and lifelong motocross racer, he has competed in the Dakar Rally 4 times, twice in Africa and twice in South America. His last Dakar Rally race has been captured in 10x Award Winning Film, Dream Racer — the timeless story true to all of us, one's pursuit of lifelong dreams, whatever those dreams might be.
Lawrence and Christophe were interviewed by Toronto Motorcycle Film Festival Director, Caius Tenche in a fascinating 55-min video interview.
This interview is for all of you wondering what it takes, and what it feels like — to race the almighty Dakar Rally, and how this event can alter the course of one person's life.
Sit back, and enjoy great life insights and personal stories from these two racers whose lives changed course after racing the world's toughest motorsport race, the Dakar Rally as privateers.
An Interview with Lawrence Hacking, Dakar Rally Racer
https://news.dreamracer.tv/motorsport/dakar-rally/an-interview-with-lawrence-hacking-dakar-rally-racer/
Interview excerpt:
DR. How did it feel racing that last stage on Lac Rose and crossing the same podium as these legends?
LH. That day was a highlight of my life, it was January 21, 2001, we rode from the hotel on a liaison to the beach where the special stage started. Hubert Auriol made an emotional speech, we the riders talked while we waited. That moment was what I worked an entire year for and crossing over the podium was pure euphoria. That feeling is so addictive and so difficult to achieve that the quest to relive that feeling is life changing. You start dreaming about ways to recapture that feeling and it is nearly impossible. It is almost dangerous.
DR. Ok, time to reflect now…what would you tell or recommend to anyone wanting to race the almighty race?
Many think in their own mind they have what it takes but soon find out they don't. It is a hard pill to swallow. In the Dakar there is no hiding in the shadows, everyone in the World is watching how you perform under the most difficult conditions, you have to be prepared to accept whatever happens. One of the most important things to remember is that it is far less difficult to live with 2 or 3 weeks of extreme hardship than a lifetime of disappointment.
Some of the most inspirational films are available on Dream Racer TV.
Our films serve a purpose that go beyond entertainment — they are truly inspirational, show ordinary people can achieve extraordinary feats – and inspire others to achieve their own dreams and life aspirations.
To watch some of these amazing films, please visit Dream Racer TV at https://ondemand.dreamracer.tv