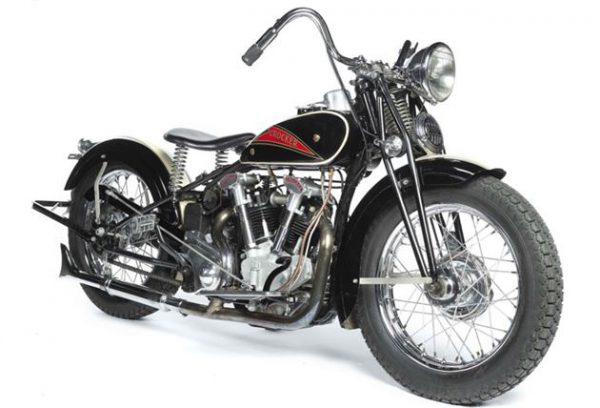 Bonhams is thrilled to announce the addition of another rare motorcycle to be offered alongside the already impressive list of rarities at its annual Las Vegas auction.
The 1937 Crocker Small Tank – serial number 36-61-8 – comes from the renowned collection of Dale Walksler's Wheels Through Time Museum.
Called as the "Duesenberg of motorcycles," Crocker is the definitive American motorcycle – handmade, powerful and fast. Very much a Hollywood "hot rod" bike, Crocker was created in and shaped by the culture of pre-WWII Los Angeles, California, by former Indian distributor Al Crocker. When it debuted in 1936, the upstart founder brazenly challenged world dominators Harley-Davidson, boasting of superior technology, performance, handling and raw power. As the story goes, Al Crocker famously advertised that if any of his bikes were ever beaten by a stock Harley, he would refund the owner's money. No refunds were ever requested.
As a bespoke machine, each Crocker was made to the specifications of its buyer. This expensive and time-intensive approach meant that quality remained high but production output low. Total Crocker numbers never exceeded more than 125 units before World War II forced the firm's closure, and today only around 50 of those units are accounted for, making Crocker motorcycles extremely rare.
After fading into relative obscurity for half a century, two major events transpired that vaulted Crocker to the consciousness of collectors worldwide. First, the Guggenheim Museum's groundbreaking 1998 exhibit The Art of the Motorcycle prominently featured a Crocker (owned by famed auto collector Otis Chandler). Then, the seminal 2006 Legend of the Motorcycle Concours d'Elegance presented Crocker as a featured marque with a record-breaking 20 examples on display. The attention provided by these two events – highlighting the marque's unique history, success and rarity – suddenly made Crocker one of the most desirable and expensive motorcycles in the world.
What makes Crocker #8 even more special is the fact that this is one of the believed seven surviving Crockers constructed with the famous hemispherical heads. Furthermore, this is the earliest made Crocker to ever be offered at public sale. Estimate is $500,000-$600,000.
Also from the Wheels Through Time Museum are a further five pre-war American motorcycles:
1910 Harley-Davidson Model 6A
1914 Excelsior Model 7C
1915 Harley-Davidson 11F
1936 Harley-Davidson EL Knucklehead
1938 Harley-Davidson WLDR
Bonhams' seventh annual Las Vegas Motorcycle Auction will take place Thursday, January 26th at the Rio Hotel & Casino.
For more information about the consignments from the Wheels Through Time Museum, or any of the other exceptional vintage and classic motorcycles to be offered, visit bonhams.com/vegas.