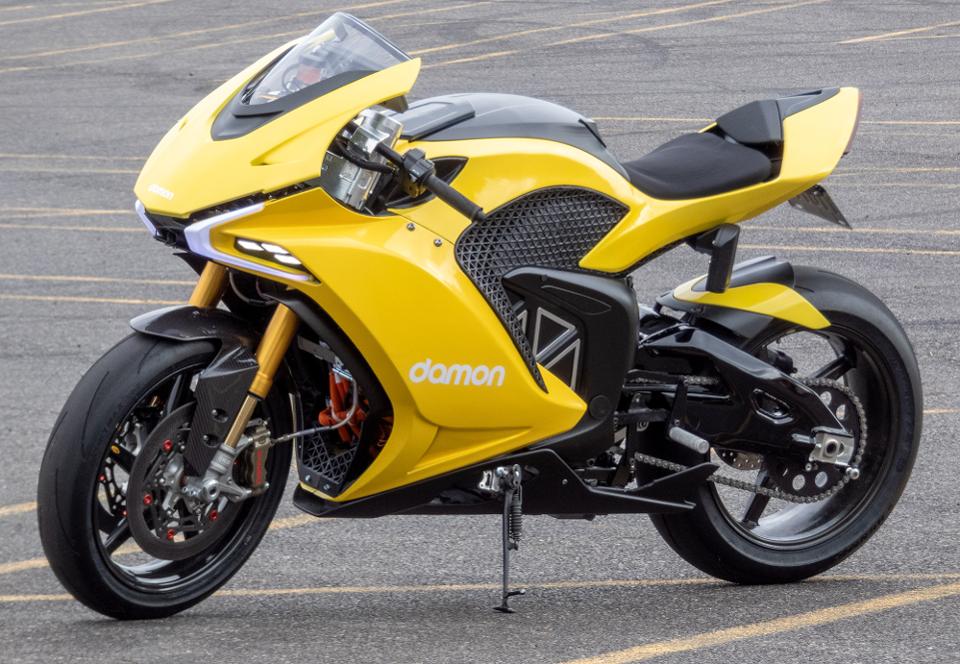 by Bill Roberson from https://www.forbes.com
2019 was a big year for the nascent electric motorcycle niche, and it looks like 2020 is going to start with another shock to the system with Vancouver B.C.-based Damon Motorcycles announcing some eye-opening performance numbers and cutting-edge safety tech for their upcoming machine, called the Hypersport. A prototype Hypersport and specifications were revealed Tuesday morning at the 2020 CES electronics expo in Las Vegas.
Damon claims the Hypersport will be be capable of some fairly hyper numbers, including 200 horsepower, a 200 mile-an-hour top speed, and 200 miles of highway range, as well as 300 miles of range in urban riding. Additionally, the Hypersport will be bristling with technology heretofore unseen on most any motorcycle, including on-the-fly adjustable ergonomics and a car-like rider safety system.
Damon had previously sent out emails ahead of the CES reveal teasing the fact that "200" was their "magic number," so while it might have been easy to deduce those figures, they still stand out against the specs of competing bikes, which often struggle to achieve half of those performance figures.
A run of 25 premium high-spec bikes with a price of $40,000 will be the focus of an initial Indiegogo crowdfunding campaign, while a more mass-market Hypersport will come in at $24,995. The crowdfunding campaign will complement additional financial backing from Round 13 Capital, Techstars, Fontinalis, Extreme Venture Partners and Pallasite Ventures.
Ahead of CES, Damon CEO Jay Jiraud told Forbes.com the Hypersport will feature their exclusive on-the-fly adjustable ergonomics package, called Shift, and an extensive rider awareness/safety system they call CoPilot. The Shift ergo system will be able to change things like seat height, handlebar height and footpeg location, changing the riding position from a tucked-in sport posture to a more standard-style sit-up arrangement for more comfortable city riding. The bike itself has the form of a sleek sports machine. And while a specific torque figure was not released, Jiraud told Forbes.com the Hypersport will make a "s**tload of torque." Some of the features can be seen in this video from Damon:
Forbes.com was the first publication to take Damon's two test bikes for rides this past summer, including the shape-shifting Hypersport prototype and another test machine outfitted with an array of cameras, sensors and electronics designed to give riders a digital heads up on what's happening around them via a sensor package not unlike what many cars now feature.
Jiraud explained that his vision is to give Hypersport riders more comfort, range and utility from the bike, while also introducing pre-collision safety features that, as of now, have been largely missing from motorcycles while they have gotten ever more sophisticated in cars.
However, the CoPilot system will differ from the automotive systems in that it won't have the ability to take over operation of the motorcycle; it only gives warning cues about possible dangers around the rider. The reason for the non-intervention is that a motorcycle is an inherently unstable platform, unlike a car, and unexpectedly taking control of the bike away from the rider in any way could result in a crash. Instead, the CoPilot system uses video screens, a rear-facing camera, multiple radar units and position sensors, small LED lights and handlebar vibrations to let the rider know what is happening around the motorcycle. Again, CoPilot does not activate the brakes or affect steering, although Jiraud did not rule out those features in some iteration much farther down the line as A.I. systems, vehicle interconnectivity and other technologies improve.
During a test ride of the system several months ago, I found the tech to be innovative and effective. While it does add some input to the rider while in operation, I found that even after a few miles, it became second nature to see, feel and understand the warning system's cues.
Likewise, riding the sleek electric bike with the adjustable ergos was also interesting. While some modern bikes allow owners to tailor things like seat height, handlebar rise and footpeg placement, those adjustments typically have to be made with tools while the bike is stopped, and once made, riders are essentially stuck with them until they can be changed again with tools.
Damon's Shift system works more like your car's interior. Using a bar-mounted controller, the seat can rise and fall, the bars can move up and down and the footpegs will lift or lower. While the test bike had only two positions for the ergos, Jiraud said future versions would be more adjustable for a true custom fit. Best of all, the Shift system is adjustable while riding.
BlackBerry On Board
Damon CEO Jay Giraud has made some key moves to bring his vision of an electric bike with all the elements of the two test bikes rolled into one battery-powered package. A key development in the quest to get the data-hungry CoPilot system up to par performance-wise was a partnership with BlackBerry and implementation of the BlackBerry QNX suite to power and talk to the numerous sensors, radars and other tech involved in CoPilot. There will also be 4G cellular connectivity.
Once famous for their cellphones, BlackBerry has largely transitioned to a company that makes control systems that work behind the curtain in numerous data systems, with a focus on cars and medical equipment. The QNX system has been installed in over 150 million vehicles and is used by almost all top automakers worldwide, so it's quite a coup for Damon to have them dip into the electric motorcycle world at this early stage.
Alta Influence
Clearly, this is not Jay Jiraud's first tech rodeo. While the Damon team was spooling up the Hypersport, Jiraud also added a key player in Derek Dorresteyn, from now-defunct but long-time electric motorcycle maker Alta Motors. Dorresteyn signed on as COO at Damon, which will need his expertise to tease out the promised performance figures for the Hypersport models. Even though both are legacy technologies, batteries and electric motors are two parts of a rapidly developing tech frontier that is seeing huge investments by both corporate and even state-sponsored players.
Jiraud told Forbes.com that Dorresteyn was in the midst of working on a "completely new" electric superbike powertrain system at Alta when the company closed up shop, and he brings a wealth of expertise to Damon. Among the bike's tech features Jiraud talked about with Forbes ahead of CES was a 700-plus volt, liquid-cooled 20kWh battery pack for the Hypersport, which would be quite large for a motorcycle, but Jiraud says the Hypersports' architecture can handle the battery pack and that the battery will not be the typical rectangular lump found in many current electric bikes. For comparison, the largest battery available on the class-leading Zero SR-F is just over 16kWh (the standard battery is 14.4kWh), with the bike tipping the scales at a tick over 500 pounds. Meanwhile, the Harley-Davidson LiveWire uses a 15.5kWh pack. Jiraud says he is planning on keeping the weight of the Hypersport under 500 pounds through design and weight-saving measures.
A Challenging Future
The transition of the motorcycle industry from gas to electric has lagged (with some exceptions) behind that of cars due to the challenges of design as well as the space and weight-sensitive platform a motorcycle presents, but battery and motor advances in the bike industry can also represent opportunities to the EV industry as a whole. With the addition of Dorresteyn from Alta, Blackberry's QNX handling the tech and a clutch of investors, Damon may be in position to lead in terms of range, safety and power once the Hypersport arrives. But things can change fast in the EV world, so stay tuned.
The Damon Hypersport prototype bike can be seen at BlackBerry's booth at CES 2020. Deliveries are slated for 2021.