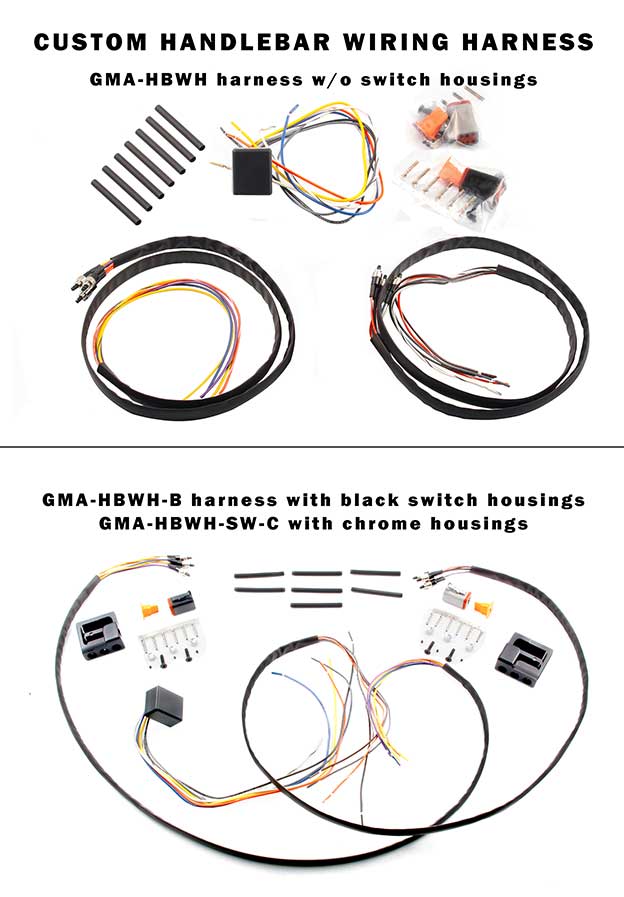 GMA custom 48″ handlebar wiring harness for 1″ bars
GMA, a member of the Belt Drives Limited family of companies, is now offering a complete handlebar wiring harness designed exclusively for the popular GMA hand controls. Available with or without their custom replacement switch housings, kits include 48" long OEM color coded wires that are pre soldered to the micro barrel switch buttons. Wires are encased in a protective glue impregnated shrink tube at the buttons to ensure secure connections while pulling wires through your bars.
Additional lengths of shrink tube are included along with pin connectors. Deutsch 6 pin connector housings, and a small brain box ensure positive – flawless operation. Each kit comes with an easy to follow simplified wiring schematic. Part numbers are GMA-HBWH, "wire harness, no switch housings", GMA-HBWH-SW-P, "wire harness with polished switch housings" GMA-HBWH-SW-B, "wire harness with black switch housings" & GMA-HBWH-SW-C, "wire harness with chrome switch housings. Retail prices are from $235.00 for harness only up to $459.00 for harness and chrome housings.
For additional information and to order visit GMA at www.beltdrives.com