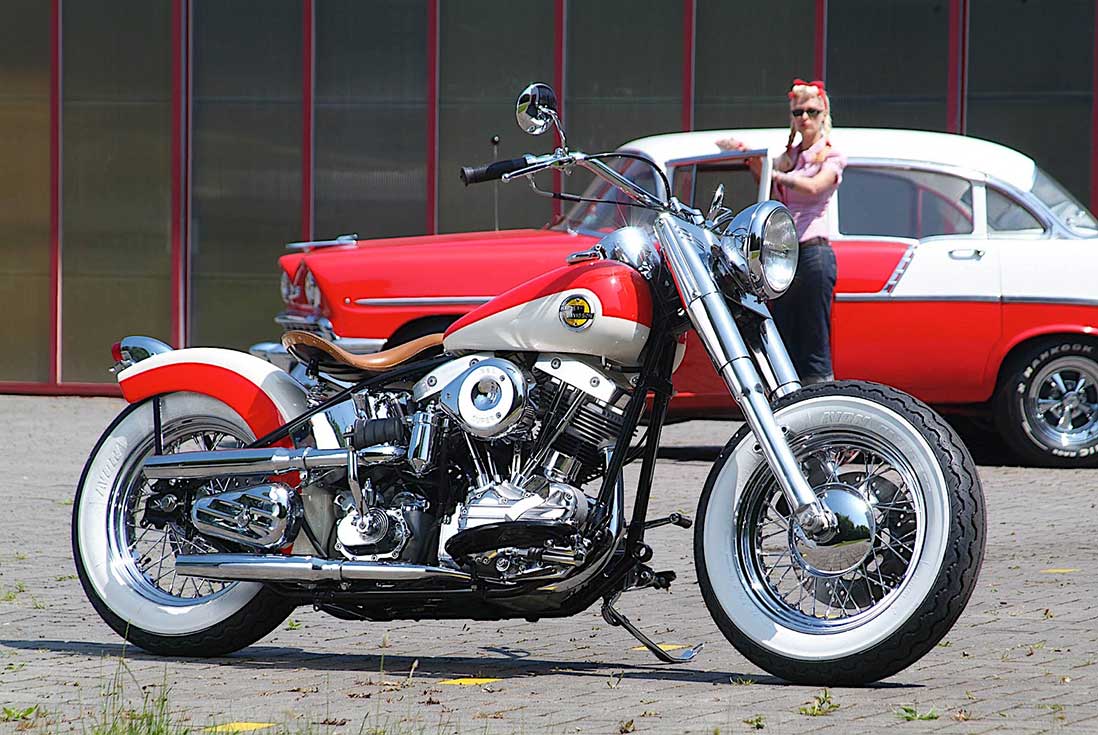 by Daniel Patrascu from https://www.autoevolution.com
"A vintage bike as authentic as possible in a discreet bobber look." These are the words used by German custom motorcycle shop Thunderbike to describe one of its more complex projects. Officially titled Bel-Air, it pairs some original and old Harley-Davidson parts with the benefits of more modern hardware in a unique, pure-European custom package.
Thunderbike has been modifying Harley-Davidsons for close to three decades now, and its work has oftentimes been recognized by the American company itself. Most of the time, the shop goes about transforming production bikes to customer specification, but every now and then it sets out to create something a bit more special.
That is the case with the build we have here, which started life as a Harley from 1954. It went through Thunderbike's doors in 2016 and came out the other way looking like it does now.
The bike's frame was molded into supporting an S&S shovelhead engine 92ci (1.5L) in displacement and rocking a Super E carburetor and an air cleaner from the same make. The entire thing was then tied to a Paughco Shotgun exhaust system.
Visually, the motorcycle sets itself apart first and foremost through the choice of colors used on the body parts. We're dealing with a combination of red and white that was allegedly inspired by the Harley-Davidson Duo Glide and looks perfectly in sync with the Chevrolet Bel Air used as prop during the photoshoot and as inspiration for the name.
A 3.5-gallon (13-liter) fuel tank, a shortened rear fender, a Fat Boy front end, and 16-inch wheels wrapped in Avon Gangster tires complete the look of this two-wheeled machine.
Sadly, we are unable to determine how much the build cost to make. With the exception of the exhaust, endcaps and tires, which are still being sold by Thunderbike, all the other elements are custom made or adapted for this project.