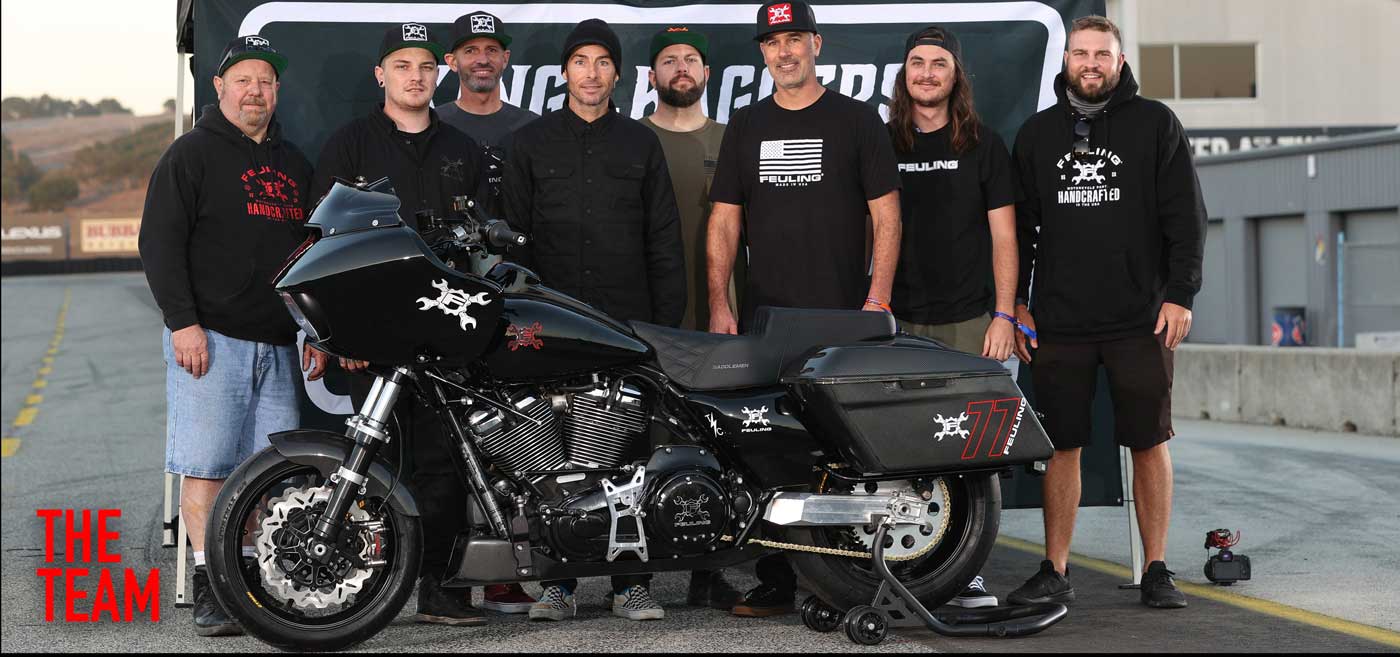 THIS WEEKEND! JUNE 25-27
DRAG SPECIALTIES BATTLE OF THE BAGGERS
UTAH MOTORSPORTS CAMPUS – SALT LAKE CITY
Click Here to WATCH LIVE ON FITE TV!
FEULING DOCUMENTARY TRAILER "ROAD TO THE CORKSCREW"
WATCH BELOW!
Sneak peek at our documentary covering Team Feuling and our bagger racing experience with Ben Bostrom and our Harley Davidson RoadGlide🔥
We are stoked for the upcoming Drag Specialties/Bagger Racing League race at Utah motorsports campus. The entire Feuling team has been crushing the game and we are looking to put our 130", 630Lb #theflyingpig2.0 up front🐽
A 2019 Harley Davidson Roadglide built entirely in house by the second to none Feuling Crew. The power plant is 130 cubic inch V-Twin engine, heavily modified 4-valve cylinder heads and intake manifold by Feuling. 13.5:1 compression, 4 1/2 inch stroke crankshaft, Feuling's Race Series 592 Camchest Kit with high volume oiling system, Feuling High Load Beehive Valvesprings, billet Vented Dipstick and our new rockershafts, which have double the strength of the factory and our competitors shafts. To finalize the build, we have our new BA High Flow Air Cleaner.
The legendary Ben Bostrom (Professional Dad) will be piloting the flying pig again this year. Feuling plans to be on the podium at the Drag Specialties, Battle of the Baggers. June 24-27 at the Utah Motorsports Campus, and again in July at the famous Weathertech Raceway @ Laguna Seca to rip through the corkscrew.
BUILD LIST  Feuling Parts –
592 Race Series Camchest Kit (Part #7264, Drag #0925-1268)
Highload Beehive Valvespring Kit (Part #1207, Drag #0926-3138)
6.1 g/s Fuel Injectors (Part #9935, Drag #1022-0230)
O2 Sensors (Part #9906, Drag #1861-1106)
Vented Dipstick (Part #3088, Drag #0710-0260)
'BA' Air Cleaner (coming soon)
Anti-Reversion Exhaust System: Custom FEULING Anti-Reversion
Thrashin Supply – Risers (Drag #0602-1044), handlebars, foot pegs (Drag #1620-1754), shifter tip (Drag #1603-0333)
Saddlemen – Custom Seat, carbon fiber body work, seat screw (Drag)
Legend Suspensions – Front (Drag #0414-0588) and rear suspension (Drag #1310-1888)
Barnett Clutches – Scorpion clutch (Drag #1130-0298), Custom Cables
Slyfox – Triple Trees (Drag #0408-0393), front fender (Drag #1401-0731), side covers (Drag #0520-3013)
Speed Merchant – Mid controls (Drag #1623-0539)
Alloy Art – Stabilizer (Drag #1111-0017), shift linkage (Drag #1601-0479), fork lowers (Drag #0403-0159), caliper mounts (Drag #1701-0689), swing arm (Drag #1301-0142)
RWD – Rear suspension (Drag #1310-1951)
Galfer – Race Rotors (Drag #1710-3754), Rear Wave Rotor (Drag #1710-3746), Brake Pads (Drag #1722-0798)
Dunlop – Front tire (Drag #0301-0756), Rear tire (Drag #0302-1250)
RK Excel – Drive Chain (Drag #1223-0104)
PBI – Drive sprockets (Drag #1212-0523)
Klock Werks – Windshield (Drag #2310-0671)
ODI – Grips (Drag #0630-0866), Throttle tube (Drag #0632-0851)
Rekluse – Clutch slave cylinder (Drag #1132-1394)
K&N – Air and Oil filter (Drag #KN-171B)
GP Suspension – Front suspension cartridge kit
Speed Kings – Front fork brace
Darkhorse – Compensator
Baker Drivetrain – Transmission main bearing
Horsepower Inc – Throttle body
Jims – Transmission side door
Bell Helmets – Helmet
SuperJusty – Helmet graphics
Alpinestars – Custom leathers
Airtrix – Helmet graphics
Rio Vista Chevrolet – Feuling Rig