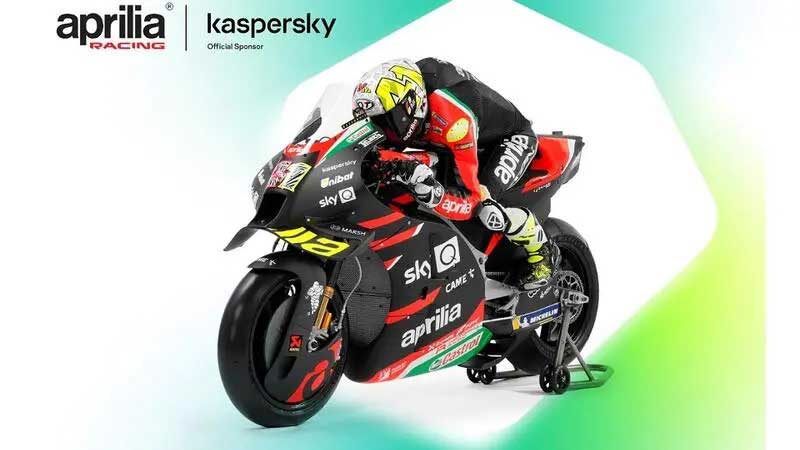 Kaspersky has become a sponsor of Aprilia Racing – one of the most successful teams in motorcycle racing history, Partners with Piaggio Group
Kaspersky has become a sponsor of Aprilia Racing – one of the most successful teams in motorcycle racing history. The cybersecurity company's logos will be placed on the team's bikes for the entire 2021 season, starting with the first race in Qatar on March 28. The sponsorship comes as part of Kaspersky's partnership with Aprilia's parent company Piaggio Group – Europe's largest scooter and motorcycle manufacturer.
This new sponsorship adds to the cybersecurity vendor's contribution to motorsport. Kaspersky has been a long-time supporter of talented racers, who the company helps to reach their full potential. The global list of athletes, supported by Kaspersky, includes the first female Emirati racing driver Amna Al Qubaisi, as well as Formula One racer Antonio Giovinazzi.
"Kaspersky is committed to securing the technological progress of the mobility industry and to the development of motorsports. Despite working in different sectors to Piaggio Group and Aprilia, we share the same values of constant improvement, innovation and becoming the best at what we do. I'm sure our partnership will be beneficial for the whole mobility, automotive and motorbike community," says Alexander Moiseev, CBO of Kaspersky.
Aprilia Racing is the most advanced technological expression of the Piaggio Group – it has won an astonishing 54 world titles, including 28 since the Noale-based manufacturer joined the Piaggio Group in 2005. From its inception, Aprilia Racing has been an extraordinary breeding ground for new talent.
"It is a great honor to have Kaspersky's name on the Aprilia RS-GP livery this year. Our new partner is a successful name in motorsport and we are sure that MotoGP will represent a wonderful new challenge in this realm. Together, we will be able to enhance talents and honor the true spirit of racing, as both Kaspersky and Aprilia Racing have been able to demonstrate in the course of their history," says Massimo Rivola, CEO of Aprilia Racing.
The sponsorship of Aprilia is part of Kaspersky's new partnership with Piaggio Group, which gives one of the world leaders in motorcycle production access to the IT company's time-proven expertise and the ability to securely use the best of what technology can offer. Kaspersky has long been a household name in automotive cybersecurity – for over a decade it has worked with renowned vehicle manufacturers, as well as developers of connected components.