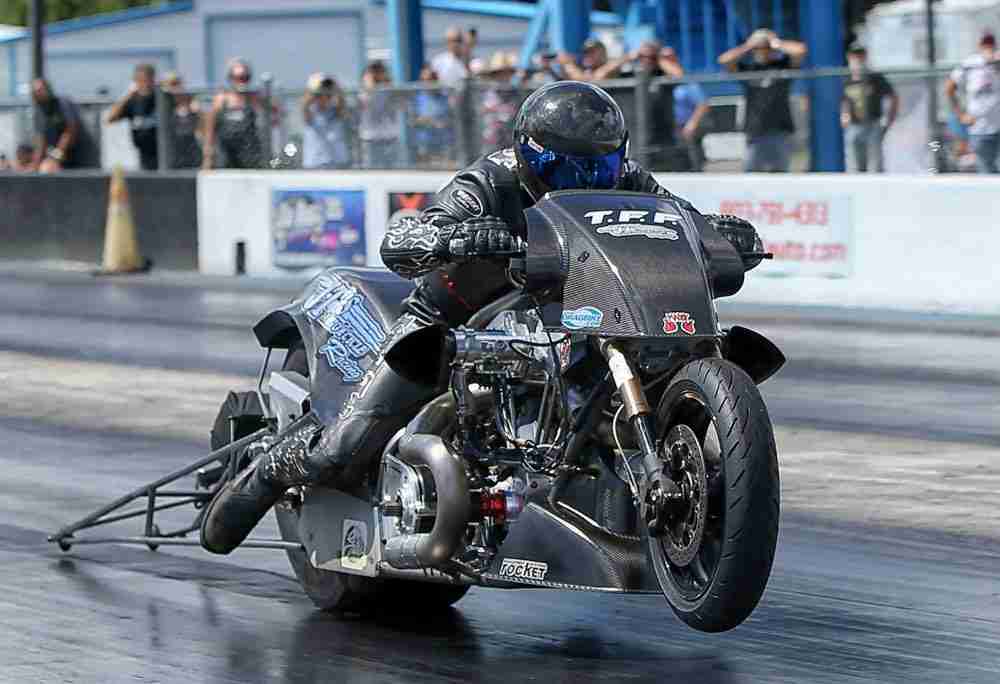 AHDRA motorcycle drag racing race coverage report by Tim Hailey with photos by Mike Davis.
event: AHDRA Southern Nationals
when: September 17-18, 2021
where: South Carolina Motorplex, Orangeburg, South Carolina, USA
From the U.S. Nationals in Indy to AHDRA's Southern Nationals in Orangeburg, Ryan Peery is enjoying a streak like few other racers ever. Heat and humidity, cool and dry, quarter mile or South Carolina Motorplex's eighth—Peery has mastered them all in 2021 as he wins Top Fuel Harley races one after another in multiple sanctions, including AHDRA, NHRA, and just last weekend at AMRA.
Peery could be headed to multiple Top Fuel Harley championships this year, including the AHDRA all-American motorcycle drag racing series. His final round win against Dr. Jimmy "Mack" McMillan at Orangeburg on September 17-18 might have sealed the deal.
Qualifying number one, Peery had the bye while running consistent 4.20's all weekend, while McMillan had to face Bad Apple Racing's Tracy Kile—the winner of AHDRA's Cecil County event.
"Jimmy ran some personal bests and took out Tracy," said Peery. "He and I paired up for the final, and it looked like he was lined up a little crooked and he crossed center. Jimmy is doing a great job though. He will turn into a tough competitor with a little more seat time."
Local second generation star Armon Furr won Hawaya Racing Nitro Funnybike, beating points leader Michael Balch in the final. "I appreciate everyone that came out and participated in the event," Furr said first off. "I hope we can try it again, maybe this time earlier in the year. If we are going to have a race in South Carolina, this is the best track even though it is eighth mile.
"Not really much to tell about my performance because I didn't really do anything great. Just got lucky."
Like Furr, South Carolina's Sam White gave the home crowd what they wanted, taking the Hawaya Racing Pro Fuel final over Rocky Jackson.
Nate Carnahan scored an easy Pingel Modified win when Stoney Westbrook redlit in the final. "Was my first win in Mod, and it was pure luck but I'll take it!" laughed Carnahan, who was struggling all weekend with tire spin off the line.
John Shotts won Vreeland's Harley-Davidson Super Gas 6.35 index, beating Robert Willis in the final. Shotts took the tree .039 to .049 and came out on top of the double breakout race.
"We struggled all weekend with the bike," said Shotts, echoing Carnahan's path to victory. "Never did figure out the problem but we ran good enough to win! It was our first time at that track and we really had a good time."
Willis also runner-upped in Top Eliminator, losing the final round to Ken Strauss, but won Mad Monkey Motorsports Eliminator over Jason Leeper.
Jason's son Jordan Leeper had a Luke Skywalker moment, beating his dad in the Street Eliminator final. "Wasn't the first time," laughed Jordan. "He's good, but my bike was dialed in more than his was. When it came down to it, I got the holeshot and he broke out trying to chase me down.
"I'd just like to thank Universal Fleet & Tire Racing for having me as a team rider, and everyone from the AHDRA for coming out and letting the sport prosper, and a special shout out to Bill Rowe for hosting these amazing races! I'm very pleased with my bike this year, minimal breakdowns while staying consistent. I'm happy with 11.50 wins this year, but we're on the hunt for the championship."
Leeper's teammate "Crazy" won Trophy.
Larry Maynhart hadn't been to the track in over five years, and came back with a bang—winning Universal Fleet & Tire Pro Eliminator 7.00 index and falling just short in Super Pro 6.60 as the runner-up.
"I did a permanent move to Georgia," Maynhart says about his absence. "Don't realize how fast the time goes, but I was determined to get back racing this year."
Maynhart was sharp on the tree in both finals, putting .040 on Cody Hayward while winning a double breakout Pro Eliminator final. He had .033 on Bob Maier in the Super Pro final, but let Maier win with a sharp 6.609. "Get the light, lose the race. I'm rusty," concluded Maynhart. "But I had a great weekend."
John Price won the Zippers Performance Pro Modified final over Shane Pendergrass, and Ryland Mason tamed his wheelies long enough to win Law Tigers Pro Bagger over Justin Demery,
Greg Quinn is another winning wild wheelier, picking up the MTC Bagger trophy. "Been trying to tame my bike," Quinn said of his Kendall Johnson ProCharged, former Tii Tharpe machine. "Finding the perfect combination is tough for a carbureted bike. Still doing wheelies and climbing the ladders of the field.
"My first time running at this track and the prep was good.
"I'm blessed to be part of a history making time frame. It really started in Nahunta, North Carolina—Wood Cycles put a race on. My racing life has been blessed, and out-of-pocket is hard. Hope to keep doing just as I did in South Carolina, and somebody will surprise me with sponsorship.
"I'm just grateful for my travels, and that AHDRA has Mike Davis and Tim Hailey around for capturing the moments I don't get to see."
Kevin Campbell won GMS Racing Pro Open
And now Bill Rowe, his family, and the AHDRA community turn their attention to making the World Finals at Gainesville Raceway the biggest, baddest, and best ever! Be there November 6-7 to cap off a great 2021 and set the stage for a historic 2022.
The AHDRA website is at http://raceahdra.com/