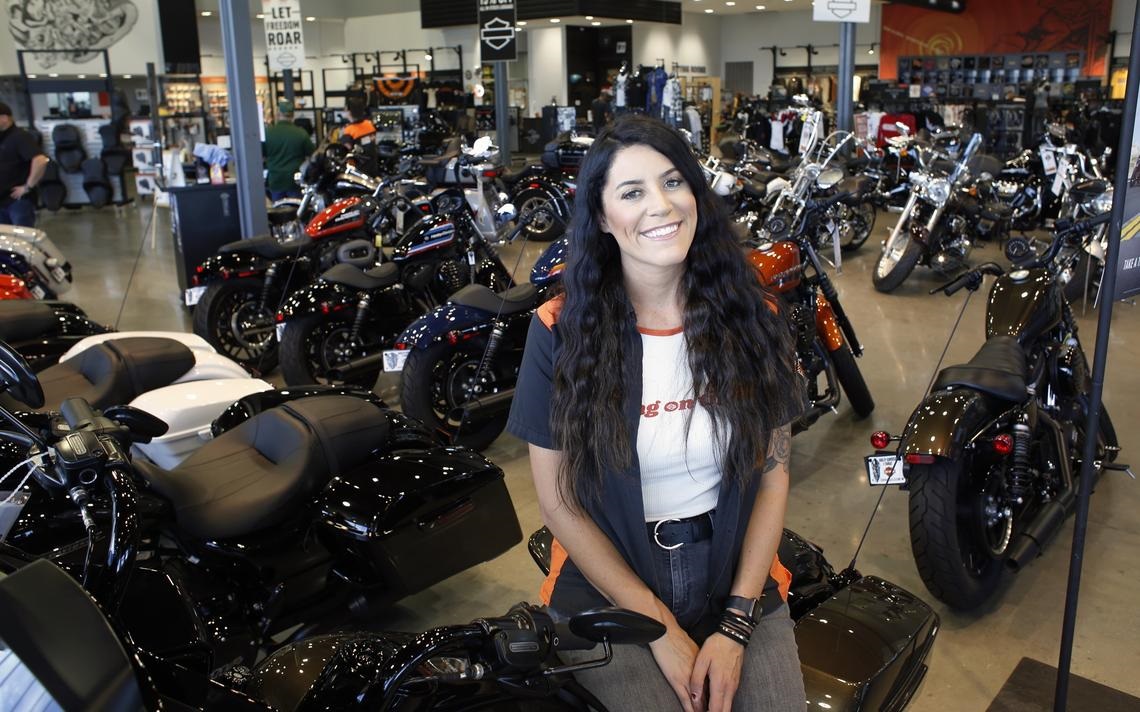 by Barry Amundson from https://www.duluthnewstribune.com
STURGIS, S.D. — Kristen Kleven, of Wahpeton, N.D., won't be a no-show at this year's 80th anniversary of the Sturgis Motorcycle Rally.
Although officials fear the rally could only attract from 200,000 to 225,000 motorcycle enthusiasts this year because of coronavirus concerns, Kleven said she and five of her girlfriends will be hopping on two-wheelers and heading to South Dakota's Black Hills next week.
The usual turnout is 450,000 people, and this year's crowd estimate is well below the most recent anniversary event five years ago for the 75th when a near all-time record of about 850,000 people showed up.
Kleven, who works at the Harley-Davidson of Fargo dealership outfitting riders with appropriate clothing and gear, said she thinks there will be a good turnout despite the fears.
"I think the bikers still are going to want to come," she said about the rally that starts Aug. 7 and runs through Aug. 16.
She has been going for about 10 years on her Harley and will be bartending at the Iron Horse Saloon, which is still planning a full slate of nightly concerts. Six bands so far have canceled their appearances at the saloon's huge outdoor events center.
"We don't get a lot of sleep," Kleven said, "but we have a kind of a family there that gets together every year."
Christina Steele, the public information officer for the city of Sturgis, said, "It'll be an interesting year. It'll be remembered as the COVID year."
Because of the virus, she said, they are lowering the estimates for the crowd, although she said it's hard to know exactly what will occur. While many of the camping spots with hookups are filled, she said she has heard of many cancellations in other hotels and facilities.
With the virus rampaging in some states, cancellations are still coming in.
"It's kind of been a roller coaster," she said. Some facilities were booked full before a slew of cancellations in April and May, then they were re-booked and again started tapering off in the past few days with the spike in coronavirus cases.
Some visitors who usually make it aren't coming because of concerns about having to quarantine when they return to their home states, she said.
Kleven said her friends from South Africa who usually make the journey can't come this year because of travel restrictions. Steele noted that the rally usually attracts a lot of Canadians, but with the border remaining closed they also won't be there.
"It's going to be very different this year, but we feel we are making reasonable precautions for those who come," Steele said.
Among steps being taken are canceling events that usually draw huge crowds, such as the opening ceremonies, parades, contests and live music at the Harley-Davidson Rally Point Plaza.
Steele said other precautions include having hand sanitation stations on each corner downtown, face mask recommendations, requests to vendors to sanitize their stands frequently, the closing of photo towers on Main Street and encouraging reduced occupancy in bars and restaurants.
Despite band cancellations, outdoor concerts are still planned with performances scheduled this year by Colt Ford, Night Ranger, Kenny Wayne Shepherd Band, Buckcherry, 38 Special, Quiet Riot and Jackyl.
There will also be drag races, a charity poker tournament and the Mayor's Charity Ride.
Steele said the hills are exceptionally green this year from abundant rainfall for those wanting to enjoy rides through the Black Hills.
"It's just gorgeous this year," she said.