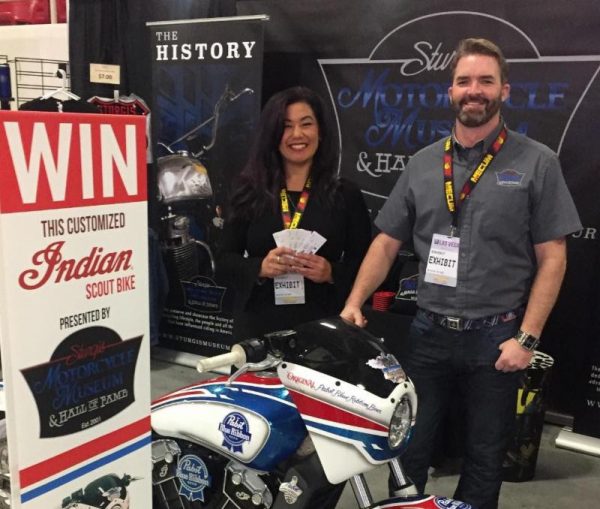 On a weekend when a historic motorcycle was auctioned for half a million dollars, the Sturgis Motorcycle Museum hosted the first of its regional fund raisers for the 2017 Hall of Fame. A collection of high rollers and motorcycle history buffs contributed to the worthy cause of preserving the history of motorcycling and honoring those who have had a significant impact on the lifestyle. More than $8,000 cash was raised, as well as some priceless donations to the Museum's cause.
"I don't know if it was the excitement of the Mecum auction or just the fact that the event was held in Las Vegas, but we had people reaching for their wallets," says Tigra Tsujikawa, Marketing & Development Director for the Sturgis Museum & Hall Of Fame. "At the Mecum Auction, we introduced the '1500 Rider' Program. We are seeking 1,500 individual donations of $1,000 to complete the expansion project on Junction and Main by the end of 2018. Our vision is to continue as a world-class museum offering comprehensive and educational exhibits and showcasing rare and unusual motorcycles significant to our history."
Achieving this vision was bought closer to its $1.5 million goal courtesy of supporters such as former AMA Board Chairman Stan Simpson, Mike Tomas from Kiwi Indian and Southwest Superbikes owner (and noted collector in his own right) Mark Peterson. Major collectors like Tom White and Motion Pro founder Chris Carter – who has some historic motorcycles of his own – were in town to see what was going under the gavel at the auction and stuck around for the Sturgis fund raising festivities.
Billed as the world's largest antique and vintage motorcycle auction, Mecum says sales totals for their 26th annual Las Vegas Motorcycle Auction at South Point Hotel & Casino in Las Vegas, reached $13.7 million – including the $490,000 auction price of a 1912 Henderson Four. According to Mecum's tally, this was the most successful motorcycle auction in the event's history.
"As impressive as the Mecum auction was, the opportunity to meet with these motorcycle industry leaders was priceless," says Tsujikawa. "The Sturgis Motorcycle Museum is for everyday riders, Rally visitors and other members of the motorcycle industry who love and respect motorcycle history and culture. But it's also for anyone who is simply interested in learning more about motorcycling and about the phenomenon that is "Sturgis."
Throughout the year, the Museum receives donations that help to grow the capital campaign fund. "We are not only a non-profit organization, but also one of the few motorcycle museums that is self-sustaining through these generous gifts, sponsorships, admission and gift shop sales." she adds. Look for the Sturgis Museum display at the next Mecum Motorcycle Auction, June 1-3, 2017 at the South Point Hotel & Casino in Las Vegas.
To make a donation, e-mail Tsujikawa at tigra@sturgismuseum.com And start making your plans to visit the Museum this summer! The 77th Sturgis Rally is set for August 4-13, 2017 and the Sturgis Motorcycle Museum Hall Of Fame Induction Ceremony presented by Strider Sports will be held August 9th at the Lodge at Deadwood in Deadwood, South Dakota. Breakfast tickets are available for a $45 donation, tables of eight for $350. Tickets are available online at: http://www.sturgismuseum.com/shop/hall-fame-breakfast or by calling the Museum at 605.347.2001.