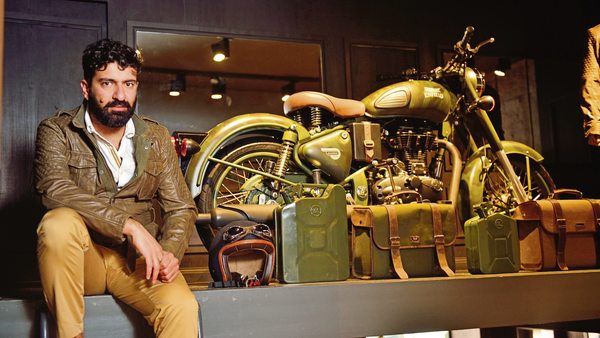 Siddhartha Lal has appointed Vinod Dasari as Royal Enfield CEO and will support him only on product and brand-related areas
The move has striking similarities to his father Vikram Lal's decision to step away from Eicher Motors more than two decades ago
Mumbai: Twenty-two years after Eicher Motors Ltd founder and former chief executive officer (CEO) Vikram Lal gave up his executive powers to let professionals run the company, his son Siddhartha Lal has initiated a similar transition. Lal junior has appointed Ashok Leyland Ltd's Vinod Dasari as the CEO of the company's motorcycle brand Royal Enfield.
Lal is also giving up his executive responsibilities at Royal Enfield to ensure that Dasari gets a free hand in running the company. The move has striking similarities with the decision made by his father.
In 1997, Vikram Lal had stepped down as chairman of Eicher Motors and had elevated Subodh Bhargava as the group's CEO and chairman. Subsequently, Vikram Lal had joined a newly formed supervisory board to monitor the operations of the group.
However, within a few years, Siddharth Lal had taken over the reins at Royal Enfield, which was then on the verge of closure, and revived it. In doing so, Lal also established his grip on the remaining group businesses and consolidated them under two verticals: motorcycles and commercial vehicles. Lal will continue to be the managing director of the parent company for now.
"To achieve our audacious goal of 2030, to catalyse and reshape the world of motorcycling towards middle-weights, thereby growing at twice the pace of the industry, I believe that we now need to run the company differently. While I have thoroughly enjoyed being at the helm of Royal Enfield for a large part of the 20 years that I have spent here, I believe I can serve Royal Enfield better by playing a role that is different from the CEO," Lal told his employees in a letter on Monday.
Lal said that his job as the managing director of Eicher Motors will be to sign off on the business plan each year and to review it on a quarterly basis. He will also be involved with communication decisions and brand and product reviews.
"Any decision in the future should be in the normal course, by the relevant manager, head, CXO and the new CEO," he said.
The move comes just three months after Lal reshuffled the management. According to an 8 January internal document reviewed by Mint, Lal had informed employees that Eicher chief financial officer Lalit Malik will take over the additional responsibility of chief commercial officer in the interim, after Royal Enfield's president Rudratej Singh offered to quit after a four-year stint.
Shaji Koshy (head of business markets, India), Rod Copes (head of business markets, North America), Arun Gopal (head of business markets, Europe and LATAM), Vimal Sumbly (head of business markets APAC), Rich Rawlins (head of genuine motorcycle accessories), Puneet Sood (head of apparel business) and Pankaj Sharma (head of customer experience) were all asked to report to Malik.
Now, besides Lalit Malik, chief operating officer B. Govindarajan, chief human resource officer Rajeev Sharma and chief information officer Sudhakar Bhagavatula will report to Dasari, who will be based in Chennai.
Shubhranshu Singh (head of global brands) and Mark Wells (head of product strategy and industrial design) will now report to Malik. Wells and Singh were earlier reporting directly to Lal.
Lal, in his letter, has attributed these changes to Royal Enfield's 2030 goal and its RE 2.0 plan, which he said will be an important part of aligning the company with the industry's mega trends, such as digitization, electrification, connectivity and shared mobility.