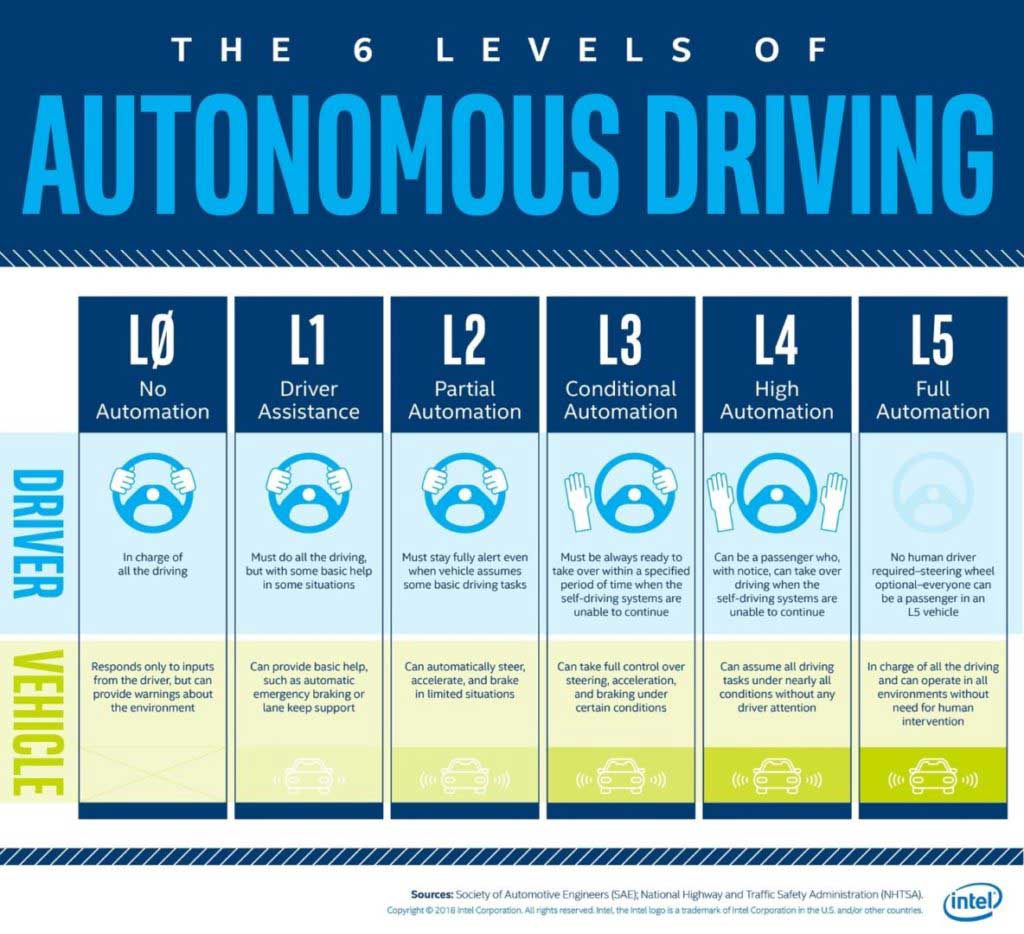 From https://www.motorists.org By Gary Witzenburg, Automotive Senior Writer and Contributing Editor, President of the North American Car, Truck, and Utility of the Year, and NMA Member.
Editor's Note: HOUR Detroit Magazine has graciously permitted the NMA to publish this piece, which initially appeared in a slightly different version on its pages. Part 2 will be presented in next week's newsletter.
Ready for your family outing, to the mall, then dinner. You call your car. It backs out of the garage and waits in your drive. You pile in and sit wherever you want since no one will drive. You face front, your spouse and kids swing their seats around to face each other.
You've told the car where to go, so it chooses the quickest route, obeying all stops and speed limits, keenly aware of what is happening around it. Someone steps off the curb ahead, and it slows, ready to stop if necessary. It warily eyes an errant dog cavorting to one side. You're catching up on emails, your spouse is texting, the kids are enjoying video games. It lets you out at the mall, then zips off to park.
Shopping done, you call it to pick you up. Then it's off to your favorite restaurant. After dinner, you catch a quick nap on your way home.
That is the scenario most envision when they think of self-driving vehicles. But how far off is that scenario? Assuming that autonomous vehicles (AVs) will be wonderful for ride-sharing, ride-hailing, and deliveries (which will put a lot of drivers out of work) and that folks will happily embrace them for personal use whenever they become available and affordable, automakers and others have been investing billions of dollars in developing them.
But not everyone wants to give up driving. Some of us still enjoy it and will as long as we are capable.
Detroit Hard at Work
Automakers and others worldwide are testing and developing AVs on closed tracks and public roads while governments at all levels scramble to define rules and regulations for safe AV operation. Two Michigan facilities — the American Center for Mobility next to Willow Run airport in Ypsilanti Township and the 32-acre mock city called Mcity on the University of Michigan's Ann Arbor campus — are dedicated to AV testing and development.
General Motors' Cruise LLC subsidiary has been testing Chevrolet Bolt EV-based Cruise AVs in San Francisco and elsewhere while developing a fully autonomous (no driver, no controls) Origin A.V. with Honda for urban passenger and delivery service. Unveiled this January 2020, the self-driving, six-passenger Origin has production approval, and development prototypes are being tested at GM's Milford Proving Grounds.
"We feel that Cruise has all the building blocks in place to lead in self-driving vehicles," says GM President Mark Reuss, "and the first ones will be built right here at Factory Zero, our Detroit-Hamtramck assembly facility. In October, Cruise received a permit from the California DMV to remove human backup drivers from its self-driving cars. That means Cruise can send its cars out onto the streets of San Francisco without anyone at the wheel."
Cruise should have Bolt-based driverless AVs running around San Francisco by the time you read this. "This is our moonshot," says Cruise CEO Dan Amman. "The chaotic, gritty streets of San Francisco are our launchpad, and it's where over two million miles of city testing will truly hit the road for the first time: an electric car, driving by itself, navigating one of the most difficult driving cities in the world." In addition, Walmart plans to start testing automated deliveries using Cruise AVs in Scottsdale, AZ, early this year.
GM's bold commitment to no-driver AVs, focusing first on city transportation, is one major element of its ambitious vision of a world with "zero crashes, zero emissions, and zero congestion."
"We operate AVs in very clearly defined geofenced areas within the city that we have mapped," chief engineer of the Cruise Origin Jason Fischer. "We will not go into areas that we haven't mapped." And while current Cruise AVs retain their steering wheel and pedals so a driver can take control if needed, the Cruise Origin does not. "There will be no ability to take control of the vehicle," Fischer says. "The autonomous driving system will always be in control."
Ford, partnered with technology developer Argo AI, has tested AVs (with safety drivers) on Michigan Ave. around Michigan Central Station. The automaker has established AV terminals, command centers, and high-resolution mapping for ride-hailing and deliveries in Austin, TX, Miami, FL, and Washington, DC, beginning in 2022. The company is also testing AVs in Pittsburgh and Palo Alto, CA. The Ford/Argo AI program will "assess the need for a safety driver and make a decision based on several factors, including the regulatory environment, safety performance data and an appropriate level of community acceptance" before operating without one.
"We are very focused on level 4 [see graphic above]," says Ford Autonomous Vehicles and director John Rich, "removing the driver from the equation and operating within a geonet." A geonet, he explains, is different from a geofence, within which AVs should be able to self-drive anywhere. "We will initially choose not to drive some places within that area, but our geonet will expand as we move forward."
Ford/Argo AI's fourth-generation self-driving vehicles are Escape Hybrids equipped with the latest advanced sensing and computing technology. "We have upgraded our sensing suite with even more advanced LiDAR, higher resolution cameras, and more capable radar sensors," says Ford Autonomous Vehicles chief engineer John Davis. "Combined, this helps improve detection of fixed and moving objects on all sides…providing a blind-spot curtain, detecting things like a passing car or bicyclist in a nearby bike lane." A larger high-voltage battery supports these vehicles' heavy electrical loads. A sophisticated sensor-cleaning system with forced-air chambers and high-pressure spray nozzles keeps its sensors and camera lenses clean.
Stellantis is partnered with self-driving technology company Waymo. Launched in 2009 as the Google Self-Driving Car Project, Waymo has developed a Level 4 Waymo Driver system that powers Waymo One, a ride-hailing service, and Waymo Via for trucking and deliveries. It claims 20 million-plus miles of autonomous driving on public roads in 25 US cities and 15 billion miles of simulation testing and is now offering AV rides to the public in Phoenix.
"Our now four-year partnership with Waymo continues to break new ground," says Stellantis CEO Mike Manley. "By incorporating the Waymo Driver, the world's leading self-driving technology, into our Pacifica minivans, we became the only partnership actually deploying fully autonomous technology in the real world, on public roads." Stellantis is also working exclusively with Waymo on light commercial vehicles such as Ram ProMaster vans for deliveries and plans to expand it across its product line.
"Stellantis was our first OEM partner, and we've come a long way together," says Waymo CEO John Krafcik. "Chrysler Pacifica Hybrid minivans were the first vehicles in our Waymo One fleet and, guided by the Waymo Driver, have now safely and reliably driven more fully autonomous miles than any other vehicle on the planet. Together, we'll introduce the Waymo Driver throughout the Stellantis brand portfolio, opening up new frontiers for ride-hailing, commercial delivery, and personal use vehicles around the world."
Meanwhile, a very ambitious "connected corridor" linking downtown Detroit to Ann Arbor (and Metro Airport) along some 40 miles of Michigan Ave. (US 12) and Washtenaw Ave. (M-17) is in the planning stages.
"At the outset, the vision calls for one dedicated interior lane for both the east and west side of Michigan Ave," writes editor R.J. King in the Nov./Dec. issue of DBusiness magazine. "Those two lanes will need barriers at first, to separate autonomous from general traffic including pedestrians. Several crosswalks will be needed, traffic lights must be coordinated, and all manner of hardware and software is required to connect GPS satellites, cellular arrays, Wi-Fi systems, sensors, and underground fiber cables." An alternative plan suggests using a new lane along I-94 instead of Michigan Ave.
According to King, this project's vision began with Ford executive chairman Bill Ford. It will be managed by Cavnue, a subsidiary of New-York-based Sidewalk Infrastructure Partners, working with Michigan's Department of Transportation, Office of Future Mobility and Electrification, Economic Development Corp., and Department of Labor and Economic Opportunity, along with state and local partners, stakeholders and communities.
"The project will be designed to evolve to meet transportation goals," he writes, "but in the beginning, the dedicated lanes will accommodate linked buses and shared mobility vehicles such as vans and shuttles and expand to other connected and autonomous vehicles like freight and personal vehicles." Phase one completion is targeted for the second half of 2022.
Click Here to Read part 2 of Autonomous (Self-Driving) Vehicles –Available Soon (Yes and No). Gary explains the critical missions and asks the experts how soon we will see AVs on the road.