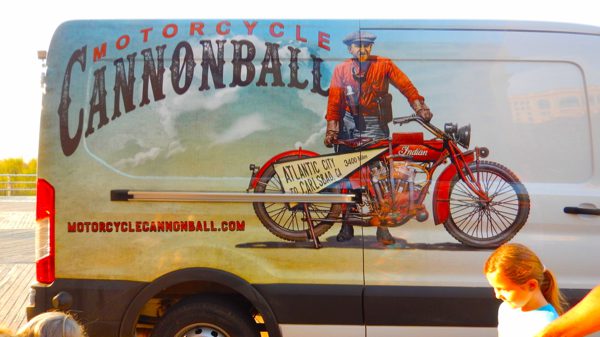 I doubt anyone got much sleep. They were up early, thoughtfully dressed in their best 1st day attire and most were ready for the challenges the day might bring. The first day of this historic adventure began in Atlantic City on the Boardwalk outside of Harry's Oyster Bar. Motorized vehicles are not typically allowed on the carefully created and maintained wooden walkway that lines the Atlantic Ocean but today the city made an exception. I was the first to arrive at the location. Bicycles and pedestrians were enjoying a quiet morning. I knew that was about to change. Soon the Staff started to arrive and shortly after Stage 1 riders. The goal was to line all of the bikes along the rod iron semi-circle fence. World renown Motorcycle photographer Micheal Lichter would then photograph each rider and their bikes as they arrived and then get a panoramic picture of the entire group of 91 bikes.
The crowd grew as the bikes arrived. Tourists and locals were delighted to have been so fortunate as to happen upon such a great event. Pictures, videos, laughter and conversation filled the air. Even a police officer, initially annoyed at what was happening realized that he was witnessing an unusual and historical event and arranged for Police escort to get the bikes out of the downtown area (thank Felicia Morgan)! Finally we were done and the ride began about 30-40 minutes late and so it began, two of the riders were loaded up at the boardwalk.
On the edge of town at Mile marker 3 was my first stop for a breakdown. At first I saw what looked like a bicycle up ahead and a car pulled over. I was going to have to get used to spotting these bikes, I almost rode right past them. The days was hot and top speed for many bikes was 35-40 mph. The East Coast traffic is heavy and there were many lights to contend with. In the early 1900's motorcycles were not built for highways and traffic so challenges were bound to ensue. The 154 mile route that took us through 4 states was littered with breakdowns. Following the riders was a Short Bus called the bus of shame. According to the rules, when the bus arrives you have 15 minutes to make a decision. Load the bike or try to wing it and call for your own help if you need to be picked up. There are 2 trailers for bikes. At the end of the day there were 27 bikes that needed to be towed and 63 arrived in York, PA with perfect scores. One motorcycle was lost as it burned. Condolences to John Pfeifer #36 from Texas for the loss of his beloved 1916 Harley Davidson.
Saturday was hot and humid. Sunday's schedule takes us to Morgantown, WV via Cumberland. Elevations will range from 300 to 3000 feet over 228 miles.
Stay tuned for daily updates from Spitfire who is running the back of the pack as medical support.
—The Inside Scoop by Spitfire. VickiSanfelipo.com