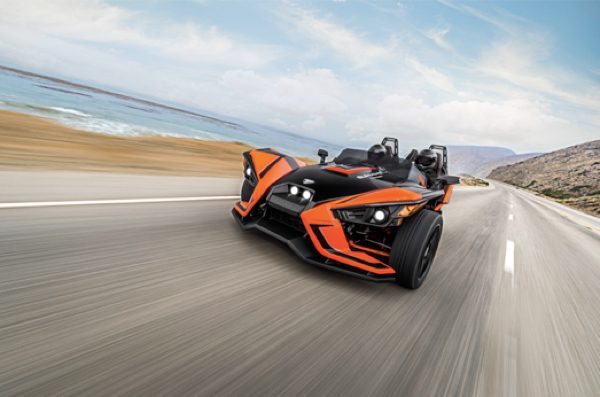 With the weather throughout the country ideal for open-air cockpit adventures, thrill seekers and adrenaline junkies have been officially challenged by Polaris Slingshot, daring them to visit a local Slingshot dealership and test drive the bold, three-wheeled roadster that offers a distinct on-road experience like nothing else in the marketplace.
To further "triple dare" the adventure seeker, from June 5 through July 31st, consumers that test drive a Polaris Slingshot, will receive a $20 gift card. For every ride, Polaris Slingshot will make a charitable donation to the national United Way up to $25,000.
"There is no better time than the summer months to enjoy the one-of-a-kind Slingshot," said Kevin Reilly, Vice President of Marketing – Polaris Motorcycle Division. "Slingshot is a vehicle you can only fully understand by sitting behind the wheel and experiencing it's handling and performance. Customers that accept our challenge and test drive a Slingshot will receive a gift card. For every test drive completed during the campaing, we will make a monetary donation to one of our favorite charities, the United Way."
The Polaris Slingshot pushes the boundaries of what a vehicle should be. Its sleek, striking styling and unique three-wheeled platform turns heads on the road while its interior design and features give the feel of driving an exotic sports car. Currently, 30 states require merely a drivers license to enjoy the exhilarating, powerful enjoyment that the Polaris Slingshot has to offer with the remaining states soon to follow.
Owners can customize and personalize their Slingshot with dozens of Slingshot Engineered Accessories, including styling enhancements, tech and audio components, storage options, wind deflectors, riding gear, helmets, driving jackets and street wear. Most of the vehicle accessories are offered in a variety of factory color-matched options.
Go to PolarisSlingshot.com for more information