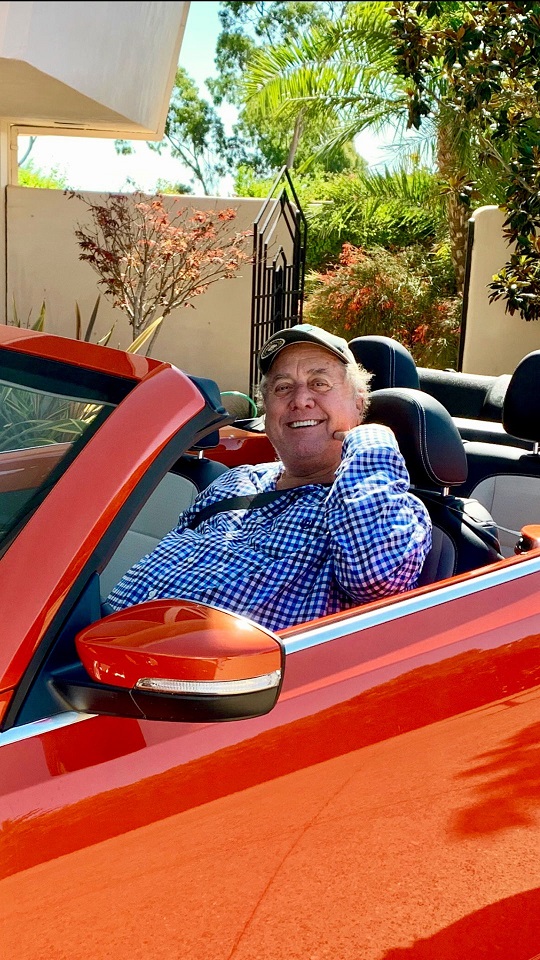 by STEVEN MAYER from https://www.bakersfield.com
Who opens a retail business at age 19?
Patrick J. Ryan — his friends called him "Pat" — not only founded Bakersfield Motorcycle Supply at 2800 Chester Ave. in 1975, he later opened Ryan Kawasaki on Pierce Road where his passion for life and his full-throttle philosophy drew customers in droves.
Ryan, who later in life focused on real estate and spent 20 years restoring the Kern Island Building on H Street, died Wednesday. He was 63.
"Pat set the bar for me in retail," said Kerry Ryan, Pat's younger brother who owns Action Sports in Bakersfield.
"He had no fear, and he taught me to be fearless," recalled the younger Ryan. "I don't think I would have risked going into retail if Pat hadn't done it first. I thought, 'If Pat can do it, I can do it, too.'"
Born June 9, 1956, the oldest of six siblings, Pat Ryan fell in love with motorcycles at an early age, inspired by such '60s movies as "Easy Rider" and "Bullitt," which starred motorsports enthusiast Steve McQueen, "the king of cool," said one of Pat Ryan's two sons, Scott Ryan.
With money he earned as a paperboy delivering The Californian, Pat Ryan bought his first dirt bike. At the not-so-tender age of 14, Pat entered his first desert motorcycle race, the Vegas 120.
"Steve McQueen would also be in attendance that year," said Scott Ryan. "At that time, Pat was the youngest entrant in the history of the race."
He was just 15 when he got a job sweeping floors and doing other work at Davey's Motorcycle on Chester Avenue. Pat worked his way into counter sales, ordering custom parts and assisting customers with service needs.
The budding businessman continued customizing bikes and racing through high school, said Scott Ryan. After graduating from Highland High School in 1974, Ryan decided against college, despite the years he spent in gifted classes.
"He figured out how to make money early," said Tom Carosella, a close lifelong friend who graduated with Ryan in '74.
"He was fearless," said Carosella, who went into car stereo sales as Ryan was diving into motorsports. "If he wanted to do something, he just jumped into it."
Ryan had a rare gift with people, and his love of life translated into the ability to make people laugh.
"He could go into a bar or restaurant and size up the whole room," Carosella said of his friend. "It was an incredible ability. But even when things turned to crap in his life, he could see the good."
It was a trait he would come to need.
In 1980, Pat Ryan finished construction on a new location just north of the Garces Circle. The building was Bakersfield's first to meet California's new energy efficient building standards, Scott Ryan said.
In 1981, after an ATV accident Pat Ryan saw a doctor to check for broken ribs. Instead, the doctor found a tumor.
"I took him to San Luis Obispo where he got his diagnosis," Carosella recalled. "We were 25 or so, and ill-equipped to understand what that meant."
But it didn't take Ryan long.
"I remember vividly he could talk about it (having cancer) easily," Kerry Ryan said. "He'd say, 'Yeah, I have cancer, but I'm going to beat it.'"
He projected strength and confidence, and in turn, got it back from friends, establishing a circle of positive attitude.
Pat successfully battled cancer, often receiving his radiation therapy before going into work to help customers, Scott Ryan said. The experience "supercharged his focus on enjoying life, family, and making others smile."
Ryan went on to build two more projects in the 1980s, a warehouse building on Jewett Avenue and his dream flagship store, a dream he drew on the back of a napkin.
"He called it Times Square," Scott Ryan said. The building on Pierce Road — now Buck Owens Boulevard — was designed to feature a rendition of Bakersfield's historic Beale Memorial Clock Tower. When completed the building was nominated for a Beautiful Bakersfield award.
As the parent of two sons, Neal and Scott Ryan, Pat was a hands-on father.
"He was proud to be a dad," Kerry Ryan said.
Pat's notoriety and business grew throughout the 1980s and 1990s.
"If you had a radio or TV, you became familiar with his infectious enthusiasm and positive energy," Scott Ryan recalled. "Every advertisement ended with the jingle 'We love motorcycles!'"
"To this day I still have people ask me, 'Your dad is We love motorcycles! right?' I'm proud to respond, 'Yes.'"
During his career, Ryan co-founded and helped organize the Bakersfield Toy Run, a charity to a help people in need. And during the 1980s when Jet Skis became a craze, safety became an issue as collisions were on the rise. As the local Kawasaki dealer, Ryan worked with the county of Kern to designate a safe area for the recreational sport.
"Pat Ryan and Kawasaki partnered up to organize and fund the Jet Ski Recreational Area Project, and beautification of Buena Vista Lake," Scott Ryan said. "Together they donated picnic tables, park benches, a boat launch ramp and camping spaces designated for Jet Ski users."
Eventually, Ryan got out of the motorsports business, and focused on real estate.
In declining health in more recent years, Ryan focused on long-term tenants at his Kern Island Building, which was built by Kern County Land Co. in the 1950s. Primarily focused on nonprofit organizations that were important in serving the community's needs, Ryan would donate a portion of the rents and provide additional free space to help support their mission.
Pat Ryan lived life on his own terms, said his brother Kerry. It may not have always been a lifestyle that promoted longevity, but it was the way he wanted to live. Full, fun and fast.
"Pat loved riding 100 percent throttle," Kerry Ryan said, "whether it was on a motorcycle or in life in general."