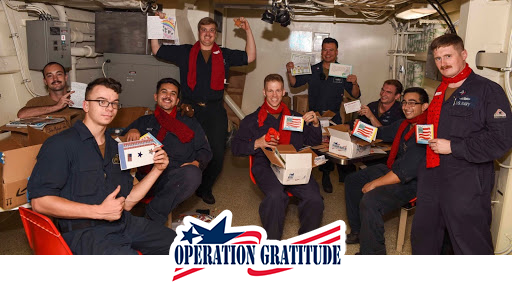 Dear Friend,


All year long we're celebrating our "sweet 16" birthday…16 years of saying "thank you" to those who serve. A few months ago we invited YOU — our volunteers and supporters — to take our 16-Day

RED

Scarf Challenge and to knit or crochet as many

RED

scarves as you could in order to Remember Everyone Deployed.

In that short span of time, hundreds of you rose to the challenge and made more than 3,300 red scarves! The RED Scarf Challenge may be over, but our need to send handmade-with-love items in our care packages isn't!

Now we need your help to put a handmade scarf or hat in every single one of our 25,000 Care Packages for deployed Service Members this holiday season.

The 3 knitters and crocheters who send us the most scarves and hats between now and Veterans Day will be recognized on social media and in a special letter to deployed Troops that will go in all of our Holiday Care Packages!
The rules are simple. Make as many hats and scarves as you can and send them to us by November 11th!!
If you don't knit or crochet but would like to put your crafting talents to work, please visit our Handmade With Love and Paracord Bracelet pages to find other ways you can participate and thank those who serve.
With your help, all of our deployed troops will feel the extraordinary warmth, care, and appreciation of the American people this holiday season.
Sincerely,
Kelly South
Handmade with Love Program Director
Operation Gratitude
#MakeEveryMinuteCount
"Americans need opportunities to show their gratitude, and we pledge to create them."