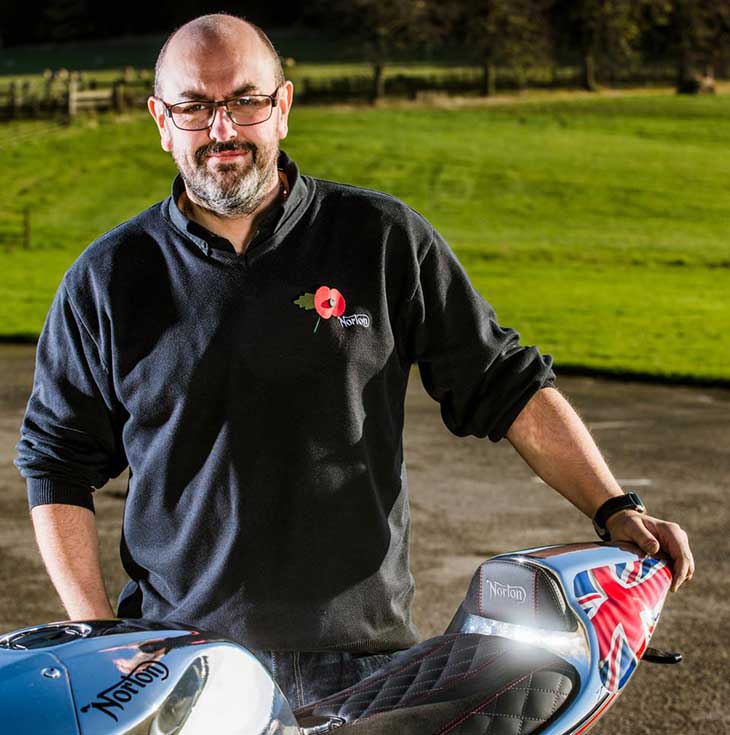 by Bryan Campbell from https://www.forbes.com
Norton Motorcycles Head of Design Simon Skinner thinks the British brand has what it takes to go head-to-head with Ducati.
Admittedly, Norton taking aim at Ducati is a very, very bold aspiration. Considering the Norton name is just as synonymous with bankruptcy and financial turbulence as it is with beautiful motorcycles, you'd be forgiven for taking the current brand revival with a handful of salt. I spoke with a refreshingly candid Norton Motorcycles Head of Design Simon Skinner via video call, who said this time will be different. While there is an incredible amount of bias in that claim, this time around there's evidence elsewhere to back it up.
Back in January 2020, Norton entered the UK equivalent of Chapter 11 bankruptcy. The following April, the British brand was purchased by the third-largest Indian motorcycle manufacturer, TVS Motors. Now Norton has a new temporary factory in Birmingham, UK, is on a hiring spree and as Skinner puts it, "the shackles have come off, in terms of design and innovation." If this sounds at all familiar, there are similar plotlines going on at Jaguar Land Rover with Tata and Volvo and Lotus via Geely. Success isn't guaranteed, but having a potent resource like TVS certainly helps.
Speaking with Skinner, I wanted to hear just how Norton plans to not just take on Ducati and become its British equal.
Bryan Campbell: Is Norton looking to follow Ducati's lead on creating an accessible entry point with a Scrambler-esque model paired with top-tier sportbikes?
Simon Skinner: Absolutely. We've already designed the 650cc parallel-twin range of motorcycles — the Atlas Nomad and the Ranger — and they are comparable to the Ducati Scrambler. Ours is probably a bit more modern, a bit more capable in terms of the geometry and weight of the bike. We have a slightly smaller engine with the 650cc compared to the 800cc of the Ducati, but it's got the same power.
The bikes in the "lifestyle" class tend to be more lifestyle-ly than capable. Where the Ducatis are a little bit of both, with the Desert Sled leaning to the more capable end of the spectrum. The Norton Ranger is very similar to the Desert Sled in that way.
Campbell: Traditionally, Norton has been a small volume manufacturer. Is the focus of the new facility meant to buck that trend?
Skinner: Yes. I'm not allowed to get into the numbers, but TVS has already invested large sums in the business and the new facility in Birmingham, in the UK, is a temporary facility. It's 75,000 square feet, but it's still only temporary for 3-5 years while we find a more permanent home in the local area. TVS very much have volume aspirations not far off from the production numbers of Ducati. However, the current temporary facility can handle up to 7,000 bikes per year.
Campbell: In the past year, especially in the United States, ADV motorcycles and dual sports have taken off and part of that is due to what those bikes can offer at their price points. The bang-for-buck value is undeniable. If Norton is looking to capitalize on that rising tide, where will the brand's bar for entry be?
Skinner: An Atlas Nomad is just under £10,000 and that's our entry-level model. If we come down from that, only time will tell, but it's usually depending on the volume we can achieve. Our volume will never be at the level of say, Honda, but to get the combination of luxury and volume we're chasing, it'll be somewhere near Ducati pricing. And I can't see us dropping below that, at least not while we're building the brand back up.
Campbell: Stepping away from the cold hard numbers for a bit. In terms of design, where is Norton pulling inspiration from?
Skinner: Norton, traditionally, is an innovative, cutting edge, modern company. Some people think Norton a classic company, but it's not at all. The Norton Commando, when it was launched in 1968, was the fastest superbike in the world and the Manx chassis bikes dominated race tracks year after year. That's all down to the technology and innovation that was used. That's where Norton needs to be again.
So, from a design perspective, I've employed a diverse group of designers and created an environment where they can thrive. We take our inspiration from all over but we do look at the past — the design cues, the styling cues, the ethos behind the brand — where Norton's tend to be low, sleek, have a strong character line down the bike and are really evocative.
But on the other hand, we need to be a modern company similar to the way Ducati is a modern company. They've accomplished so much in history, but that doesn't mean they make every bike look like a 916. We need to go beyond that. To go back to the glory days of Norton, we need to be innovative and right at the bleeding edge of technology and design.
It's also natural to look to the automotive industry because it's so advanced and there are so many resources being put into it, in terms of technology and design. The big difference is a motorcycle is more of an integrated design and engineering project. A car is clad in metal and plastic and all the engineering happens underneath. Whereas on a motorcycle, it's all on display, so there a very few components that aren't both functional and aesthetic.
My goal is to create an environment and process within Norton that combines engineering and design. Now we have the resource in TVS and we can take that design and engineering ethos and give it some power. The shackles have come off.
Campbell: The comparisons and competition to Triumph will be inescapable. In terms of product focus, will Norton focus on vintage-styled bikes as well as modern sportbikes, similar to Triumph's current strategy?
Skinner: For us, it will be the other way around. We are going to do modern bikes. That's a given. The question is, are we going to classic bikes? If we remain completely true to the Norton ethos of innovation and modernity, then we don't do classic bikes. But let's be honest, there's such a huge market for motorbikes like the Triumph Bonneville and it would be crazy to ignore it.
With that said, if we most certainly will be in the modern design space. If we do a sports tourer, an ADV, or a sportbike, they will all be modern bikes.
Campbell: Drawing comparisons from the automotive industry, it sounds like Norton is in the same position Volvo and Lotus were when Geely came in and provided funding and resources. Is that a fair assessment?
Skinner: It is. Obviously, we've got a new owner and new shareholders to answer to and everything we need to do needs to be commercially viable. But, at the same time, TVS recognizes we have some real talent within the Norton team who have never had the opportunity to be let loose. Also similar to when Tata took on Jaguar Land Rover, it allows us the freedom to operate and gives us knowledge and personnel, so the resources go beyond just putting money in the bank.
Campbell: You could argue financial distress is almost as synonymous with the Norton name as is beautiful, fast motorcycles. Having TVS as a resource is one way to help mitigate history repeating itself, but how does Norton plan to shake that reputation?
Skinner: It's true Norton has been through the mill, so to speak and interestingly, as a brand, it has always come out the other side with a good reputation. Regardless of who's owned Norton, they've always understood what the brand means and I think that's the strength of the brand.
Norton has been up and down financially over the years and this is the most recent chapter. TVS see themselves as the guardian and custodian of the brand, not the owners and that's a welcomed relief. They could have taken a meaningless 200cc motorcycle, slapped a Norton badge on it, and charged a few more dollars. What they actually want to do is give Norton structure and stability and have the mindset that they need to look after it for future generations.
The quality will filter down into the product because TVS won't compromise their beliefs for Norton. They want to build a motorcycle that leads the world in innovation, technology, design and quality. It won't happen overnight, but that's the vision. It's a challenge, for sure, but TVS have that desire and drive.
Campbell: What's the production timeline look like with those goals in mind?
Skinner: We have about 18 months before the new product starts to filter through. But we need a bit of time to fully adopt the new engineering quality, procedures and processes. When we launch in May and start production, those bikes will be the highest quality Nortons ever built in over a decade, if not ever. We're taking it step by step and it's going to take a period of time to have the processes in place, the structure and get the right people on the team.
When we went into administration, we had 55 employees. We now have 125 and we're still hiring and that's without selling any motorcycles yet. That's a statement of TVS's intent and investment: they want to put the people in place to make this the best brand in the world and make the best motorcycles in the world.