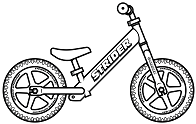 We've had to make a lot of changes but we're still full throttle trying to make things happen every day.  The great news is that people are turning to their bicycles right now as a great fun, safe, clean, healthy means of transportation right now.  The situation has created a boom for bicycling overall.
We just got the green light from the Director of Wellness Programs at L.A. Unified School District to launch the crowdfunding page for L.A. school Learn-To-Ride programs.  School may be out of session right now, but our eyes are on sunnier days, and we are committed to bringing the Kindergarten PE Program to 50 schools in the Los Angeles area.  These first 50 schools will hopefully lead to the full 500 schools in that district… and that district will lead to the next district, and the next district, until all of California's kindergartners are being taught how to ride.  And the influence initiated with these first 50 schools won't stop at the California border!
I'd love for you to share this page and ask folks to chip in to make the return to school the best it can be.  It takes time to get these programs in place even after the funding is secured, so NOW is the time to be pushing for programs that we want to have implemented and ready to rock and roll when school starts at the end of the summer.
Please share this link on your social if and when you can: https://support.allkidsbike.org/AKB-for-LA
Ryan McFarland
President / CEO
Strider Sports Int'l, Inc.
Rapid City, SD 57702
605-342-0266