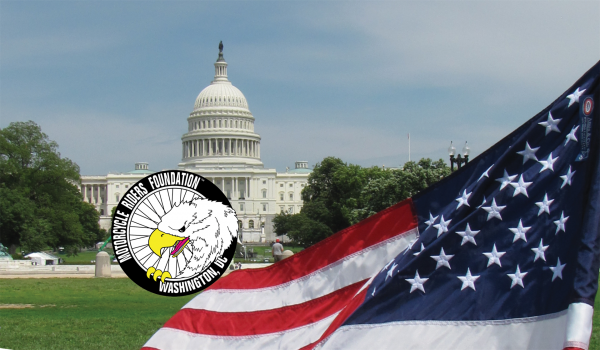 Your Weekly Biker Bulletin from Inside the Beltway
Your Motorcycle Riders Foundation team in Washington, D.C. is pleased to provide our members with the latest information and updates on issues that impact the freedom and safety of American street motorcyclists. Count on your MRF to keep you informed about a range of matters that are critical to the advancement of motorcycling and its associated lifestyle. Published weekly when the U.S. Congress is in session.
Alabama Makes 43
This week Alabama became the 43rd state to add a cosponsor to H. Res 255, the anti-profiling resolution. In fact, Alabama managed to add two new cosponsors on the same day! The riders in Alabama and the leadership of the folks at Dixie ABATE are the sole reason for this great news. We in DC conducted multiple meetings with Alabama congressional offices but had not secured a cosponsor. However, the riders in Alabama took the time to meet face to face with their lawmakers and delivered a victory. Congratulations, and thank you to everyone in Alabama for their hard work to deliver more cosponsors to this resolution.
With these new additions, we now have 136 cosponsors on our resolution. To check if your Congressman is a cosponsor, click here. If you haven't already, take 2 minutes to send your Congressman a note about the topic. If they have already signed on as a cosponsor, a thank you note will be sent, and if they have not signed on, a letter will be sent asking for their support. You can send a message by clicking here.
Paying Dividends
This week the MRF started pushing for cosponsors for House Bill H.R. 5234, which makes important changes to the Motorcyclist Advisory Council. One of the benefits of accumulating so many cosponsors on the profiling resolution is that it has allowed the MRF and the motorcycle community to introduce ourselves to hundreds of congressional offices. Once we get an office to sign onto something like the profiling resolution, we have a great list to work from when we need support on other legislation.
Who better to ask for support on the MAC Reauthorization than the Representatives who have already supported us by signing on to the resolution? With just a few initial emails, we have gained a handful of cosponsors to H.R. 5234 and will continue to build off our list of proven motorcycle community supporters.
To see if your Congressman is a cosponsor, click here. If you haven't already, take 2 minutes to send your Congressman a note about the topic. You can send a message by clicking here.
The Motorcycle Riders Foundation is also continuing to work the Senate companion bill, S. 3249, along with the AMA and HD by taking meetings on Capitol Hill.  We have added our first new cosponsor to the Senate MAC Reauthorization and will engage with more Senate offices next week.
We have been tracking our engagement through our CQ Call to Action software, and more people have taken action on S. 3249 than the House companion bill, H.R. 5234. As always, we ask that you reach out to your Senators and Representatives and ask them to cosponsor the MAC Reauthorization Act.  You can contact your Senators by clicking here.
AASHTO meets with lawmakers this week in DC
The American Association of State Highway and Transportation Officials (AASHTO) held its annual Washington Briefing this week at the Washington Court Hotel in the nation's capital. AASHTO is a nonpartisan association representing highway and transportation departments in all 50 states and serves as a liaison between state departments of transportation and the Federal government.
Lawmakers speaking to state DOT chiefs at the AASHTO conference Wednesday tipped their hands somewhat on how to pay for the next surface transportation reauthorization. House Highways and Transit Subcommittee ranking member Rodney Davis (R-IL) advised the audience not to "get into a spat about the viability of VMT versus the gas tax," and suggested that a package with "multiple options" could garner more support — especially if it finally gets "freeloaders" who drive electric cars and don't pay fuel taxes to pay into the system. He said there will be a lot more EVs in the next few years, and it won't get any easier to levy a tax.
"If we do not look at the long-term viability of the trust fund, we are abdicating our responsibility to get a win," Rep. Davis explained. "When we get into debates over raising the gas tax versus going to a VMT, we get nowhere. That's where diversification comes in. That way, everyone gets a win; we score a touchdown."
The MRF continues to engage the House and Senate about the priorities of motorcyclists in any future Highway Infrastructure Authorizations.  We are pleased that both chambers are pursuing drafting legislation while being mindful that even the best-written legislation needs to be funded.  While we do not know what the future holds for funding the highway trust fund, we will continue to monitor any changes to a fuel tax-based system versus incorporating vehicle miles traveled (VMT) approach to funding future highway projects.
MAKE YOUR PLANS FOR BIKERS INSIDE THE BELTWAY 2020
As we continually update on the legislation in DC, I hope you are taking mental notes on why you need to make plans to attend BITB 2020. Whether it be advancing the motorcyclist profiling resolution, MAC Reauthorization, Ethanol Consumer Education, AVs, RPM Act or the expiring Highway Bill, we have plenty of issues to educate Congress on this year. We are successful when we all work together. The MRF encourages you to be in DC on May 19th to ensure your voice and the riders in your state are considered when legislation is being written or voted on.
The deadline for online registration, t-shirt orders and hotel reservations is April 27, 2020. For all of the event details and to register online, please click here.