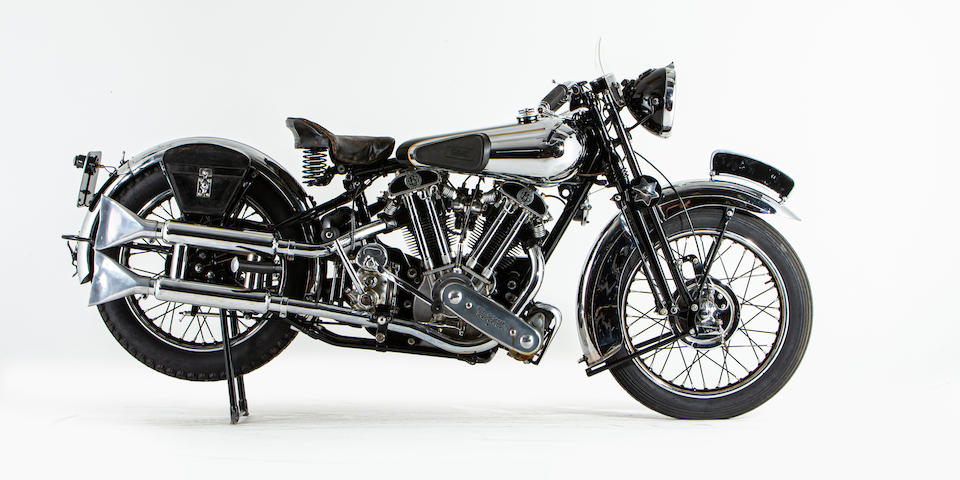 The Winter Sale
including The National Motorcycle Museum Reserve Collection – Bicester Heritage
Bicester, Bicester Heritage
Offered from the National Motorcycle Museum Collection,1936 Brough Superior 982cc SS100
Registration no. VD 6582 Frame no. M1/1661 Engine no. BS/X 1001
£3 MILLION TOTAL REALISED WITH 92 PER CENT SELL-THROUGH RATE
1936 Brough Superior 982C SS100 from the National Motorcycle Museum Reserve Collection, SOLD for £276,000
Two world auction records for a Sunbeam and Norton F1 motorcycle were set over the weekend at the successful Bonhams Motorcycles Winter Sale at Bicester Heritage, which realised more than £3 million and had an impressive sell-through rate of 92 per cent.
A 1928 Sunbeam 493cc TT Model 90 Racing Motorcycle, which had raced at Pendine Sands, powered through its top estimate of £24,000 selling for £41,400, while a 21,188-mile 1990 Norton F1, the roadster inspired by the sporting partnership with John Player Special, made £40,250, both setting new world auction records.
However, the name dominating the sale was Brough Superior, with no fewer than five examples featuring in the sale's top ten, led by a highly original 1936 Brough Superior 982cc SS100, bearing the earliest engine number in a production model, which sold for £276,000.
All three machines were offered direct from the National Motorcycle Museum's Reserve Collection, an exclusive selection of 52 British motorcycles – and motorcycle-related cars – presented on the first day of the two-day sale.
A brace of 1937 Brough Superiors offered from The Connoisseur Collection – comprising blue-chip examples from the estate of a late motorcycle enthusiast – also featured in the sale's top ten, a 982cc SS80 and a 1,096cc 11-50hp which both exceeded their top pre-sale estimates selling for £73,600 and £71,300 respectively.
The Connoisseur Collection also offered an example of one of the most desirable pre-war American motorcycles, a 1924 Henderson De Luxe Four, which made £48,300, again rising above its pre-sale estimate, despite requiring re-commissioning.
Another 1937 Brough Superior 1,096cc 11-50hp, a project motorcycle offered for restoration rounded out the sale on a high note, trouncing its pre-sale estimate, selling for £57,500.
Modern Marvels
More modern metal also fared well at the Bicester auction, with three MV Agusta motorcycles achieving a combined total of more than £186,000, including a 1973 500cc Grand Prix Replica Racing Motorcycle which made £82,800, comfortably within its estimate, and a 1978 832cc Monza which pipped its top estimate, selling for £48,300.
Another 1970s superbike that found favour in the Bonhams saleroom was a 1976 Honda CB750 K6, with a believed 3.6 'push' kilometres reading, which cruised past its pre-sale top estimate of £4,000 to achieve £9,800.
There was also success for the motorcycle memorabilia sale which offered two special collections from the families of two late motorcycling greats: Barry Sheene MBE and Percy Tait.
Highlights from the Sheene Collection included a leather team holdall, featuring the motifs 7, Sheene and Suzuki, which sold for £3,187, ten times its pre-sale estimate, while a stainless-steel Gabriel chronograph wristwatch awarded at the 1976 'France de Chimay' race made £7,650, again more than ten times its estimate, while a set of Percy Tait's race-worn one-piece leathers raced away for £5,737.
Ben Walker, International Department Director for Bonhams Collectors' Motorcycles,"We are more than pleased with the sale which has been the subject of much interest from collectors around the world and competitive bidding.
We were also honoured to have been entrusted with the premium collection from the National Motorcycle Museum, one of the most prestigious names in the motorcycling world, and well as the collections from the families of two of motorcycling's national treasures, Barry Sheene and Percy Tait."
The Winter Sale was a fitting end to another successful year for the Bonhams motorcycle department, with the two UK sales realising a combined total of more than £6.7 million in 2020.
The Motorcycle department is already looking ahead to next year and is currently consigning collectors' motorcycles and collections to The Spring Sale on 24 and 25 April, when Bonhams returns to the Stafford Showground for The International Classic MotorCycle Show.