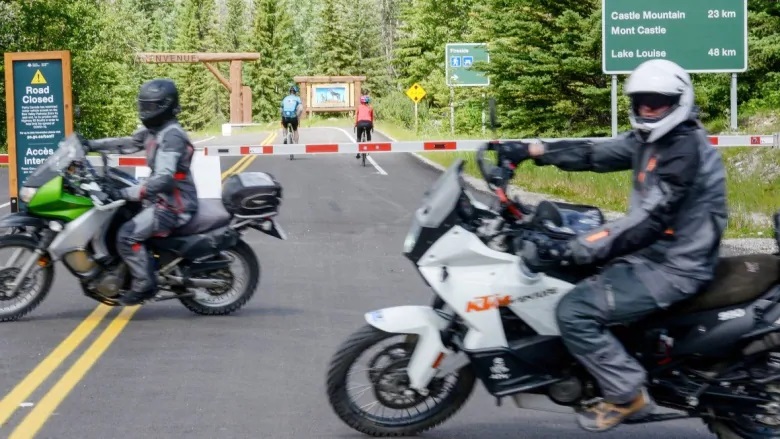 by Helen Pike from https://www.cbc.ca
Instead of sitting at home when the pandemic shuttered Alberta's economy, some hopped on the saddle of a motorbike and hit the streets.
According to statistics provided by the Motorcycle & Moped Industry Council (MMIC), sales across the province started to climb in April and May and peaked mid-summer. Year to date motorcycle sales are up 16 per cent and motor scooter sales are up 14 per cent over last year's figures.
Meanwhile, new vehicle sales are down about 26 per cent compared with January to August 2019, according to Statistics Canada.
David Grummett, director of communications, said MMIC believes there was a healthy mix of new riders, returning riders and existing riders with some with vacation money burning a hole in their pockets.
"There were a lot of new riders," Grummett said "[There were people coming] back to the sport in big numbers … there were just people that wanted a new bike and maybe they weren't going on the cruise. So they had some extra disposable cash. That seemed to be a good place to put it."
Jen Brown hadn't been on a bike for a decade. She had taken a course and always intended to have a motorcycle of her own, but life got in the way. Until the pandemic hit.
Then she found herself with extra cash usually set aside for rec-sports leagues and camping trips. So, she got a second-hand beater and, on her first solo ride, met a community of people by chance, on her first ride to Bragg Creek.
'Everybody stepped up'
"Quite honestly, it's what kept me sane all summer long," Brown said. "The group became more and more eclectic, And we all sort of supported each other and helped each other out."
After that, she was able to message the group for a ride at the drop of a hat. She even went on a road trip vacation with one of the members, who is now her boyfriend.
Brown said the motorcycle community was very supportive over the summer — she described the sport as the "perfect form" of physical distancing.
Because testing wasn't possible during the first few months of the pandemic — and to ride without a Class 6 licence, you need to be accompanied by a fully licensed driver, social media threads were full of new riders, or unlicensed riders, looking for help.
"Everybody stepped up," Brown said. "On a lot of the [social media] pages, you could see people asking for somebody who has a Class 6 to chaperone them so that they could practise their riding and they would get seven or eight responses from different people."
Carter Hansen said he already had a motorbike but it needed repairs before he could dust it off.
He works in the aviation industry and knew a layoff was on the horizon — so instead of wallowing, Hansen said he took himself shopping.
"I made the decision to kinda make the best of my newly found free time," Hansen said. "I figured if I just sat around and watched my savings and severance dwindle away, it would be very depressing.… Having a new bike that I didn't have to work on before I could go ride it, helped keep my mental health afloat by giving me something to look forward to. Something to focus on."
Then, there's the faction looking for a way to commute safely.
Grummett said scooter sales are up 14 per cent, year to date, over 2019.
Commuting by scooter instead of transit
"People can really easily get on a 50 cc scooter and be-bop into town and not have to worry about sitting beside somebody that is masked and hacking and coughing and stuff," Grummett said. "So we see that as a really positive thing going forward with the motorcycle industry."
Interestingly, mini bike sales went through the roof in June, up 319 per cent over 2019 figures. Grummett attributes this to parents trying to keep kids out of the house, especially in rural areas.
"Dealers said basically, you know, a lot of rural kids that maybe their life was playing hockey, baseball, soccer or whatever, [now they] can't do it," Grummett said. "And they're driving the parents nuts."
While sales climbed, so did fatalities
The Alberta Motorcycle Safety Society tracks crashes across the province. President Liane Langlois said this summer fatalities nearly doubled — with 21 so far, compared with 11 last year.
Over the last number of years, Langlois said fatalities were trending down, so this increase is especially disheartening.
"I always like to see growth in the motorcycle community," Langlois said.
"People are getting into it because they really enjoy that feeling, that freedom, that being out on the open road. That's great. Get involved. It's awesome. Just to make sure that you're set up for success and not going to become one of these unfortunate statistics."
Most of the fatal crashes, 70 per cent, were single-vehicle collisions.