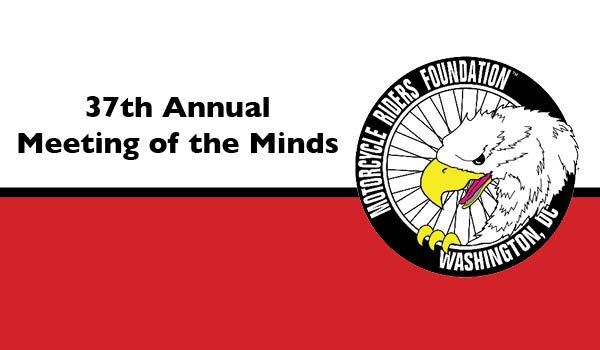 Atlanta, Georgia – The Motorcycle Riders Foundation, based in Washington, D.C., along with ABATE of Georgia, announced a historic first with the announcement that the organization's annual Meeting of the Minds Conference will take place in Atlanta in September this year.
"The MRF has met several times in the Southeast. However, we have never had the opportunity to meet in Atlanta, and we're looking forward to the occasion." MRF Conferences and Events Director, Fredric Harrell announced at the organization's 2020 annual conference in Indianapolis in September.
"ABATE of Georgia worked to meet the MRF's conference guidelines and we're reaching out to our neighboring state motorcyclists' rights organizations for participation." Donna Nunez, ABATE of Georgia Activities Director, said when the 2021 conference was announced.
This "historic first" will bring the 2021 Annual Meeting of the Minds Conference to the JW Marriott Atlanta Buckhead Hotel, September 23-26 and will be the kick-off point for the Motorcycle Riders Foundation's 2022 legislative agenda. Attendees are encouraged to make reservations as early as possible for this much-demanded conference.
Past keynote speakers at the annual event include, Keith "Bandit" Ball, former editor of Easyriders Magazine, Dave Zein, former Wisconsin State Senator, Paul Landers, Texas Freedom Fighter, Chopper & Slider Gilmore, Freedom Fighters & Motorcycling Safety Advocates, Mark Buckner, Former MRF President & current MRF Executive Director, among other notables who have added insight, levity and strong messages on freedom and individual rights to the MRFs annual conference. Conference agenda includes, but never limited to general sessions, 15 break-out sessions, safe riding demonstrations and awards banquet.
The first Meeting of the Minds Conference, held in St. Louis, Missouri, in 1985 witnessed barely 100 motorcyclists' rights advocates and a very limited agenda. The Meeting of the Minds Conference has grown to over 500 participants from state motorcyclists' rights advocacy groups in addition to representatives from Canada, the European Union, Australia and Liberia.